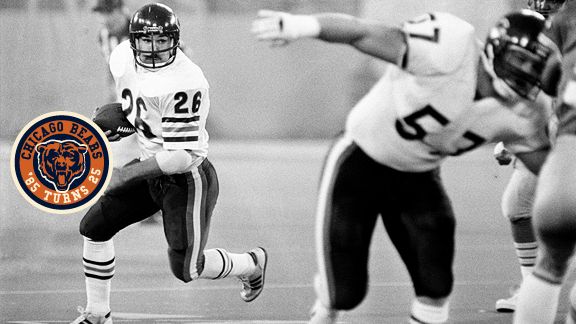 Jonathan Daniel/Getty Images
Still watching out for Walter
Suhey paved way for Payton, and stepped in when friend's family needed him most
Editor's note: ESPNChicago.com is celebrating the 25th anniversary of the Chicago Bears' dominant 1985 season and victory in Super Bowl XX. We'll have weekly features on each game from '85, video interviews with key figures, photo galleries and more.
CHICAGO -- Matt Suhey never had a chance.
Not at first, anyway.
Oh sure, the young running back and Bears second-round draft pick in 1980 was a fine player and part of a proud tradition of football-playing Suheys at Penn State.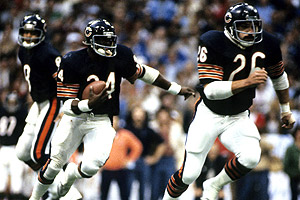 Al Messerschmidt/Getty ImagesMatt Suhey, right, blocking for Walter Payton during a 1981 game, led the way for the Hall of Famer for eight seasons.
He was also a humble kid, respectful, hard-working and with a little time, was clearly going to be more than capable of blocking for the great Walter Payton.
But he wasn't Roland Harper.
"I was the short white guy," Suhey recalled with a laugh.
Harper, who had been in Payton's rookie class, helped pave the way for the future Hall of Famer their first four years in the NFL, and was his closest friend on the team. But Harper was also coming off a severe knee injury that kept him sidelined for the '79 season and signaled the downside of his career.
"[Payton] completely viewed it as me coming in and taking his buddy's spot," Suhey said. "He was very loyal to his guys and no question, he didn't particularly care for me. So that's what Walter called me -- 'the short, white guy.' It turned out, we laughed about it."
It turned out that Suhey would win Payton's respect soon enough, though Suhey remembers it happening in both a gradual and strange way.
"We talked a little bit my rookie year but not much at all," Suhey said. "Then the first game my second year [against Green Bay], I fumbled in the first 30 seconds of the game and we lost a game [16-9] we could have won. It was a big mistake.
"The next week we got beat at San Francisco and Walter fumbled in a similar situation. After we flew back that night, I was going to go out and get something to eat with [Bears running back Dave Williams]. Walter asked me where I was going and said, 'I'll come along,' and from that point on, we had a great relationship."
Others described an unspoken communication and trust the two developed both on the field and off that was not unlike Payton and Harper's.
"It was sort of like husband and wife where you just know what the other one's thinking," said Walter's wife, Connie. "It made their chemistry on the field a lot easier and though he didn't say this to me but knowing Walter, it was very important that he had that relationship with Matt."
On the surface, the two were as different as their backgrounds suggested.
"We certainly had football and the passion to play football in common, though even there, there were differences," Suhey said. "And I was born and raised in Pennsylvania in very much of an academic environment, just a completely different environment than his [in Columbia, Miss., and a predominantly black college in Jackson State].
"He didn't have that many white people around growing up while we had a lot more black people, but I didn't look at him as Walter Payton, the black guy, and hopefully as we became friends, he didn't look at me as Matt Suhey, the white guy. He joked around about it a little bit, but it was never an issue."
In "Never Die Easy," Payton's autobiography written with Don Yaeger, Payton described what he felt was his rare friendship with Suhey.
"We were Ebony and Ivory before Stevie Wonder and Paul McCartney," Payton said. "I think our relationship helped break down a lot of lines, a lot of racial lines, on the team and some said, in the city. Here were two guys who had to have each other and everything just clicked. … Matt was one of the first white guys I really got to know. He knew I was nervous about all that and he broke the ice by joking around all the time about it. If it weren't the fact that he was an obnoxious Penn Stater, I'd say we could talk about anything."
Connie said her husband saw in Suhey "a quiet gentle spirit" and someone he could trust.
"Everybody needs someone who they know understands them and doesn't judge them, who's there for them unconditionally," she said. "There were not a lot of people that Walter had that confidence in, but Matt was that person."
As a rookie, Bears receiver and special-teamer Dennis Gentry had his own bond with Payton, the Bears' star taking Gentry and not Suhey along with him to his infamously grueling workouts during the strike year of '82.
"

It was sort of like husband and wife where you just know what the other one's thinking. It made their chemistry on the field a lot easier and though he didn't say this to me but knowing Walter, it was very important that he had that relationship with Matt.

" -- Connie Payton
"But if you were in the same room with Walter and Matt and your eyes were shut, you would think they were brothers," Gentry said. "They might disagree on something but when all was said and done, there were always hugs. …
"There was no blood shared between Matt and Walter, but God put those two together with a great purpose."
The Payton-Suhey backfield flourished as the Bears, behind a talented, young offensive line, led the league in rushing from 1983 through '86, with Suhey quietly clearing a path for his teammate and friend.
"He was an excellent fullback," said Bears right tackle Keith Van Horne, who was in the draft class after Suhey's.
"He wasn't that tall, so he could kind of sneak through there a little bit, but more often than not, he gained yardage and good yardage when he got the ball. He was dependable, smart, picked up blitzes, was a heck of a lead blocker for Walter. I think Matt was totally underrated."
Running backs coach Johnny Roland called Suhey his "quarterback in the backfield."
"Obviously Payton was the guy, but Matt was my voice on the field, just a very smart football player who was aware and perceptive about a lot of things," Roland said. "Walter didn't want to get bogged down thinking about a lot of things. He would say, 'Just let me play,' so Matt would relay a lot of stuff to him."
At 5-foot-11, Suhey was slightly taller than Payton but "short-legged" in Roland's words, and with excellent quickness and body control. "He was able to do all the dirty little things fullbacks do," Roland said. "I told him he should have had a number in the 60s because he was my third pulling guard."
Suhey said he was surprised when he first met Payton that, as strong as he was, he wasn't bigger. Tight end Emery Moorehead said he felt the same way about Suhey.
"I played for the Giants [before the Bears], and I always kidded Matt that they used to show Penn State highlights before our games and with that big neck roll he used to wear, I always thought he was 6-2, 6-3," Moorehead said. "He was short and squatty, but he was a real technician."
The underrated role, said Mike Ditka, suited Suhey well.
"I think Matt likes to fly under the radar," Ditka said. "He always did, he always will. He was Walter's running mate, he was the one who made it all happen back there. He was as good a blocking fullback who ever played the game in my opinion. He kept Walter in line, told him where to go some of the time. But he did not want or expect any credit."
After the two retired from football (Payton in '87, Suhey in '89), Suhey said they naturally drifted apart a bit.
"It was definitely harder to keep in touch," Suhey said. "I started working a lot, travelling a lot and any time I was home, I had three young kids and I'd be with my family."
But Connie Payton said the two never lost touch.
"They always knew they were there for each other," she said. "Walter wasn't the type of guy who went out a lot, he didn't hang out in bars, but he'd meet up for dinner with teammates and Matt definitely would be that person he would call and say, 'Let's get together.'"
Connie joked that the two preserved their friendship by not going into business together. "When Matt sold bottled water, Walter said, 'Are you crazy? Look at you. Who's going to buy bottled water?'"
But when the Suhey's youngest son Scotty was born, Payton was among the first he called.
"He was born on 3-4-94 at 10:34 in the morning," said Suhey, whose son Joe is a junior running back at Penn State. "When I told Walter that, he said, 'Oh my God, I'm his godfather.' I said, 'Absolutely, we'd be honored.' He had a way of always getting to 34 or 7, his lucky numbers. He always found a way getting the numbers to work. It was a thrill for him."
Suhey has a difficult time talking much about the years following, when his closest friend first became ill in the middle of 1998 and later was diagnosed with a rare liver disease that would take his life on Nov. 1, 1999.
"That was such a very, very difficult time for everybody," Suhey said softly. "I can't tell you how difficult it was."
It was Suhey who became the point person for Payton, relaying medical updates to their former teammates and friends, and get-well wishes and requests to visit back to Payton.
It was Suhey who accompanied Payton to his first appointments at the Mayo Clinic when he did not want family to be burdened.
And in the months before Payton's death, it was Suhey who could still make him laugh.
"Matt and I had the same bad sense of humor," Payton said in "Never Die Easy" "I started joking with Matt about how, in 'Brian's Song,' the movie about Brian Piccolo and Gale Sayers, they had a relationship like ours. But in that one, the white guy gets sick and dies. I said I wondered how come I couldn't have been in that movie. It was funny, but I guess you had to be there. Matt helped me laugh and after I got sick, I needed that more than ever."
Connie Payton recalls observing her husband's deteriorating condition and knew he did not want to worry her or their teenaged children, Jarrett and Brittany.
"Matt was always that friend," she said. "He would go up to Rochester [Minn., where Mayo is located]. He would come and get Walter and put him in the car at times when Walter didn't want to do anything but sleep and say, 'Come on, you're going to get up,' and take him for a ride. He truly stepped in there, and I know how hard that was for him."
While Suhey won't reveal the depth of those last conversations, he shares some of his last unvarnished memories.
"Walter wasn't perfect by any stretch; he was moody at times," Suhey said. "But he was a great football player and a great guy who took care of his family and treated everybody extremely, extremely well. I can't imagine what he endured those last few months, but he was great to be around. That's what I'll remember."
In turn, said Brittany Payton, Suhey left her father with peace of mind.
"Not having to worry as much on his end, knowing we were going to be taken care of, I think that was a huge stress reliever for my dad," she said. "Matt was always around on those final days, days when my dad didn't want anyone else around but family, because Matt was family."
Upon Payton's death, Suhey became the executor of Payton's will, the custodian of Payton's image and likeness, and the human embodiment of his family's guardian angel.
"Matt really loved Walter and it shows in everything he does for the kids and I," Connie said. "He has truly been that shoulder to lean on and confide in, someone I can trust and rely on, whether it's a business situation or knowing my kids can go to him for direction. I didn't have to worry about anything. Matt has definitely made my life and my transitioning into my being single mom so much easier."
The Payton children felt that sense of comfort as well.
"When I think of my dad and the people he had around him, Matt was probably the person he trusted most," Brittany said. "They would do absolutely anything for each other. He really trusted Matt, knowing he wasn't going to be around much longer, by putting our family in his hands. He was the person my dad trusted with our future and that's so huge with me. And Matt stepped to the plate and took over.
"He allowed my mom and my brother and I to go on with life as we knew it. And especially when my dad first passed away, he allowed us to grieve without worrying about anything else."
Suhey's teammates continue to marvel at his dependability.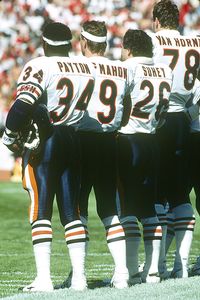 Al Messerschmidt/Getty ImagesWalter Payton and Matt Suhey weren't far from each other on the field during their eight seasons together with the Bears.
"I don't even know if he took time to grieve himself," Moorehead said, "because the estate is so large and involved so much, and he had to pull it all together and do the right thing. And it's not like something like that is done in a year. He had a job for a lifetime the last 10 years in addition to his own family and his own job, and he has kept it all together."
"It's easy to be a friend when things are going great," Van Horne said. "But when things are tough, that shows your true mettle, and Matt has certainly done that. He is a good man, a quality individual."
Connie and her kids joke that Matt can be "a little tight with the money," when it comes to his financial advice.
"Jarrett and Brittany talk to Matt about anything," Connie said. "He'd say, 'No, not yet, you don't need that,' in a way he thought Walter would say it."
"It's so interesting," said Brittany, 25. "I can see the dad coming out in him, especially when it comes to relationships. For instance with me, it's 'Who's your boyfriend? What does he do? Make sure he knows I have an eye on him and that he better treat you right.' He's playing that protective father role and it's so nice."
Suhey escorted Connie down the aisle at Jarrett's wedding and Brittany, who works for WGN-TV and CLTV, co-hosting "Chicago's Best" and reporting for the Big Ten Network, called Suhey their "rock."
"Matt is just an amazing guy," Brittany said. "He's so quiet, but he doesn't have to say much. He's always checking in, wants to know how things are going, how were my classes, my grades and now it's with work. He's staying updated how the show is going."
"He's a sweetheart," Connie said. "I honestly don't know what we would have done without him, and I'm so thankful to have him in our life. He took to heart what Walter entrusted in him, and he loves my kids like they were his own."
"They're great kids," Suhey says with fatherly pride. "Connie has done a great job. Jarrett and Brittany are both responsible and just good, good people. Jarrett married a great girl, and I know Walter would be tickled and really thrilled about that. And I know in my heart, if he's looking down, he would be extremely proud because it's what he and Connie instilled in them."
Melissa Isaacson is a columnist for ESPNChicago.com.