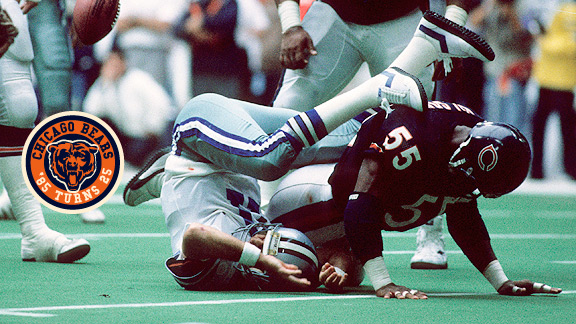 Jay Dickman/Getty Images
Dallas demolition
Bears embarrassed 'America's Team' in historic fashion with 44-0 drubbing of Cowboys
Editor's note: ESPNChicago.com is celebrating the 25th anniversary of the Chicago Bears' dominant 1985 season and victory in Super Bowl XX. We'll have weekly features on each game from '85, video interviews with key figures, photo galleries and more.
Reprinted with permission from "DA BEARS!" by Steve Delsohn. Copyright © 2010. Published by Crown Archetype/Publishers, a division of Random House Inc.
Getting fired up for the Cowboys wasn't an issue. The Bears had a number of reasons to want to destroy them. Chicago had last beaten Dallas in 1971, then lost the next six encounters -- meaning nobody on these Bears had ever defeated the Cowboys. [Mike] Ditka had coached only once against his mentor, Tom Landry, in 1984 at Soldier Field. In an unguarded moment after the Bears lost 23-14, Ditka blamed himself and admitted how much the game had meant to him.
"I got uptight. I choked. I really wanted to win that one," said Ditka.
[+] Enlarge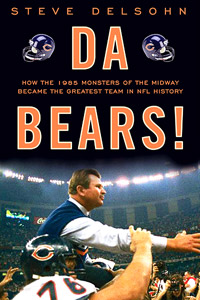 Crown Archetype/PublishersSteve Delsohn's book details how the 1985 Monsters of the Midway became the greatest team in NFL history.
More recently, in August 1985, the Bears and the Cowboys had played in the preseason. Dallas won, 15-13, but the real story was all the fights the players got into. Most of the scuffles involved the Bears' offensive linemen and the Cowboys' defensive linemen. In one of the feature bouts, Keith Van Horne got into a boxing match with Ed "Too Tall" Jones.
In the game's most dramatic skirmish, Randy White hit Mark Bortz over the head with a helmet -- which White had just ripped off the head of Van Horne.
"Randy was kind of nuts," says Van Horne. "Randy looked at me at one point, and he goes, 'I'm gonna break your [private parts]!' And he's, like, gesturing with his hands, like he's gonna snap 'em in half."
After six of the Bears were fined $300 apiece -- and White was thrown out of the game and fined $1,000 -- Dan Hampton said of the regular-season rematch at Texas Stadium: "It's going to be World War Three in November." Lest anyone didn't get it the first time, Hampton later added, "They better have that little cart gassed up that they use to carry people off."
So, indeed, the Bears had sufficient incentive. There were the six straight losses to the Cowboys. There was all that bad blood from the preseason. And then there was always that annoying nickname.
"They were America's Team. But that was self-accreditation," says Gary Fencik. "If you asked any other players in the league, I can't imagine they'd say, 'Yeah, that's how we look at it, they're America's Team.' That whole thing was a bit much. However, I will say this: They were America's cheerleaders."
Football players by nature are sarcastic. Violent and sarcastic.
While the violence would have to wait until that Sunday, the sarcasm reached new heights as the game approached. "There were a lot of comments that week at practice," says linebacker Cliff Thrift. " 'Don't forget, you're going up against America's Team.' But clearly we thought we were the better team. So the America's Team thing wasn't even a slap in the face. We thought it was a joke."
"We considered ourselves America's Team," recalls rookie kicker Kevin Butler. "And going into that game, we were going out there to try and take that slogan away from them. I remember the defense sitting around and talking about how many quarterbacks they were going to knock out that day." On top of it all there was Ditka, who couldn't stop talking all week about his great respect for Tom Landry and the Cowboys, where he had played and assistant-coached for 13 years. "Ditka revered that team," says cornerback Leslie Frazier, "but that kind of motivated the guys on our defense. Buddy Ryan said, 'Who cares about the Cowboys? We're gonna kick the [expletive] out of the Cowboys.' So we had one of our coaches showing respect for the Cowboys and another coach totally disrespecting them and what they stood for."
In 1985 the Cowboys were somewhere between their glory years and their bottom. During the 1970s, they had played in five of the decade's 10 Super Bowls, beating the Dolphins in 1971 and the Broncos in 1977. By the late 1980s, they were a broken dynasty, plummeting all the way down to 1-15 in 1989.
On Nov. 17, 1985, as the 10-0 Bears took the field at Texas Stadium, the Cowboys were 7-3 and leading the NFC East, arguably the best division in football. On paper it seemed to be a pivotal game between an emerging powerhouse and an established one. In Dallas the fans had been scrambling for their tickets, which were reportedly tougher to get than even a game against the rival Redskins. On CBS, the game would be shown to 68 percent of the country, compared to 30 percent of the country for the typical regular-season NFL game. And it turned out CBS made the right decision: Chicago against Dallas was the highest-rated game on the network in 10 years.
[+] Enlarge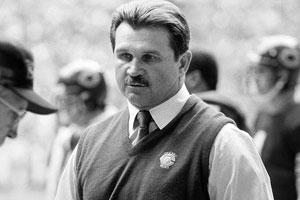 Jonathan Daniel/Getty ImagesBlowing out the Cowboys was bittersweet for Mike Ditka, who wanted to beat his former team and mentor Tom Landry but didn't like doing it in blowout fashion.
Even though the game itself was a drubbing. By halftime, the Bears led 24-0, and it appeared as if Dallas had already quit. The final was 44-0, the worst defeat in the 26-year history of the Cowboys and the first time in 15 years they were shut out. Thrift, who grew up in Oklahoma but was born in Dallas, says he had rounded up a large number of tickets and then handed them out to his relatives. But after the game, he says, "they were all [ticked] off at me because we humiliated their Cowboys on national TV. And then it made the cover of Sports Illustrated. Front cover of Sports Illustrated -- Bears 44, Cowboys nothing. Then they were really complaining and [ticked] off at me. I was like, well, get your damn tickets somewhere else then. Gol dang."
The Dallas offense took a terrible physical beating, especially Danny White and Gary Hogeboom, the embattled quarterbacks who were sacked six times. White was knocked out of the game in the second quarter by a blitzing Otis Wilson. White came back to start the third quarter and was knocked out by Wilson again. The second time White was carried off on a stretcher. Before the debacle was over, the Cowboys punted 10 times, never advanced past the Bears' 38-yard line, and had two of their four interceptions run back for touchdowns by Richard Dent and Mike Richardson.
Still filling in for [Jim] McMahon, [Steve] Fuller connected on only 9 of 24 passes, but those nine completions were good for 164 yards. Payton gained 132 yards. The Refrigerator played fullback and ran for a yard. Butler kicked three field goals, one from 44 yards and one from 46, continuing his sizzling rookie season. Punter Maury Buford kept pinning the Cowboys down near their goal line, not a fun place to be against the Chicago defense.
The 1985 Bears were now 11-0, the first team to clinch their division, and the only unbeaten team in the NFL. And yet after the Bears had looked so incredibly strong against the Cowboys, the players looked at Ditka and saw a man with mixed feelings.
"He was coaching against his mentor, who he absolutely respected," says linebacker Ron Rivera. "And even after we won, Ditka seemed a little sad about it. He wanted to beat Tom Landry, but not that badly."
Ditka did not make it public, but he says he was angry that day at Buddy Ryan, who came into the game badmouthing the Cowboys. Then, once the game was played -- and the outcome long decided -- Ditka couldn't believe it when Ryan kept pouring it on.
"What was it, 44-0 or something?" says Ditka. "And we're still blitzing at the end of the game? That makes a lot of sense. I had to tell the guy, 'Quit blitzing, what the hell you gonna accomplish? You knocked out two quarterbacks.'
"I mean, it's crazy. And that game was embarrassing to me because there's no man in football I had more respect for than Coach Landry. It was just our time. We were a better team than them, period. Let it go at that. Did we rub it in? The score would indicate we rubbed something in. I told him [Landry] after the game I was sorry that it went the way it went. He said, 'You have to do what you have to do. You have a heck of a football team.' But still, that didn't change the way I felt. I'm sure somebody else would tell you, that was the Cowboys, America's Team, it was good to stick their noses in it. I didn't feel that way."
After taking apart the Cowboys on national television, some of the players say the 1985 Bears became America's Team. Their contrarian quarterback has a different view. "They'd been America's Team for what, 20 years or whatever?" says McMahon. "But they were pretty much done in '82 when the 49ers beat them in the championship game. They didn't do much after that for a while, not really until the nineties. But even after we beat them, we weren't really America's Team. We were the anti-heroes."
Of course, anti- heroes are seductive, especially when they romp 44-0. It was also against the Cowboys when Dave Duerson and Otis Wilson started barking to each other after a sack. It started on the sidelines as the Cowboy fans were heckling Chicago's defensive players who were seated on the bench. Duerson inexplicably barked at the fans. Wilson looked at Duerson and started barking. Then they both began barking when they went back on the field. Afterward a reporter asked Duerson where the barking had come from. Duerson said, "We're just a bunch of junkyard dogs." The nickname stuck. Leslie Frazier says the shellacking in Dallas cemented the Bears' reputation as the most entertaining team in the NFL. "You're playing the Dallas Cowboys and you're dismantling those guys and you're doing it with personality," says Frazier. "So the fans are saying, 'Man, these guys are having fun. And they're kicking butt at the same time.' So the respect for the Bears, especially our defense, really went to another level after that game."