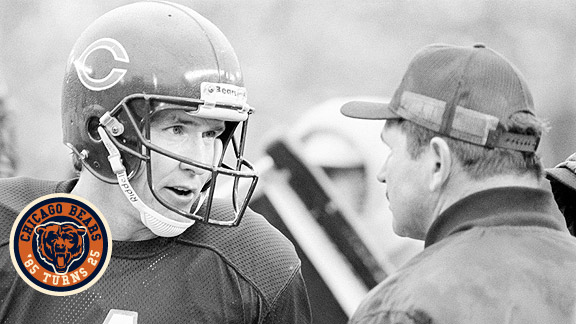 Jonathan Daniel/Getty Images
Backup plan saved Bears
Steve Fuller couldn't dance, but he played a vital role in filling in for Jim McMahon '85 Bears: Growing Media Coverage
Editor's note: ESPNChicago.com is celebrating the 25th anniversary of the Chicago Bears' dominant 1985 season and victory in Super Bowl XX. We'll have weekly features on each game from '85, video interviews with key figures, photo galleries and more.
When Steve Fuller trotted out at quarterback for the 1985 Bears, it did not mean he was the preferred choice or that starter Jim McMahon was a little banged up. Nope, Fuller is remembered best as the embodiment of another scary McMahon medical report.
Oh yeah, and as the really bad dancer in the Super Bowl Shuffle.
How he handled both tells you all you need to know about Fuller.
"You had to have fun. There was nothing else to do with it but suck it up and take it," he said of the shuffling abuse. "It's right there in front of you.
[+] Enlarge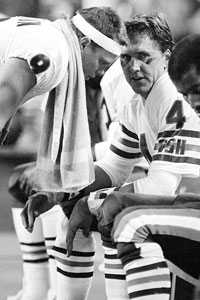 Jonathan Daniel/Getty ImagesJim McMahon, left, relieved Steve Fuller against the Vikings and passed for three touchdowns to lead a comeback victory, and Fuller enjoyed the show.
"Gary Fencik actually rescued me [from further teasing]. When people said, 'Don't you feel good that at least you're the second-worst [dancer], he was always pretty nice. He said, 'Well, Steve Fuller had a pretty bad ankle injury the night before.'
"But there was no excuse for the singing."
Fuller's ankle injury came in the Bears' lone loss of the season at Miami, the answer to a trivia question -- "The Dolphins game was one of how many that Fuller started that season?" -- that even stumps some of Fuller's teammates.
The answer: five.
"People don't realize how critical and what an impact Steve had on successfully running our offense that year," said former Bears fullback Matt Suhey, who remains close to Fuller.
The Bears were 4-1 in games Fuller started, and he made appearances in 10 regular-season contests.
His best game statistically was one for which he will never be remembered, Thursday night at Minnesota, in which he completed 13-of-18 passes for 124 yards, but was pulled for McMahon with the Bears trailing 17-9 in the third quarter. McMahon made a dramatic entrance after being hospitalized during the week, and threw three touchdown passes to lead the Bears to victory.
"I had just thrown an interception, but it was certainly not embarrassing being taken out at that point," Fuller said. "Certainly, I would have liked to be doing it myself, but it was sure enjoyable to watch."
It was that attitude that endeared Fuller to McMahon and teammates.
"Steve was a great teammate, very professional," McMahon said. "When Steve had to play, he played well."
McMahon enjoyed playing golf with Fuller and the two opposite personalities jelled perfectly.
"We were very good friends," Fuller said. "The opposite personalities worked very well, a lot like a husband-wife type of things but with some psychological similarities there. On our team, he had his role to play and I had mine. Certainly you would never want there to be two Jims."
Not if they wanted their head coach to maintain his sanity.
"I was signaling in the plays," Fuller said, "and a lot of times, Coach Ditka would give me the play and something else was run and he'd look at me and say, 'What did you call?' Of course I'd say, 'Coach, I called exactly what you asked.' I passed that responsibility off very quickly."
And when it was Fuller's turn, there was no question he did what he was told to do.
"One of the characteristics of that team was the saga of Jim," Kevin Butler said. "And we had somebody who was basically the opposite of Jim who would come in and make everything calm and do a good, steady job."
"There's no question," said center Jay Hilgenberg, "that Steve really offered that veteran leadership that we needed at that position when Jim wasn't there. We had all the confidence in the world in Steve. He was a former first-round draft choice and the type of guy who was like a sponge. You could just tell he completely absorbed everything we were trying to do and just seemed very confident and poised.
"It was just that confidence that made all of us on offense feel comfortable, that we didn't have to worry about the position."
Fuller was certainly no rookie. Drafted 23rd overall by the Kansas City Chiefs in 1979, he was a full-time starter his first two seasons there, spent the '83 season with the L.A. Rams backing up Vince Ferragamo and was in his second year with the Bears in '85.
"

One of the characteristics of that team was the saga of Jim [McMahon]. And we had somebody who was basically the opposite of Jim who would come in and make everything calm and do a good, steady job.

" -- Former Bears kicker Kevin Butler on Steve Fuller
Now a high school football coach in South Carolina, where the father of two lives with his wife of 26 years, Anna, Fuller starred at Clemson, where he was both a football and academic All-American. Just the second athlete in school history to have his number retired, Fuller graduated with a 3.93 GPA.
"I kind of look at it like I had two careers," Fuller said. "My four years in Kansas City and one in L.A., I was single, a young guy just trying to make my way. My last five years with the Bears, I was a veteran, a journeyman is a fair way to say it.
"I was thrown in [as a starter] so early in Kansas City, and I got beat up pretty good. We weren't bad, but we weren't especially good [7-9 in '79, 8-8 in '80, when he started a combined 25 games]. If you put the two side by side, I had two very distinct kinds of experiences with playing in the NFL, but the most rewarding was the second part for sure."
Fuller arrived in Chicago in '84, McMahon's second season.
"They finished [an 8-8 season] 5-1 the previous season, so there was some promise and optimism. One of the big reasons I chose to go there was that I felt like there was upward movement. It came down to going to a lesser team with an opportunity to start versus the Bears with the understanding I'd be a back-up. It was difficult, but it turned out to be the right decision."
Fuller started four games for an injured McMahon in '84.
"But when we got to camp, we were right back at square one," Fuller said. "Coach Ditka told me, 'Jim is the guy, you be the best back-up you could be.' It's not easy in that role because you always want to play and be the best you can be, but I was never under any illusions that I would be the starter regardless of how I played. Coach Ditka was great about that. He never gave me any false impressions, never led me to believe any other way. He told you exactly how it was."
Fuller was named by Sports Illustrated as one of the top 15 backup quarterbacks of all-time [he was 14th], based on the '85 season. But after starting against Minnesota, Fuller didn't start again for seven games, taking the reins against Detroit in a 24-3 victory on Nov. 10.
With McMahon sidelined by a sore shoulder, Fuller ran for two touchdowns against the Lions, and Suhey and Walter Payton each rushed for more than 100 years in leading the Bears to their 10th straight win, setting up a potential NFC Central Division clincher the following week in Dallas.
Fuller completed only 7-of-13 passes for 112 yards on an extremely windy and rainy day at Soldier Field while Detroit quarterback Eric Hipple was 8-of-17. It was a confidence-builder for Fuller, whose last two starts -- at Minnesota during the regular season and at San Francisco in the Bears' 1984 NFC Championship loss to the 49ers -- left Bears fans questioning whether the team could succeed with anyone but McMahon at the helm.
"[Fuller] was a great player as a starter without question," Suhey said. "He was perfect for the Bears, a quick study, he wasn't going to make mistakes. He was perfect for what we needed. With our defense and Walter and the offensive line, we wanted to control the football and keep the defense off the field, and Steve was a vital part of that."
The following week, in a reunion of sorts for Ditka and former mentor Tom Landry, Fuller was 9-of-24 for 164 yards with an interception that bounced off Willie Gault's chest, but he hit key passes that kept drives alive and the Bears' defense took over in a 44-0 victory.
Interestingly, it was Fuller who led the Bears to their division-clincher the previous season against Minnesota when McMahon was out with a laceration to his kidney.
"I remember those three starts in a row [Detroit, Dallas and Atlanta, a 36-0 Bears win], in which we outscored them [104-3]," Fuller said. "I know I'm not going to be asked to make any special plays. I was asked to manage the game and not make mistakes, and that was a good fit with our defense.
"That game [against Dallas] really showcased our defense and proved how really good they were. On the offensive side, we just had to stay out of their way and not do anything to preclude them from showing their stuff."
Fuller did not play in the Bears' two playoff games, but he relieved McMahon at the end of the Super Bowl victory, threw four incomplete passes and had a 1-yard run. The following season, his last in football, Fuller started two games, both Bears' losses, and threw for two touchdowns.
He left Chicago, he said, with nothing but fond memories and gratitude.
"We had such a strange group of personalities, everybody contributing in their own way and in a certain fashion," Fuller said. "But everyone appreciated everyone from the third-team guys to the guys who played every down. It was a mix that worked, all the little pieces fit. I felt blessed to be a part of it."
Melissa Isaacson is a columnist for ESPNChicago.com.