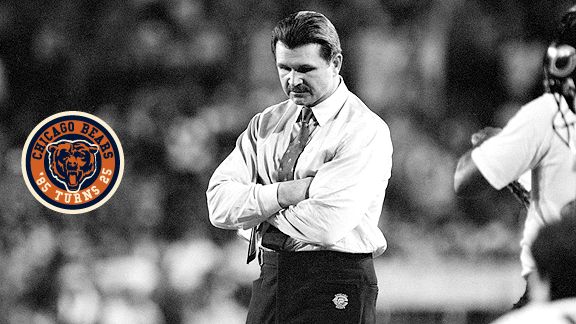 Jonathan Daniel/Getty Images
'This just isn't our night'
Lone blemish for '85 Bears may have taught valuable lesson on road to Super Bowl '85 Turns 25
VIDEO PLAYLIST
CHICAGO -- Dan Hampton was in Jacksonville, Fla., in 2002 when he learned he would be inducted into the Pro Football Hall of Fame. But he remembers something else about that day.
"I was in a golf tournament that afternoon with Dan Marino, and I was asked by an interviewer what I thought about him," Hampton recalled. "I said, 'He's great, a future Hall of Famer, but even though he played in a Super Bowl and owns practically every passing record in history, I'll bet if you ask him what his greatest accomplishment was, he'll say, 'Beating the Bears on 'Monday Night Football' in '85.'
"I bet the guy $10, and that's exactly what Marino said."
Yet for everything Miami's 38-24 victory over the Bears on Dec. 2 of that year meant to Marino, his teammates, his coaches, Dolphins fans and the members of their '72 team who stalked the sideline that night rooting for their perfect record to remain intact, it might have meant more to the Bears.
"We became a little more focused after that, a little more intelligent," former Bears coach Mike Ditka said. "We were outcoached, they had the better game plan, we made mistakes and it made us better. It gave us resolve. And we went back at it after that and soon we were hitting on all cylinders again."
"

I was like, 'Jesus, come on, old men, we still have another half to play and you want to put each other in the hospital?' It was like a Jerry Springer special.

" -- Steve McMichael, on Ditka-Ryan spat
A quarter of a century later, however, it still irritates them, still opens old wounds, still conjures up a night when their vaunted defense was exposed, their offense was stymied, and their head coach and defensive coordinator nearly came to blows at halftime.
Almost immediately, the loss was blamed on overconfidence and overexposure, the Bears' "Refrigerator"-fueled publicity machine surely responsible for the embarrassing hiccup. And the Bears only seemed to confirm that by going into the game outspokenly irritated with ABC commentators O.J. Simpson, Joe Namath and Frank Gifford's treatment of them that season -- everything from making disparaging comments about Ditka's play calling, to not appreciating the defense enough, to mispronouncing their names.
But when it was over, the only real positives the crew could utter were congratulations to Walter Payton for breaking Simpson and Earl Campbell's record of seven consecutive 100-yard games.
The next day, Chicago columnists railed against Ditka for not giving Payton a single carry until the Bears trailed 10-7, then running him late in an effort to secure the record when they were down 14 with more than 12 minutes to play.
Dolphins players had the same questions.
"I never saw anybody give up like that at the end just for a record," Dolphins linebacker Bob Brudzinski said at the time. "They had chances. They had time."
Bears quarterback Jim McMahon, still recovering from a shoulder injury, replaced Steve Fuller in the fourth quarter after Fuller sprained an ankle, but Bears fans hoping for a repeat of the dramatics he produced against the Vikings on "Thursday Night Football" were disappointed as the Dolphins racked up six sacks on the night.
"I just remember a lot going against us," Fuller said. "A blocked punt, a ball bouncing off someone's helmet and over everyone's head for a touchdown. It was just one of those nights where midway through the second quarter, we looked at each other like, 'This just isn't our night.'"
But it was the Bears' defense failing to execute and being utterly dominated by Marino that truly surprised everyone. The Dolphins' typically stationary quarterback rolled out often and used his quick release to extreme advantage, leading his team on scoring drives on all five first-half possessions for a 31-10 halftime lead. That broke a streak of 13 scoreless quarters for the Bears' defense and marked the most points scored against the Bears since the '72 season opener.
Marino converted five of six third-down opportunities in that first half -- once on third-and-19, once on third-and-18 -- and finished the night completing 14 of 27 passes for 270 yards and three touchdowns.
After a blocked punt at the Chicago 6-yard line set up Miami's fourth touchdown of the half, Ditka was caught on camera screaming at defensive coordinator Buddy Ryan over a missed defensive assignment. And Ryan had yelled at Ditka for passing from the Bears' 20 with 1:57 left in the half after two deep passes from Marino made it 24-10. A sack of Fuller set up the blocked punt.
Long-standing tensions boiled over in the locker room.
"I was one of the last to walk into the locker room at halftime, and there they were, face to face, just cussing each other out, fixing to go at it," defensive tackle Steve McMichael recalled of Ditka and Ryan. "I had to break it up. I was like, 'Jesus, come on, old men, we still have another half to play and you want to put each other in the hospital?' It was like a Jerry Springer special."
[+] Enlarge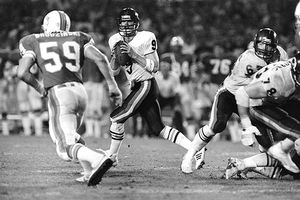 Jonathan Daniel/Getty ImagesJim McMahon was still recovering from a shoulder injury when he replaced Steve Fuller in the fourth quarter.
"It wasn't the first time," Fuller said of the altercation, "certainly not with that group. It wasn't unusual for [Keith] Van Horne and Hampton to duke it out at practice, or McMichael and [Jay] Hilgenberg. Those things happen. But I hadn't seen anything like that before.
"McMichael got between them and we broke them up, and Coach Ditka gave a spiel on what we had to do better. But there wasn't a whole lot of talk about what had just happened between the two of them."
At the heart of Ditka's anger at Ryan was why he was playing the linebackers in zone coverage, with Wilber Marshall trying to cover receiver Nat Moore in the slot.
"Buddy wanted to kill Marino and blitz him with the 46," McMichael said. "He knew what was going to happen if we didn't kill Marino. But it was my fault, and every guy in the front seven will tell you, it was our fault we didn't get to him. We wanted to knock the quarterback out so he couldn't beat us, and we didn't.
"Mike wanted an undefeated season, so I don't blame him. And I don't blame Buddy for doing what he did either. That was what he expected us to do, and we didn't get it done."
Even today, Bears flanker Dennis McKinnon sounds angry at the Bears' defense.
"It was the Pro Bowl selection the next week, and it was the only game all year that our defense was trying to get sacks and not doing what they were coached to do all week," McKinnon said. "It was the first time all year that they were selfish, but that relapse cost us the perfect season."
Hampton said that when Ditka had Fuller throw the ball on the first nine plays -- all three-and-outs -- "we never had time to address the situation. It was 88 degrees with 90 percent humidity, we had been standing in a snow bank for months, we were gassed. It was a tough spot to be in."
The Dolphins extended their lead to 38-17 in the third quarter when Hampton and corner Mike Richardson tipped a Marino pass into the hands of Mark Clayton, who scampered in for a 42-yard touchdown.
It would be the Bears' ninth straight road loss on "Monday Night Football" and extended their winless record against the Dolphins.
The following day, Ditka and Ryan were conciliatory.
"I was upset with some of the things that happened [against the defense] because I thought we weren't making adjustments to them," Ditka said. "But my goodness, we had the right [defensive] plays called. We had individual breakdowns."
Said Ryan: "You hate to get beat that bad, but it might be a good thing because now they'll all quit worrying about who's going to the Pro Bowl and start playing team defense."
As for Ditka's reluctance to run early, he admitted he made a mistake.
"I think we could have run the ball all day," Ditka said. "I haven't seen them stop us running yet."
Today, they are equally gracious.
"The big thing that killed us was that we lost containment," Ryan said.
Said Ditka: "Also, we could have scored a few more points. That wouldn't have hurt."
Other than the now 12-1 Bears failing to keep their unbeaten streak going, there was little at stake. The Dolphins, however, were in the midst of an AFC East battle and cognizant of protecting the 1972 team's honor.
"It doesn't get any more important than this," Miami coach Don Shula had said of the game.
"It was one of those deals," Hampton said, "where you could say that nobody's perfect, they get a paycheck, too, they have a head coach and quarterback in the Hall of Fame, and on that night, they kicked our [butt]."
New England would surprise the Dolphins in the AFC Championship Game that season, so the Bears would never get their rematch. But most agree they owe the Dolphins a debt of gratitude. Sort of.
"In a way that night helped us," Van Horne said. "It made us angry and more determined and made us refocus. But it also would've been nice not to have that happen."
Melissa Isaacson is a columnist for ESPNChicago.com.