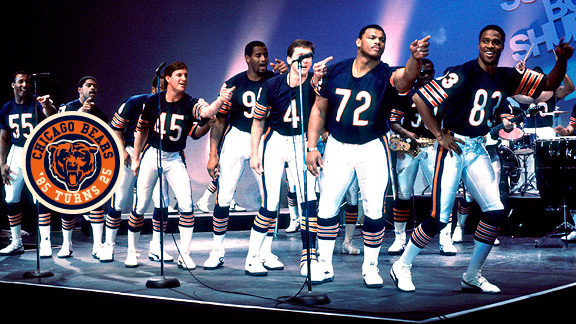 Paul Natkin/Getty Images
Behind The 'Super Bowl Shuffle'
Commercial success, frustrated players, lawsuits shuffled into song's equation '85 Turns 25
VIDEO PLAYLIST
CHICAGO -- On the night Julia Meyer finally had enough, she was watching television.
[+] Enlarge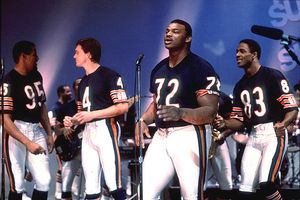 Paul Natkin/NFLNot all of the players were happy with the way the proceeds of "The Super Bowl Shuffle" were dispensed.
Mindlessly flipping through the channels, trying to fall asleep, she stumbled onto a home shopping channel special featuring a framed collection of photos from the 1985 Chicago Bears. Included was a shot from the "Super Bowl Shuffle" music video her deceased husband had written and produced. Meyer hopped out of bed, pressed her nose up against the television screen and, as the copyright holder for all things "Shuffle," took a closer look.
It was indeed a photo to which she owned the rights. She was livid.
"I watched for a few minutes, found out who was behind it and then I did exactly what Dick would have wanted me to do," she said. "I tracked down my lawyer."
It was 25 years ago this month that Richard "Dick" Meyer, Julia's husband and a former executive at Jovan fragrances, convinced wide receiver Willie Gault and a bunch of his teammates to shuffle on down to the Park West Theater to sing, dance and rap their way into pop culture history.
The result was arguably the most successful marriage between sports and pop music ever. Gault boasted he was "as smooth as a chocolate swirl," Walter Payton compared running the football to making romance, William Perry insisted he was "no dumb cookie" and Dick Meyer had a hit.
In a matter of weeks, the album went platinum, selling more than a million copies. The music video sold another 200,000 units. The song was even nominated for a Grammy, losing to Prince's "Kiss" for Best R&B Vocal Performance by a Duo or Group. Even in 2005, a 20th anniversary DVD sold 100,000 copies the first week it was released, Julia Meyer said.
Beyond its commercial success, the song defined the character, ego and swagger that personified one of the most popular Super Bowl championship teams of all time.
"When you think of that '85 team, you think Mike Ditka, Buddy Ryan, Walter Payton, the 46 defense ... the 'Super Bowl Shuffle' is all a part of that," former Bears safety Gary Fencik said. "It all rolls together. It's part of our legacy and what we were all about."
"Without that song, we wouldn't be the '85 Bears," Gault added. "It's as simple as that."
Despite the song's popularity, it's rare to find a clip floating around on the Internet. And that's because of Meyer, 53, who married Dick in 1988 and became the sole copyright holder following her husband's death in 1992. Since then, the former runway model has built a reputation as someone who hunts down copyright violators with the tenacity Mike Singletary used to have chasing down quarterbacks.
Just last week, in fact, Meyer and her attorney filed suit against Viacom, alleging that television shows on MTV and VH1 used the "Super Bowl Shuffle" video without permission. A spokesman for Viacom said this week that the company did nothing wrong. According to court documents, it was the fourth time since 2006 Meyer had filed such a suit. Each of the previous cases was settled out of court. Meyer and her attorneys also have sent more than 50 cease-and-desist letters over the years.
"Have you ever gotten a stone in your shoe? Well, that's me," she says. "That tiny little stone. And I'm going to be there until you stop, take off your shoe, deal with that stone by hand. Because otherwise I'm not going away."
Over the years, Meyer and her attorneys have butted heads with everyone from AOL and Comedy Central to memorabilia collectors and ESPN over copyright issues. She regularly combs through websites like YouTube, insisting that all "Super Bowl Shuffle" clips be removed. If you're lucky enough to ever find the "Shuffle" on YouTube or another file-sharing site, you can be certain it soon will be replaced with the message, "This video is no longer available due to a copyright claim by Julia Meyer."
Meyer even uses the services of an independent media intelligence agency to monitor television and radio broadcasts all over the country as well as websites in search of improper use. What might seem extreme actually isn't that out of the ordinary. The NFL is legendary for its defense of the term "Super Bowl," citing trademark law to ferociously go after any company that uses the term to give the impression of a relationship with the league for promotional purposes.
"

When you think of that '85 team, you think Mike Ditka, Buddy Ryan, Walter Payton, the 46 defense ... the 'Super Bowl Shuffle' is all a part of that.

"

-- Gary Fencik
"Most of the time, these are huge corporations that will take something because I'm too little. Or because I'm a woman," she said. "Sometimes they'll claim that the right hand didn't know what the left hand was doing. Or they didn't realize there was a copyright issue. I'm OK with that -- whatever. Just pay me."
It isn't cheap. A few years back, Meyer solicited the help of a Chicago advertising firm to get an idea for what she should charge people to use the "Shuffle." She said the firm explained to her that because the song is the only one of its kind and has such an irreplaceable role in pop culture history, she could charge anywhere between $1,000 and $10,000 per second.
"I chose the lower end," she said. "And if you steal from me, it's seven minutes long. You do the math."
It doesn't take a fancy calculator to realize that's $420,000 to use the entire song. But Meyer insists her motivation is more about protecting and honoring her husband's legacy than it is filling a bank account. She sees the "Shuffle" as Dick's gift to the world. And she will do whatever it takes to defend that legacy from being "stolen."
It was her husband, she points out, who came up with the idea for the "Shuffle." He composed the music, wrote many of the lyrics and, perhaps most importantly, convinced Red Label Records to front nearly $1 million for something that had never been tried before.
"My husband died in my arms, and the more I think about that, the more I feel like stealing this song is an affront to him," she said. "One guy told me, 'I knew Dick. He wouldn't charge me for this.' And I told him, 'No, you didn't know Dick, because he wasn't somebody you could ever steal from.'"
The day Dick produced the video at the Park West Theater, he even had Julia sign a waiver. She appears in the "Shuffle" video as the female referee who blows the whistle in the two instances in which it seems a Bears player is about to curse.
"I was like, 'What is this all about? I'm Dick's girlfriend,"' she remembers saying that day. "And the guy goes, 'You're Dick's girlfriend? Great. Then you shouldn't have a problem signing this.'"
Meyer declined to say how much she's made on the song over the years, citing the confidentiality agreements she signed in each of her settlements. But she said the "Shuffle" is not her primary source of income, and added that she has allowed numerous charities, nursing homes and other nonprofit agencies to use the song and video for free.
"Just ask me. That's all I want," she said. "I may say, 'Sure, go ahead.' I may charge you $1,000 for the whole song. But I need you to respect me and my late husband by not stealing from me. That's what this is all about -- protecting the legacy of something that he created."
The song was recorded at a studio inside Dick Meyer's home, while the video was taped at the Park West the morning after the Bears lost their only game of the season, a 38-24 decision to the Miami Dolphins.
"It wasn't easy," Gault said of recording the video after such a disappointing loss. "A lot of the guys wanted to back out; they didn't want to do the video after that night. But I told them the music was already done. And the venue had already been paid for. So we just showed up and approached it like it was something else we needed to win."
Most of the players agreed to do the song because they were told the proceeds from the sale of the original single would go to charity. As Payton rapped in the song, "We're not doing this because we're greedy; the Bears are doing it to feed the needy."
But after the song was released and became an instant hit, Dick Meyer fought with Illinois lawmakers as to what percentage of the proceeds from the song would go to charity. Meyer eventually registered the project as a charitable endeavor under Illinois state law and donated close to $300,000 -- roughly 50 percent of the profits -- to the Chicago Community Trust. That money bought refrigerators, freezers, vans and other equipment for those in need.
Still, many of the players thought there should have been more. More for charity and more for them. Each player received $6,000 for his performance. A few earned more for appearing in a parody commercial that was shown on television during last season's Super Bowl.
"We definitely got ripped off," said Fencik, who declined to appear in the commercial. "Like every other starting band, we got ripped off. I signed my contract on the plane going to New Orleans for the [Super Bowl]. We didn't know what we were doing. And we never imagined it would turn into something like this.
"There were a lot of hard feelings about it because even though money went to charity, many people thought more should have gone. Even the backup band wasn't happy with their cut. But it is what it is."
Frustrated players are just as much a part of the "Super Bowl Shuffle" lore as bad dancing. Singletary has been less than pleased for years. The former middle linebacker and current coach of the San Francisco 49ers reportedly threw his gold record from the "Shuffle" in the trash. And when the topic of the "Super Bowl Shuffle" feeding the poor came up during an ESPN interview with former Bears coach Ditka earlier this year, Singletary replied, "Don't even take me there because it didn't quite work that way. It fed the rich."
Gault, whose relationship with Dick Meyer was one of the key ingredients of the "Shuffle" becoming a reality, defends Julia Meyer. He even took her as his guest to a recent reunion of the 1985 team.
"It's hers to protect," he said. "They did it, they came up with the money, that's the way the business is. I understand where Julia is coming from with all of this. And that's her business."
Said Fencik: "It's one of those things where I couldn't care less. Good luck to her. At the end of the day, it turned out to be a fun thing. It established a brand for the 1985 team that will forever be a part of sports history. And that is something that can never be replaced."
Wayne Drehs is a senior writer for ESPN.com. He can be reached at wayne.drehs@espn.com.