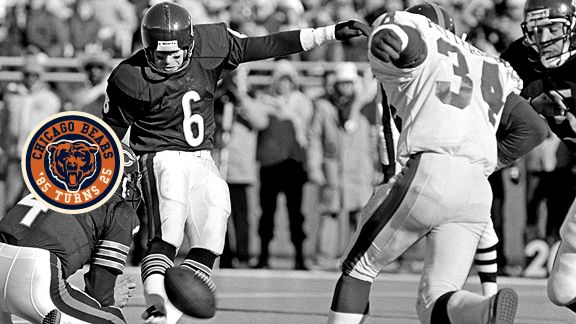 Jonathan Daniel/Getty Images
Butler fit to a tee
Rookie rolled up his sleeves and became ideal kicker for colorful '85 Bears
Editor's note: ESPNChicago.com is celebrating the 25th anniversary of the Chicago Bears' dominant 1985 season and victory in Super Bowl XX. We'll have weekly features on each game from '85, video interviews with key figures, photo galleries and more.
There are still moments, Kevin Butler admits, when he thinks he could be out there again.
"I can honestly tell you, if I had a personal trainer for a year, I could do it," said the highest scoring rookie in NFL history. "But the key to that, during the year, somebody has to pay my bills. That's the harder part."
The fearless rookie kicker has a generous smattering of gray now, and he doesn't get called "Butt-Head" much anymore unless he's at a Bears reunion. Although the confidence that endeared the Georgia kid to his teammates on the '85 Super Bowl champs is still there, it has by the laws of genetics and the force of nature, now been passed down to his children.
[+] Enlarge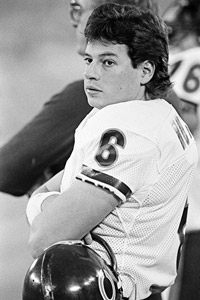 Jonathan Daniel/Getty ImagesA 23-year-old rookie in 1985, Kevin Butler led the NFL with 144 points and connected on 31 of 38 field goals.
Butler's attention is now focused on his family. Married for 25 years to wife Cathy, whom he met at the University of Georgia, Butler gushes about 19-year-old Savannah, a dancer who attends college in New York, calling her the "best athlete in the family," and on this day is beaming after a weekend in which Scarlett, 23, just became engaged, and hours after learning son Drew, 21, a junior punter at Georgia, was named to the AP team All-American team for the second year in a row.
The Butlers became the first father-son, first-team All-American tandem in Georgia history last year with Drew, a 2010 finalist for the Ray Guy award (given to the nation's top collegiate punter) and the '09 Guy winner, adding academic All-American honors this year.
Butler tells the story of Drew being recruited by Duke and Wake Forest but initially not being offered a scholarship to his alma mater. "And now he's the seventh player in Georgia history to be an academic All-American and an All-American," Butler said, uncharacteristically stumbling over his words when asked for his reaction.
Drew Butler, who moved with his family first to Arizona, where Butler finished out his NFL career, and then to Georgia, where he attended high school and first played football, names Alonzo Spellman, Curtis Conway, Mark Carrier and Erik Kramer among his Bears heroes.
"When they would do all the [ESPN] Sports Century specials on the '85 Bears, I'd see Jim McMahon and Coach [Mike] Ditka and Coach [Buddy] Ryan and anybody would be able to learn about football and about life from what they accomplished and the mentality they had," Drew said. "There still hasn't been a team like that one."
Nor has there been a placekicker quite like his father.
"I don't see many kids out there sticking their head in it the way I did," Butler said with a laugh. "If anything, I think I did that better than any kicker out there. I may not have made every field goal, I may not have had the highest percentage, but I never had a kickoff run back, and I tackled Barry Sanders, Deion Sanders, Mel Gray and Herschel Walker. Then after that I'd get yelled at by Ditka for not kicking it out of the end zone."
Butler, one of about a dozen rookies on the '85 Bears but the best-known along with William Perry, was the team's fourth-round draft choice that spring and came into camp competing with veteran Bob Thomas.
"He was coming off his best year ever," Butler said of Thomas. "I was wondering why they drafted me."
The pressure began immediately. Ryan, upon his first meeting Butler, called him "a wasted draft pick," and the competition with Thomas heated up in training camp.
"It was pretty vocal," Butler recalled. "I had McMahon and a couple guys take me under their wing, and we'd have field-goal competitions at the end of each practice and it was, 'Way to go Thomas. Way to go Butthead.' Whoever came out of that was prepared for the year."
Butler had only kind words for Thomas, who was "the first person who complimented me when I got it, and the first person who called when I got let go [by the Bears in '95]. That's the kind of class act I had to follow and obviously he has gone on to greater things [as an Illinois Supreme Court justice]."
The joke, still told years later, is that after his first team meeting, Butler called his then-fiance Cathy to change their wedding date, originally scheduled for the weekend of the Super Bowl.
[+] Enlarge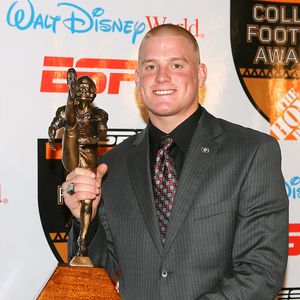 Doug Benc/Getty ImagesLike his dad, Drew Butler has starred at Georgia, winning the Ray Guy Award for the nation's best punter in 2009. He was a finalist for the award this season.
"I sat down next to Mike Hartenstine, who I thought was an axe murderer, and the first thing they did was ask the coaches to leave the room," Butler recalled. "Then these guys start going off on the team, how it was b.s. how it ended last year, that we're going to the Super Bowl, and we were going to win it. [Walter] Payton, [Mike] Singletary, [Dan] Hampton, [Richard] Dent all got up. It was electric, and it was friggin' April.
"So I get done, and we're going to have three days of mini-camp, and I call Cathy and tell her, 'We've got to change the wedding date.'
"She's like, 'What are you talking about? You've only been there for four hours, did you meet somebody already?' Her mom owned a bridal business that Cathy now has, and they were freaking out. And I'm like, 'It takes two to get married, and I'm going to be in New Orleans.' "
Rather than unnerve the young kicker, the team's bravado felt natural to him after playing on two national championship teams at Georgia.
"We opened up the season on national TV three years in a row, we had a Heisman Trophy winner," Butler said. "That's why I knew the Super Bowl was their only goal, because I saw Herschel Walker and then Walter Payton, two pretty good No. 34s, and middle linebackers and coaches with big personalities.
"I just felt it. I had those same feelings. And it made me work harder."
Getting accepted came just as naturally. The high-energy Butler would throw himself into practice drills after he was finished kicking.
"Any kind of repetition a lineman was doing, an extra body meant a couple more deep breaths so I'd do two for their one," Butler said.
A former high school quarterback and defensive back, he was also the quarterback in defensive back drills throughout his Bears career, and occasionally, when no coach was looking, an extra receiver on scout team. "I'd try to throw it as hard as I could, figuring if you can't catch the ball from a kicker, you can't catch it from a quarterback," he said. "And I'd get out there and dive around, trying to make spectacular catches and impress everybody.
"They were like, 'Get out of there,' or they'd tell me to calm down, but I never hurt myself. I'd try to score and if I did I'd tell all my friends, 'I scored against the Chicago Bears.' I know [Ditka] didn't like it, but if they didn't let me do it, I'd leave. I wasn't going to stand out there and freeze."
Butler's personality was a hit with many of the veterans, particularly McMahon and receiver/special teamer Ken Margerum, who let Butler sleep in the attic of his Lake Forest house.
"I threw an old blanket up there, and he lived up there with the rest of the two-by-four's," Margerum said with a laugh. "My rookie year, Jeff Fisher, [Jay] Hilgenberg, [Keith] Van Horne and I rented a house and [Gary] Fencik took us under his wing. When Butler came, I remember how Fencik took care of us."
"

I really did try to lay low that year, but I rolled up my sleeves, and Morten Andersen told me later that cost me Pro Bowl status. They didn't like the way I portrayed kickers. I was just giving kickers a new way to look, and I rolled up my sleeves because my offensive linemen wanted me to.

" -- Kevin Butler
Butler remembered alternating between Margerum's attic and the McMahons' house, where he babysat their daughter. "It was home for me," Butler said. "Given a group to hang out with is the key to being accepted in football, and it certainly helps for the kicker to be accepted."
It also helped that Butler was good. In '85, the rookie led the league in scoring with 144 points on 51 PATs and converted 31 of 38 field goals, including four in the Bears' 19-6 victory over the Jets in New Jersey on Dec. 14.
"He was very confident but not cocky, had tremendous ability and ice water in his veins," Margerum said. "When Kevin approached the football, he looked at it like it was the first time he started grade school -- 'There's the goal post and my job is to get the ball between those two poles.'
"You'd never see his kicks get blocked low. His foot hit the bottom of the ball, and it popped up like a golf wedge shot right at the flag. And it didn't matter how many people were in the stands or what the weather was like, he was so regimented."
With 11 tackles on kickoffs his rookie season, Butler also took on the persona of a Bears' team that was not necessarily loved by those they rolled over.
"I really did try to lay low that year," Butler said, "but I rolled up my sleeves, and Morten Andersen told me later that cost me Pro Bowl status. They didn't like the way I portrayed kickers. I was just giving kickers a new way to look, and I rolled up my sleeves because my offensive linemen wanted me to. I'd make a few tackles and my elbows were bleeding, and they just got a total kick out of it."
Butler retired from football an Arizona Cardinal in 1997 after 13 NFL seasons, a 73 percent field goal average and 1,208 points. And while it wasn't a joyous end, with Cardinals' coach and former Bears defensive coordinator Vince Tobin telling Butler they were going to "clean house," he understood. Such was not the case with his exit from the Bears two years earlier, however, when he was released by fourth-year coach Dave Wannstedt in favor of rookie Carlos Huerta, who ended up being cut before the season.
"I have no ill feelings whatsoever about the Bears, especially this long after," Butler said, "but I still hold a grudge about how it was done."
Butler said higher ranking members of the organization had told him he was getting released but that Wannstedt assured him he was safe before making him the last roster cut, a move that made it impossible for Butler to go to any of several teams that expressed interest.
"In certain cases, you should be able to shake hands and say it was a great run, and that really just turned me off to football and took the life out of me [that would have been necessary] to run around five more years to kick," Butler said.
When his Arizona days were over, he was done, Butler said.
"I knew it would be the day I quit kicking the day I kicked 10 balls and didn't want to go out and get them," he said. "What made it easier to walk away was not being in Chicago. I checked to see if the Bears would bring me back for a game, sign me and let me retire a Bear, but they weren't interested. But I think very few people would call me an Arizona Cardinal."
Besides the lifelong bonds he has formed -- Butler travelled with McMahon to visit U.S. troops in Afghanistan three years ago -- are the life lessons he learned 25 years ago.
"People say winning a Super Bowl is going to change your career, and I think winning a Super Bowl in Chicago is definitely a life-changing event," Butler said. "It has given me more than you can even explain through a ring, a little bit of money and a Super Bowl trophy. It has given me every opportunity I've had or at least been a factor in it.
"Being able to win a championship involves discipline and drive and responsibilities and to be able to do that and carry those qualities throughout life is only going to make you a better person. And then to do it in Chicago . . . . "
Though a Georgia boy at heart and now settled back there, Butler lived in the Chicago area his entire NFL career until moving in 1999, and calls his children "Chicago kids with Southern names."
He has continued a part-time career in radio that began in Chicago with Kevin Matthews and now has him a member of the Georgia broadcast team. For the last year and a half, Butler has headed Southwest Sales for Advanced Sensor Technology, a wireless soil technology system, and still travels often as a public speaker, where he talks about everything from football to green industries.
Butler is also adviser to his son, who is waiting for the NFL's evaluation before deciding whether to return to Athens for a fifth year. The timing of the league's new collective bargaining agreement may, however, work to Drew's advantage to wait a year and begin work on a Masters degree in business telecommunications.
"He's excited about being a senior and being a leader," Butler said. "And I told him, 'You can work the rest of your life but college is college. Have fun."
Drew's passion for football, he said, began while watching his father play for the Bears. But he played other sports, excelling in soccer and golf, before deciding to go out for football in 10th grade, after the family moved to Georgia.
His father taught him technique in kicking and punting, insisted he become a straight-ahead kicker and three years later, Drew was named to the All-State team as a placekicker, kicking off a tee and averaging 42 yards per punt.
Choosing one over the other was easy, his father said, after Drew missed a field goal in the state championship game that his team eventually won.
"He was all torn up about it and said, 'I don't think I can handle missing field goals,' " Butler recalled, "so I looked at him and said, 'Then you're a punter.' "
While Butler said his son is "too smart to go out and whack people" as his father once did on the football field, the Butler toughness is inherited.
"I think the biggest thing he taught me was just the mental aspect of the game and learning how to deal with misses and makes, ups and downs, to never get too high or too low and to have the level head of a specialist," Drew said. "It's a tough job that often goes overlooked and having my dad there with me definitely helps."
As for any burden of following a Georgia legend, Drew is building his own, recently named to the Bulldogs' All-Decade team.
"I've always been labeled Kevin Butler's son," he said. "It's not a bad thing. I wouldn't want to be anyone else's."
Melissa Isaacson is a columnist for ESPNChicago.com.