1985 Chicago Bears — Where Are They Now?
The 1985 Bears rapped and shuffled their way to a win over New England in Super Bowl XX in 1986 with a colorful cast of characters, perhaps the greatest single-season achievement by any pro sports team in Chicago history.
"It was like following The Beatles, quite honestly. It almost had that sort of aura to it," said Ken Valdiserri, the team's longtime PR and marketing director. "When I think of it, I think of it fondly and with a lot of adoration to the people that were part of it.
"There's nothing like it, nothing that I think could ever be replicated in professional sports. … It just created a hailstorm of publicity. It also brought about the fact that the Bears solidified their position as THE team in town."
And now, as the Bears celebrate the 25th anniversary of Chicago's only Super Bowl winners, ESPNChicago.com tracked down the players, coaches and support staff to see what they are doing today.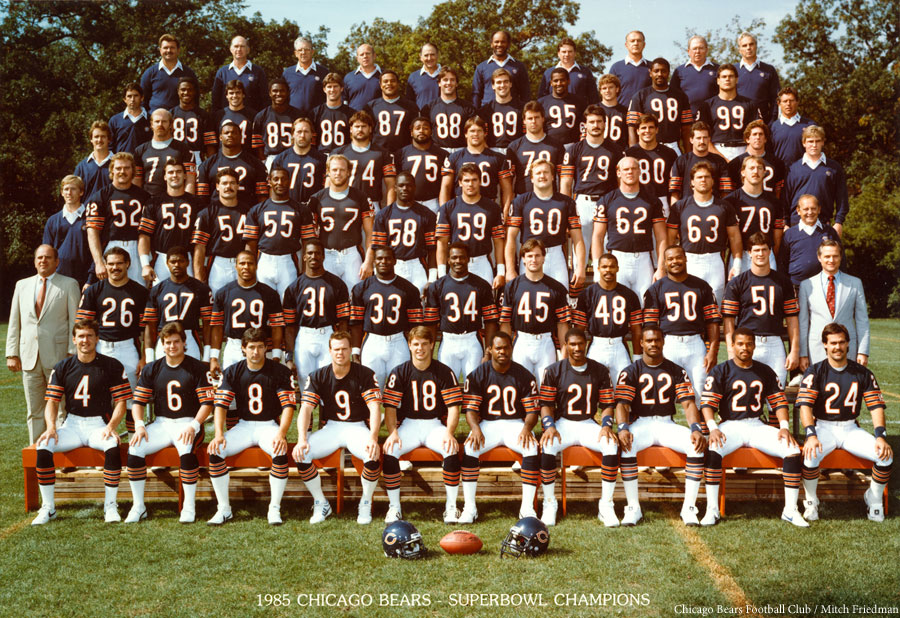 FIRST ROW: Steve Fuller (4), Kevin Butler (6), Maury Buford (8), Jim McMahon (9), Mike Tomczak (18), Thomas Sanders (20), Leslie Frazier (21), Dave Duerson (22), Shaun Gayle (23), Jeff Fisher (24)
SECOND ROW: Jerry Vainisi, Matt Suhey (26), Mike Richardson (27), Dennis Gentry (29), Ken Taylor (31), Calvin Thomas (33), Walter Payton (34), Gary Fencik (45), Reggie Phillips (48), Mike Singletary (50), Jim Morrissey (51), Michael McCaskey
THIRD ROW: Pete McGrane, Cliff Thrift (52), Dan Rains (53), Brian Cabral (54), Otis Wilson (55), Tom Thayer (57), Wilber Marshall (58), Ron Rivera (59), Tom Andrews (60), Mark Bortz (62), Jay Hilgenberg (63), Henry Waechter (70), Ray Earley
FOURTH ROW: Brian McCaskey, Andy Frederick (71), William Perry (72), Mike Hartenstine (73), Jim Covert (74), Stefan Humphries (75), Steve McMichael (76), Keith Van Horne (78), Kurt Becker (79), Tim Wrightman (80), James Maness (81), Ken Margerum (82), Gary Haeger
FIFTH ROW: Fred Caito, Willie Gault (83), Brian Bashnagel (84), Dennis McKinnon (85), Brad Anderson (86), Emery Moorehead (87), Pat Dunsmore (88), Mitch Krenk (89), Richard Dent (95), Keith Ortego (96), Tyrone Keys (98), Dan Hampton (99), Clyde Emrich
SIXTH ROW: Mike Ditka, Ted Plumb, Ed Hughes, Dale Haupt, Jim LaRue, Johnny Roland, Steve Kazor, Dick Stanfel, Buddy Ryan, Jim Dooley
FRONT OFFICE / COACHING STAFF
| Name | Notes |
| --- | --- |
| Fred Caito | Caito spent more than 30 years as a trainer on the collegiate and NFL levels, primarily with the Bears. Since leaving the Bears, Caito has kept busy as fitness coordinator and trainer at the Niles Family Fitness Center in north suburban Niles. |
| Mike Ditka, head coach | One of the most recognizable figures in Chicago sports history, "Da Coach" also was perhaps the most charismatic and fiery coach in Bears annals. He was first a great player (he was inducted into the Pro Football Hall of Fame in 1988) and then an even greater coach. Ditka coached the Bears from 1982 to '92, then began a post-coaching career in business and broadcasting. He returned to coach the New Orleans Saints for three seasons (1997-99) before retiring from coaching for good. Ditka has been a successful restaurant owner, and has worked many years as a TV analyst (first for NBC, then CBS and currently ESPN) and is a regular on ESPN 1000 in Chicago. He is co-owner of the Chicago Rush of the Arena Football League, co-owns two resorts in Orlando, Fla., and is a highly sought-after public and motivational speaker. Ditka also formed and oversees the Gridiron Greats, which raises funds for former players who have fallen on hard times. He was asked to run for the Illinois Senate in 2004 but declined. That spot was eventually won by Barack Obama. |
| Jim Dooley | Dooley spent almost his entire pro football career as a player, coach and administrator with the Bears. He was a wide receiver from 1952 to '61 before becoming an assistant coach, seeing at different times roles as wide receivers coach and defensive coordinator. He is the originator of the "Dooley Shift," which since has become more commonly known as the nickel defense. He was named head coach in 1968 when legendary team patriarch and founder George S. Halas retired from coaching at the age of 73. Over the next four seasons, Dooley compiled a record of 20-36, including one of the team's worst marks in its history, 1-13 in 1969, despite having standout players such as Gale Sayers and Dick Butkus. He spent the next 10 years in a variety of jobs, including one season as linebackers coach with Buffalo, and served as an assistant coach in the short-lived World Football League, as well as in private business. He returned to the Bears in 1981 as a defensive consultant before moving to a role as a scout and evaluator of opposing teams' game film, a role that proved crucial, particularly during the Super Bowl season of 1985. Dooley passed away in January 2008, one month shy of his 78th birthday. |
| Ray Earley, equipment manager | The late Jim Finks, the former Bears general manager, recruited Earley to move with him from the Vikings to the Bears in 1974. Earley remained in Chicago through the 1987 season before retiring back to Maplewood (a suburb of St. Paul) in his native Minnesota. One of the least-recognized but hardest-working members of the organization, Earley commonly put in 90 to 100 hours per week during the season attending to the players' various equipment needs. The players he dutifully watched over gave him a memorable sendoff: He rode in a limo to and from work on his final day as a member of the Bears organization. |
| Clyde Emrich, weightlifting/strength coach | The former U.S. Olympic weightlifter spent more than 40 years (starting in 1963, hired by team founder George Halas) as weightlifting and strength coach for the Bears. He also served in an administrative capacity after his "retirement" as coach in 1991, only to come back as a strength and conditioning consultant in 2005. Nicknamed "The Legend" for his lengthy career, Emrich pioneered weightlifting among NFL players early in his career, leading to bigger and bulkier yet faster athletes. Even though he speaks with a German-style accent, he was born and raised on Chicago's north side. He remains active with weightlifting and still stops by Halas Hall frequently, where the weight room is named in his honor. |
| Mitch Friedman | Friedman spent 21 years as director of video services, filming all games and practices with the Bears from 1974 to 1994 before leaving the team. He now owns Forest Technology and Installations in north suburban Lake Forest. |
| Gary Haeger, assistant equipment manager | Haeger spent more than a decade with the Bears as assistant and eventually head equipment manager. He left the team to join his family's auto dealership business in the north suburbs, where he's believed to still live today. |
| Dale Haupt | Haupt was a longtime defensive line coach and coordinator. He is retired, with the exception of taking part each year in the Texas vs.The Nation game. |
| Ed Hughes | Hughes spent nearly 40 years in football as a player and coach. His longest tenure was as a coach was with the Bears, from 1982 to '88, when he served as offensive coordinator and occasional foil to Bears defensive coordinator Buddy Ryan. He ended his coaching career in 1990 with a brief one-year stint as defensive coordinator at Lake Forest College. Hughes passed away in 2000 at the age of 72. |
| Steve Kazor | He enters his 40th season coaching football this year, a career that has taken him across the country to several posts as an assistant and head coach. His stops include Westminster College (Utah), where his career began in 1970 as defensive coordinator, and continued through the College of Emporia (Kansas), Texas-Arlington, Colorado State, Southern Utah, Texas-Austin, UTEP and the Dallas Cowboys. He moved to the Bears (his longest tenure, 11 seasons, from 1982 to '92), where he served in a variety of roles including special teams coach, defensive assistant, tight ends coach and assistant to the head coach. He returned to the collegiate ranks in 1993 at Iowa Wesleyan, served with the Detroit Lions from 1994 to '96, was head coach at McPherson College (Kansas) and Wayne State, and even returned briefly to the high school ranks. He also had several coaching stints in the Canadian Football League before joining the St. Louis Rams as a scout in 2007, a position he holds today. |
| Jim LaRue | LaRue spent 16 years with the Bears as secondary coach. Prior to that, he served with several teams, including head coach from 1959 to '66 at the University of Arizona, which featured a 15-1-1 streak early in his tenure. He also coached at Utah and Wake Forest and with the Buffalo Bills. He retired in the mid-1990s and returned to where he began his coaching career, Tucson, Ariz. |
| Brian McCaskey | One of George Halas' grandsons, McCaskey served as an assistant trainer from 1982 to '93 before beginning his way up the corporate ladder within the organization. Since then, he has served as player liaison/operations assistant, director of player and staff development and co-director of the Bears' training camp operations. He was named to his current position as senior director of business development in 2001. He also serves on the team's board of directors, founded McCaskey Sportsmedicine Clinic in Mount Prospect and is an auxiliary officer for the Des Plaines Police Department. |
| Michael McCaskey, team president | The oldest grandchild of George Halas was known as a business and management expert prior to joining the Bears as team president in 1983 following Halas' death. He was unable to transfer that leadership ability to the helm of the Bears. He had frequent clashes with team management and coaches, particularly GM Jerry Vainisi and coach Mike Ditka, which led to his eventual firing of them. When McCaskey was finally able to implement "his guys" after Ditka was fired in 1992, the Bears stumbled for the remainder of the decade, eventually leading to many of McCaskey's organizational powers being taken away. He lost the team presidency following a botched attempt to hire former Bears assistant coach Dave McGinnis, prompting team patriarch Ed McCaskey to not only issue a personal apology to McGinnis, but also ultimately "promote" Michael to the essentially powerless position as the team's chairman. Michael McCaskey announced in April that he will retire at the end of the 2010 season. |
| Pete McGrane | A member of the Bears' video team under chief videographer Mitch Friedman, and the son of longtime Bears and NFL executive Bill McGrane. No recent information could be found on Pete McGrane's whereabouts. |
| Ted Plumb | A veteran coach who held positions with seven NFL teams, four colleges and two high schools in a 38-year career, Plumb was an offensive specialist. He spent six seasons with the Bears (1980-85) before following Buddy Ryan to the Philadelphia Eagles. Plumb is recognized for saving Ryan's life in 1990 when, at dinner, Ryan started choking on a pork chop. Plumb performed the Heimlich maneuver. Although retired from coaching, Plumb still takes part in the yearly Texas vs. The Nation collegiate exhibition game. |
| Johnny Roland | After an illustrious playing career with the St. Louis Cardinals and New York Giants, the two-time Pro Bowl selection elected to remain in the game as a coach. Roland spent 10 years with the Bears, primarily as running backs coach, before moving on to similar positions with the New York Jets, St. Louis Rams, Arizona Cardinals, Green Bay Packers and New Orleans Saints. Since retiring from coaching, he has owned and operated radio stations and founded Reel EZ Display, a Chicago-based company. Roland splits his time between his home in Phoenix and Chicago. |
| Buddy Ryan, defensive coordinator | Ryan was the architect of one of the most feared defenses in NFL history, as well as the inventor of the fabled 46 defense. He left the Bears after the Super Bowl win to coach of the Philadelphia Eagles from 1986 to '90, then left the game for two years before returning to Houston as defensive coordinator in 1993. He ended his coaching career as head coach of the Arizona Cardinals (1994 to '95). Ryan is retired and raises racehorses on his farm in Kentucky. His two sons have carried on the family's coaching legacy: Rex is coach of the New York Jets, while Rob is defensive coordinator of the Cleveland Browns. |
| Dick Stanfel | After an eight-year playing career as an offensive guard with the Lions and Redskins, Stanfel went on to enjoy a long career in coaching. That tenure included stops at Notre Dame, Cal, the Philadelphia Eagles, the San Francisco 49ers and the New Orleans Saints before he initially wrapped up his coaching career with the Bears. However, Mike Ditka lured Stanfel out of retirement to join him with the Saints for the second time in Stanfel's career. He retired for good in 1999. Stanfel, 83, who has battled health issues in recent years, splits his time between Chicago and San Francisco. |
PLAYERS
| Name | Notes |
| --- | --- |
| 4 - Steve Fuller, QB | Fuller, who rapped in "The Super Bowl Shuffle" about how he'd "run like lightnin' … pass like thunder," proved to be a strong backup to the injured Jim McMahon. Fuller went 4-1 in his starts in 1985, leading the Bears to huge shutout wins over the Cowboys (44-0) and Falcons (36-0). Fuller retired after the 1986 season at the age of 29 and works as a real estate developer in Hilton Head, S.C. Earlier this year, he and several teammates reprised a version of "The Super Bowl Shuffle" in a Boost Mobile cell phone commercial that appeared during Super Bowl XLIV. |
| 6 - Kevin Butler, K | Affectionately nicknamed "Butthead" by his teammates, Butler was the Bears' kicker for 11 seasons, starting as a rookie during the Super Bowl-winning 1985 season. Butler replaced longtime Bears kicker Bob Thomas, who went on to become an Illinois Supreme Court justice. Butler remains the team's all-time leading scorer (1,116 points). He retired following the 1997 season after spending two seasons with the Arizona Cardinals. Butler lives in his native Georgia with his wife and three children and remains quite active in Georgia Bulldogs football as a radio commentator. Last year, he authored a book, "From Butler to Cutler, the Story of No. 6 and the Chicago Bears." His son, Drew, a junior at Georgia, led the nation in punting last season. |
| 8 - Maury Buford, P | Acquired from San Diego after the 1984 season, the Texas native spent two seasons as the Bears' punter (1985-86), missed 1987, played for the New York Giants in 1998 and then returned to close out his NFL career with the Bears from 1989 to '91. He lives in the Dallas/Fort Worth area and owns Buford Roofing Inc. |
| 9 - Jim McMahon, QB | The aging "Punky QB" -- he turned 50 last year -- remains one of Bears fans' all-time favorites. After falling from grace with then-team president Michael McCaskey, McMahon was traded to San Diego prior to the 1989 season. He would bounce around the next eight seasons, playing for San Diego, Philadelphia, Minnesota, Phoenix (now Arizona) and Cleveland, eventually closing out his career in 1996 with the Bears' archrivals, the Green Bay Packers. Since hanging up his cleats, McMahon played on a short-lived pro athlete celebrity golf tour and briefly owned an upscale restaurant and bar in Northbrook. He serves as a motivational speaker, making a number of appearances at autograph shows. Earlier this year, he became part-owner of the Chicago Slaughter of the Indoor Football League. |
| 18 - Mike Tomczak, QB | The Calumet City native didn't start any games in 1985, his rookie season, but would go on to eventually succeed McMahon at quarterback, starting 31 games. He moved to Green Bay in 1991, Cleveland in 1992, Pittsburgh from 1993 to '99 and Detroit in 2000 (missed the season because of a broken tibia in the preseason) before retiring. Since then, Tomczak has done extensive broadcast work in Pittsburgh, as well as for ESPN, and has spent the past several years as a sports agent. |
| 20 - Thomas Sanders, RB | Like several teammates, Sanders was a rookie in 1985. He remained with the Bears through 1989, then played with Philadelphia in 1990 and '91 before retiring. Sanders serves on the coaching staff of St. Charles-based Junior Rank, one of the nation's top youth-athlete talent evaluation services. |
| 21 - Leslie Frazier, DB | Frazier went out on top, retiring after the 1985 season, primarily becaues of a knee injury he suffered in the first half of the Super Bowl. Since then, Frazier has built a lengthy coaching résumé, serving as head coach of north suburban Deerfield's Trinity International University (1988-96), defensive backs coach of the University of Illinois (1997-98) and the Philadelphia Eagles (1999-2002), defensive coordinator of the Cincinnati Bengals (2003-04) and defensive backs coach of the Indianapolis Colts (2005-06). His tenure with Indy ironically culminated with a Super Bowl XLI win over the Bears, earning him a second Super Bowl ring. Frazier is in his fourth season as defensive coordinator and assistant head coach for the Minnesota Vikings. |
| 22 - Dave Duerson, DB | After seven seasons with the Bears, Duerson played one year for the New York Giants (1990) and wrapped up his NFL career with three seasons with the Phoenix Cardinals. Since then, Duerson has been a successful entrepreneur, owning a number of businesses, primarily in the food services industry. He graduated from the Harvard Business School's Owner President Management Program in 2001 and serves as a national trustee for the Boys & Girls Clubs of America, as well as a trustee of the NFL's players benefit fund. He also was one of the key plaintiffs in legal action that eventually led to free agency in the NFL. |
| 23 - Shaun Gayle, S | Gayle played safety with the Bears from 1984 to '94, followed by a one-year stint with the San Diego Chargers in 1995 before retiring. In addition to involvement in various charities and businesses (including owning Shaun Gayle LLC, a marketing, promotion and talent representation firm), he has spent the past several seasons as an analyst on NFL broadcasts that air on Sky Sports in the United Kingdom. Sadly, Gayle suffered a terrible tragedy Oct. 4, 2007, when girlfriend Rhoni Reuter and the couple's unborn child were shot and killed in their Deerfield home. A former acquaintance and business associate of Gayle, Marni Yang, was arrested in March 2009 and charged with two counts of first-degree murder. She goes on trial for those charges Sept. 13. |
| 24 - Jeff Fisher, DB | Fisher missed the 1985 season because of an ankle injury that ultimately led to his retirement after the Super Bowl. Still, he wasn't idle that season, serving as an assistant to then-defensive coordinator Buddy Ryan. It was that internship of sorts that led Fisher into a lengthy coaching career: 1986-90 with the Philadelphia Eagles (defensive backs coach and then defensive coordinator), 1991 with the Los Angeles Rams (defensive coordinator), 1992-93 with the San Francisco 49ers (defensive backs coach) and then the Houston Oilers for the 1994 season as defensive coordinator. Later that same season, he was promoted to interim coach with six games left and has remained coach of the team, which moved to Tennessee prior to the 1997 season. He has a coaching record of 136-110 and is 5-6 in postseason play, including a loss to the St. Louis Rams in Super Bowl XXXIV. He is the NFL leader in tenure with one team among active coaches. |
| 26 - Matt Suhey, RB | Suhey played fullback for the Bears from 1980-89 and was the primary blocker for Walter Payton. After retiring from the NFL, Suhey, who resides with his family in the northern suburbs, became an investment banker and has served as executor of Payton's estate since his death in 1999. Matt's son Joe marks the fourth generation of Suhey family members who have played football at Penn State. He is expected to be one of the top candidates to start at fullback for the Nittany Lions this season. Matt is also the uncle of Penn State quarterback Kevin Suhey. |
| 27 - Mike Richardson, DB | Perhaps the most heart-breaking story of any player on the Super Bowl Bears, Richardson's life dramatically spiraled downward after his playing career ended in 1989 with San Francisco (he spent 1983-88 with the Bears). Known as "L.A. Mike" with the Bears, the Southern California native dropped out of sight after his playing days, to the point where the Bears didn't know what happened to him for several years. Richardson was arrested on drug charges more than 20 times after his playing career and sent to prison for 13 years in 2008 for violating probation. That charge was overturned on appeal in June and Richardson was released in early August. |
| 29 - Dennis Gentry, RB | Gentry spent his 11-season NFL career with the Bears from 1982-92. After a post-playing career in business, a chance offer to become running backs coach for the then-XFL's Chicago Enforcers in 2000 wound up ultimately changing Gentry's life. He became quite adept at offensive quality control and breaking down the team's offense. That attention to detail caught the eyes of the Detroit Lions, who hired Gentry in 2001 as a scout. He is in his 10th season with the Lions in that role. |
| 31 - Ken Taylor, DB | Taylor's NFL career was short: one season with the Bears (1985) and another with the San Diego Chargers (1986). Once his playing days ended, Taylor became a personal trainer, eventually working with more than 5,000 athletes. A track and football star at Oregon State, the former Bears cornerback resides in Temecula, Calif., where he owns "The Speed Doctor," a private training service dedicated to improving speed and conditioning for athletes of all ages in several Southern California counties. His website (thespeeddr.com) touts this: "Ken Taylor will teach you and your muscles to be faster. Guaranteed." |
| 33 - Calvin Thomas, RB | After a standout career at the University of Illinois, Thomas played from 1982-88 with the Bears, was traded to Denver later in the 1988 season and retired following that season. For the past four years, Thomas has worked as a coach for Pro Sports Experience, a company owned by the son of former Bears president Jim Finks that runs more than 20 Chicago Bears Youth Football Camps around Chicagoland. Thomas was also involved this year in a joint effort with the Chicago Public Schools to encourage residents to fill out the U.S. Census. |
| 34 - Walter Payton, RB | The greatest running back in Bears history. "Sweetness," as Payton was nicknamed, died of bile duct cancer brought about by liver disease in 1999. Although he was on a list of those waiting for a liver transplant, a match could not be found in time to save his life at age 45. His funeral was held, appropriately enough, at Soldier Field. Payton was a nine-time Pro Bowl pick and six-time first-team All-Pro. His No. 34 has been retired by the Bears. After retiring following the 1987 season, Payton pursued many of his passions, including auto racing. He also headed up a group to purchase an expansion NFL franchise, but internal dissension among group members led to other groups being awarded the coveted franchises in Jacksonville and Charlotte. Payton also was quite the entrepreneur, owning a number of businesses, particularly restaurants and bars (some that are still in existence). Even though he has been gone for more than a decade, Payton's legacy lives on in the charitable foundation he formed with his wife, Connie. Son Jarrett plays for the Chicago Slaughter, the Indoor Football League team coached by Payton's longtime teammate Steve McMichael. Daughter Brittney works in broadcasting in Chicago. Teammate Matt Suhey was the executor of Payton's estate. |
| 45 - Gary Fencik, S | Known as "Hit Man" for his aggressive pursuit and tackling during his 12-year career (1976-87), all with the Bears, the Chicago native remains the team's all-time leader in interceptions (38) and was one of the most prolific tacklers in club history. Yet for all his fury on the football field, Fencik was a mild-mannered man off it. The Yale graduate earned his MBA from Northwestern in the same year the Bears went to the Super Bowl (1985). Since retiring, he's become a top investment strategist and advisor for Chicago-based Adams Street Partners, where he is a partner and head of business development. |
| 48 - Reggie Phillips, DB | Phillips' career in the NFL was short -- just four seasons -- but he made the most of it, earning a Super Bowl ring with the Bears as a rookie (he remained with the team through 1987 before playing his final season in 1988 with the Phoenix -- now Arizona -- Cardinals). The high point of his playing career was returning an interception 28 yards for a touchdown in the Bears' 46-10 victory over the New England Patriots in Super Bowl XX. Since retiring, Phillips has worked as a real estate agent and investor and also owns Home Court Properties (formerly Reggie Phillips Properties) in his native Houston. |
| 50 - Mike Singletary, LB | "Samurai Mike" is a lot thinner but just as fiery today as he was when he anchored the Bears' linebacking corps with guys like Otis Wilson, Jim Morrissey, Wilber Marshall and Ron Rivera. Singletary spent much of his 12-year career (all with the Bears) as a defacto coach and teacher to younger teammates. But it wasn't until 2003 that he officially became a coach, first with the Baltimore Ravens for two seasons as linebackers coach, then with the San Francisco 49ers as assistant head coach and linebackers coach. He replaced the man who hired him, Mike Nolan, as interim head coach in October 2008. The 49ers finished 7-9 overall, but were 5-4 under Singletary. He was named permanent coach after the season. In 2009, the 49ers finished 8-8, their first non-losing season since 2002. Singletary has written three books, continues to be a sought-after motivational speaker and has a variety of business interests. |
| 51 - Jim Morrissey, LB | Still considered one of the greatest players in Michigan State history, Morrissey played almost nine full seasons at linebacker for the Bears before ending the 1993 season and his career with the archrival Green Bay Packers. He was a rookie during the Super Bowl-winning 1985 season and had the distinction of wearing the same jersey number as Hall of Famer Dick Butkus (which was eventually retired in 1994). Today, Morrissey works as a financial consultant and public speaker and also spends time working with the Chicago Bears Youth Football Camps. |
| 52 - Cliff Thrift, LB | Claimed on waivers just prior to the start of training camp, Thrift spent just one season with the Bears (1985) as a reserve linebacker, sandwiched around a prior six-year stint in San Diego and a final year in 1986 with the Los Angeles Rams. Still, he got a Super Bowl ring out of his brief stint in Chicago. He is a successful businessman in his native Texas. |
| 53 - Dan Rains, LB | Now 56, Rains played seven years for the Bears (1981-87). He is vice president of business development for Pittsburgh-based McCarl's Inc., one of the leading mechanical service firms in the country. He also is on the board of directors of Innovative Designs Inc. He founded and chairs the Tony Dorsett/McGuire Memorial Celebrity Golf Outing that to date has raised nearly $5 million to help 90 severely handicapped and mentally challenged residents that reside in the McGuire Home. |
| 54 - Brian Cabral, LB | A journeyman linebacker who previously played with Atlanta and Green Bay, Cabral spent his final six seasons as a pro with the Bears. Upon retiring as a player, he spent two seasons at Purdue as linebackers coach (1987-88). From there, he joined the University of Colorado -- his alma mater -- as an assistant coach, where he remains. He is the longest-serving coach (now at 21 years) of any sport in school history. He was promoted to his current position of associate head coach/linebackers coach in 2008. In promoting Cabral, Buffaloes coach Dan Hawkins said, "no one person has had more influence in the success of Colorado football than Brian Cabral." |
| 55 - Otis Wilson, LB | "Mama's Boy Otis" has been involved in a number of ventures in business, film and broadcasting since his retirement from the NFL in 1989. He spent one year with the L.A. Raiders after eight seasons with the Bears. His primary work these days is as a public/motivational speaker, plus he recently started his own marketing group. But his pride and joy is as founder and chairman of the Otis Wilson Foundation, which raises money for a number of underprivileged groups (Michael Jordan sits on the foundation's board of directors). Wilson hosted his sixth annual Celebrity Golf Outing on Aug. 5 at Bolingbrook Golf Club for his 55-Alive initiative that promotes physical fitness and nutrition for at-risk youths in the Chicago area. |
| 57 - Tom Thayer, OL | The Notre Dame graduate moved into the starting lineup as a rookie right offensive guard with the Bears in 1985 and stayed there through the 1992 season, finishing his career in 1993 with a three-game stint with Miami before retiring. The Joliet native has not strayed far from his roots: He is one of many members from the '85 Bears that continue to reside full-time in the Chicagoland area. Thayer is an analyst on Bears game broadcasts on WBBM-AM 780, and he spends the offseason surfing in Hawaii. |
| 58 - Wilber Marshall, LB | Having played with the Bears from 1984-87, Marshall is one of the NFL's rare players, winning Super Bowl rings with two teams ('85 Bears and '91 Washington Redskins). He ended his career with single-season stints with Houston, Arizona and the New York Jets (1993-95). Marshall's story is indeed one of the sadder ones on the Bears. He is permanently disabled because of severe injuries to his spine, knees and shoulders that he sustained in his 12-year NFL career. Marshall sued the NFL Players Association over total disability benefits and eventually won his case in 2008, but not before he was forced to declare bankruptcy. He lives just outside Washington, D.C. |
| 59 - Ron Rivera, LB | Perhaps one of the more prolific yet at times underrated linebackers to play the game, Rivera spent nine seasons with the Bears before eventually embarking on a coaching career that started where he left off as a player, with the Bears, as defensive quality coach (1997-98). He spent five years with the Eagles as linebackers coach and returned to the Bears for three seasons as defensive coordinator (2004-06). Since 2007 he has coached with the San Diego Chargers, first as linebackers coach and now as defensive coordinator. |
| 60 - Tom Andrews, OL | Andrews' NFL career was brief, spending two seasons with the Bears (1984-85) and one with Seattle (1986). The offensive tackle and backup center was stymied throughout his career by injuries, requiring eight surgeries. He still walks with a limp. After his playing days, Andrews returned to Louisville, where he starred in college, and currently serves as senior director of real estate for the Papa John's pizza chain. |
| 62 - Mark Bortz, OL | A native of Pardeeville, Wis., Bortz had a standout career at offensive guard, playing 12 seasons for the Bears, earning two Pro Bowl appearances. Since retiring following the 1994 season, Bortz has lived in the north suburbs and spends much of his time with his family, making public appearances and also farming. |
| 63 - Jay Hilgenberg, OL | Like former teammate Bortz, "Hilgy" also had an unusually long playing career (13 years, including 11 with the Bears and single seasons in Cleveland and New Orleans). One of the best centers to ever play the game, Hilgenberg was a seven-time Pro Bowl selection and two-time first-team All-Pro. Has been involved in several business ventures since retiring, including his current job as a real estate developer in Wisconsin and Illinois. He also can be heard regularly as an analyst on the Bears on WSCR-AM 670. |
| 70 - Henry Waechter, DL | Although other players such as Dan Hampton, Steve McMichael and Richard Dent got most of the headlines, Waechter was an outstanding and versatile backup on the defensive line, able to play on the outside as well as in the middle. Drafted by the Bears in 1982, he played for Baltimore/Indianapolis in 1983 and 1984 before being traded back to the Bears later that season. He played with Chicago through 1986 before ending his career with a brief stint with the Redskins in 1987. Since retiring, Waechter and his wife have built a successful agricultural supply firm in Grand Island, Neb. He still manages to attend several Bears-related events, particularly the team's annual fan convention. |
| 71 - Andy Frederick, OL | What a way to go out. Frederick, who spent nine seasons in the NFL, won a Super Bowl in his final campaign in 1985. He spent five seasons with Dallas, one with Cleveland and the final three with the Bears. The Oak Park native was primarily a reserve offensive lineman who played guard and tackle and was a key cog on special teams. He was a standout at the University of New Mexico, which is the alma mater of Bears star Brian Urlacher. He is believed to reside in Texas. |
| 72 - William "Refrigerator" Perry, DL | Perry was one of the biggest stars on the team -- from a popularity and physical standpoint. He played at close to 330 pounds during much of his nine-year NLF career, though he once ballooned to 380 pounds as a Bear before being placed on a crash diet by coach Mike Ditka. Perry became one of the key elements of that Super Bowl-winning season's lore. Nicknamed "the Refrigerator," Perry was primarily a defensive tackle who also doubled at times as an oversized running back. He scored on a 1-yard run as a running back on Monday Night Football against Green Bay, one of the highlights of the season. Since then, Perry has battled health issues, including being hospitalized twice last year and almost dying from Guillain-Barre Syndrome, as well as a nervous system disorder. He lost more than 150 pounds because of the two episodes, bringing him down to 205, the lightest he has weighed since his early teens. Perry has tried a number of business ventures over the years to capitalize on his image, including a barbecue sauce and a rotisserie grill. He had a brief stint as a pro wrestler and was even a "super sub" in the 2006 Lingerie Bowl, the year the Bears lost to Indianapolis in Super Bowl XLI. Prior to his most recent medical problems, Perry worked a number of construction jobs around his native Aiken, S.C., primarily as a bricklayer. Recent reports had Perry's weight back up to 330 pounds and that he had suffered a slight hearing loss due to his maladies. |
| 73 - Mike Hartenstine, DL | At 32, Hartenstine was one of the older veterans on the '85 Bears. He played 12 seasons in Chicago before spending his final year with Minnesota in 1987. The former Penn State standout could play left and right defensive end. He recovered 17 fumbles in his career. Hartenstine used to work at the infamous Lantern restaurant and bar in Lake Forest and is a frequent participant at sports memorabilia shows and autograph shows. He is still immortalized at the infamous Fraser Street Deli in State College, Pa., with a sandwich named in his honor (a lox and cream cheese bagel). |
| 74 - Jim Covert, OL | Nicknamed "Jimbo" and known as the quiet man of the Bears' offensive line as a left tackle, Covert has gone on to a prestigious career in business. He is president and CEO of the Institute for Transfusion Medicine, a firm that specializes in blood donorship and transfusion, with offices in Chicago and in his native Pittsburgh. Covert was the iron man of the Bears' offensive line, starting 110 of 111 games before retiring following the 1990 season. Has also spent the last 25-plus years as an advocate for families and victims of spina bifida, from which Coverts' daughter Jessica suffers. |
| 75 - Stefan Humphries, OL | He used to be an offensive lineman. Now, he's known as Dr. Stefan G. Humphries, MD. After five years in the NFL -- three with the Bears (1984-86) and the last two with Denver -- Humphries remained in the Mile High City to attend medical school at the University of Colorado-Denver, followed by a residency in physical medicine and rehabilitation at the prestigious Mayo Clinic in Rochester, Minn. He also earned an MBA from the University of Washington. Humphries is medical director at St. Luke's Rehabilitation Institute in Spokane, Wash. |
| 76 - Steve McMichael, DL | "Mongo" was never conventional as a player, and he certainly hasn't been so in retirement. After a 15-season NFL career (one year with New England, 13 with the Bears and a final season in 1994 with Green Bay), McMichael spent time as a broadcaster and five years as a pro wrestler. He does frequent guest appearances on ESPN 1000, and is in his second season as coach of the Chicago Slaughter of the Indoor Football League. The Slaughter won the championship in 2009 but were 6-8 in 2010. The former University of Texas standout was inducted into the College Football Hall of Fame on July 17. |
| 78 - Keith Van Horne, OL | The prodigious offensive tackle played 13 seasons with the Bears (1981-93) before retiring. He had done extensive on-air work as a radio broadcaster for several years on a number of Chicago-area stations. Van Horne lives in the Chicago suburbs and can be found occasionally at sports memorabilia and autograph sessions, as well as being a regular at the annual Bears' fan convention. Van Horne won a $1.6 million defamation judgment against Chicago radio personality Erich "Mancow" Muller in 2000. |
| 79 - Kurt Becker, OL | Who says you can never go home again? Becker, born in west suburban Aurora, was an offensive guard who played for the Bears from 1982-88 and again in 1990 (sandwiched around the 1989 season with the L.A. Rams). He still resides in the area and is beginning his third season as associate head coach at Marmion Academy, a college-prep school in Aurora. Prior to that, Becker spent several years working in youth football programs and camps with the Fox Valley Park District and the Aurora Catholic League. He's still regarded as one of the greatest offensive linemen in University of Michigan history, starting all 36 games he played with the Wolverines. |
| 80 - Tim Wrightman, TE | An All-America tight end from UCLA, Wrightman was drafted by the Bears in 1982, but a contract dispute led him to sign with the Chicago Blitz of the rival USFL. He was the first player to sign with the short-lived USFL (1983-85), where he played for two seasons before coming to terms with the Bears for a short NFL career (1985-86). A lifelong avid outdoorsman, Wrightman purchased the 190-acre Lazy Bear ranch in Weiser, Idaho, considered one of the best hunting and fishing resorts in the country, which he still operates today. |
| 81 - James Maness, WR | The former TCU standout and College Football Hall of Fame member played just one season in the NFL, but what a year it was as the Bears went on to win Super Bowl XX. Maness saw limited action in eight games, returning two punts and catching one pass in his brief NFL career. Upon retirement, Maness returned to his native Texas and serves on the council of the Pro Players Foundation, a fund-raising organization based in suburban Dallas that helps disadvantaged and physically challenged youth. |
| 82 - Ken Margerum, WR | The talented wide receiver from Stanford played from 1981-83 with the Bears, missed the 1984 season due to injuries, and then returned for the Super Bowl campaign in 1985. He was sent to the 49ers during the 1986 season, and he retired following the 1987 season. Margerum eventually went into coaching, having previously served as head coach at Menlo College (Calif.), and wide receivers coach at Cal, Stanford and the University of Hawaii. He also served as offensive coordinator of the Scottish Claymores in NFL Europe. He is in his fifth season as an assistant coach at San Jose State University, where he oversees the wide receivers and serves as the team's recruiting coordinator. He was inducted into the College Football Hall of Fame this year. |
| 83 - Willie Gault, WR | "This is Speedy Willy and I'm world-class," Gault rapped in the Super Bowl Shuffle, which he helped organize. Gault, who turns 50 in September, spent five seasons with the Bears and six with the Raiders before retiring after the 1993 season with 44 touchdown passes in his career. Long a student of the arts even during his playing days, Gault went on to pursue an acting and modeling after hanging up his cleats. A world-class runner and hurdler, he qualified for the 1980 men's Olympic track team, but the U.S. boycotted those games in Moscow. He also qualified as a member of the U.S. Olympic bobsled team in 1988. Gault continues to pursue an acting/screenwriting/producing career in Hollywood. He still competes in Masters athletics events, setting records in the 45- to 49-year-old age group in recent years in the 100 and 200 meters. |
| 84 - Brian Baschnagel, WR | The former Ohio State standout played 10 seasons with the Bears. Even though he was listed on the 1985 roster, he did not play because of injuries and eventually retired. Baschnagel and his family live in the Chicago area, where he serves as vice president of corporate sales at North American Corp. in north suburban Glenview. A father of six, Baschnagel also takes part in various NFL Charities events. |
| 85 - Dennis McKinnon, WR | The man known as "Silky D" earned his Super Bowl ring the hard way, joining the Bears as an undrafted free agent in 1983. He played with the Bears through 1989 (he missed 1986 because of injuries), played one season with Dallas (1990) and retired after spending the 1991 season on injured reserve with the Dolphins. He was offensive coordinator at Illinois Benedictine University in suburban Lisle from 1994-96 before moving into a business career in sales and finance. Since 1999, he has operated Bearly Active Productions, which specializes in motivational speaking, celebrity appearances, catering and fundraising. He has sat on corporate boards for several organizations, including Catholic Charities and the Boys & Girls Club. |
| 86 - Brad Anderson, WR | Anderson caught just four passes (including one for a touchdown) in two seasons in the NFL, both with the Bears. Since retiring as a player, he has enjoyed a successful career in commercial real estate in Phoenix, selling more than $3 billion in properties during that time. |
| 87 - Emery Moorehead, WR | The Evanston native also has stayed true to his home state of Illinois since retiring from a 12-year NFL career that included three seasons with the New York Giants, one with the Broncos and the final eight with the Bears. A longtime North Shore resident, Moorehead has spent much of his post-playing career in real estate sales. He also makes frequent appearances at celebrity and Bears-related events. His son, Aaron, played with the Indianapolis Colts. Emery and Aaron became the NFL's first father-son duo to have both played in and won Super Bowl games (Emery in 1986 with the Bears and Aaron in 2006 with the Colts). |
| 88 - Pat Dunsmore, WR | The former Drake standout played just two seasons with the Bears before he retired. Dunsmore is president and co-owner of Graphx Connection, a printing company in Kansas City, Mo., and has lived with his family for several years in suburban Lenexa, Kan. His son Drake is a junior tight end at Northwestern. |
| 89 - Keith Ortego, WR | The former McNeese State standout spent three seasons in the NFL, all with the Bears. While he saw action in just seven games in 1985, he started 13 games the following season, pulling in 23 receptions for 430 yards and two touchdowns. After retiring from the NFL, Ortego returned to his native Louisiana and spent many years working for the Lake Charles, La., Public Works Department, most recently as assistant director in the administrative division. He also remains involved in McNeese State athletics. |
| 89 - Mitch Krenk, TE | Although Krenk's official statistics say he spent just one season in the NFL -- with the Bears in 1984 -- he still earned a Super Bowl ring for spending the 1985 season on injured reserve. Krenk was a tight end at Nebraska. He lives with his family in Nebraska City, Neb., where he is a successful real estate developer and home builder. |
| 95 - Richard Dent, DL | Nicknamed "The Colonel" for his on-field leadership, Dent has been a perennial candidate for the Pro Football Hall of Fame but continues to come up short among Hall voters. Dent played 12 seasons with the Bears (1983-93, and 1995), as well as single seasons with the 49ers, Colts and Eagles. A four-time Pro Bowl selection and two-time First-Team All-Pro, Dent recorded 137.5 sacks in his career, which at the time ranked him third in NFL history behind the late Reggie White and former Buffalo Bills standout Bruce Smith. Since retiring from the game, Dent has been involved in a number of business ventures, including serving as founder and CEO of RLD Resources, LLC, which specializes in energy and telecommunications issues. He is also involved in a number of charitable organizations, including his Make a Dent Foundation. |
| 98 - Tyrone Keys, DL | He spent three seasons with the Bears (1983-85), two years with Tampa Bay and 1988 with the Chargers before retiring from the NFL. Like several of his former teammates, Keys became heavily involved in philanthropy and helping needy youth. In 1993, he founded and serves as executive director of the All Sports Community Service, a Tampa-based company that gets young people involved in community service and then assists them with college placement and obtaining athletic scholarships. |
| 99 - Dan Hampton, DL | Known as "The Danimal" for his relentless and ferocious play, Hampton was the Bears' first round pick (fourth overall) in the 1979 draft. He played 12 seasons, starting 151 of his 157 games. Hampton required nearly a dozen knee surgeries and repairs for other maladies sustained during his playing days. He still walks with a slight limp. He was inducted into the Pro Football Hall of Fame in 2002, one of four members of the 1985 Bears in Canton (Singletary, Ditka and Payton). Since retiring, he has worked in a variety of broadcast ventures, including WGN Radio, the syndicated Pro Football Weekly radio and TV show. He remains a popular commercial spokesman, as well as a public and motivational speaker. He lives in suburban Chicago. |