ROSE DOES MORE WITH LESS

By Nick Friedell
ESPNChicago.com
Bulls blog
No one has done more with less than Derrick Rose has this season. Carlos Boozer, the Bulls' second scoring option, missed the first month of the season. Joakim Noah, the defensive anchor, has missed the past two months.
The one constant for the Bulls has been Rose, who has elevated his game to an MVP level and on some nights has single-handedly carried them to victory.
Rajon Rondo is great, but he has a lot of help. Paul Pierce, Ray Allen and Kevin Garnett are all future Hall of Famers. The only player Rose has been able to rely upon to help consistently every night is Luol Deng, not exactly in the same talent pool as those other three.
Consider this: If you took Rondo off the Celtics, they would still win. If you took Rose off the Bulls, they would not. Rose has to play a great game every night or his team doesn't have a chance. Rondo doesn't have nearly that kind of pressure on his shoulders every night.
Rose is the only player on his team who can consistently get an open look for himself. Do you think Rondo worries about that playing alongside Pierce?
Rose has developed one specific offensive talent that Rondo lacks: a jump shot. Sure, Rondo averages 12 assists a game, but when you don't have a jumper there's only so much you can do. Plus, Rose manages to average eight assists of his own, while dropping 25 points a game.
As an all-around player, Rose is better now and will be in the future. If he had the type of talent around him that surrounds Rondo, there's no telling how much damage he could do.
Nick Friedell covers the Bulls for ESPNChicago.com and ESPN 1000.
You've heard our takes; now give us yours. DISCUSS
WINNING MAKES RONDO'S CASE

By Chris Forsberg
ESPNBoston.com
Archive
Picking the Eastern Conference's top point guard is no easy task because, of the candidates, each player's style is so different than the next. But here's the bottom line: The best point guard is the one who most consistently guides his team to victory, and no player has done that more in recent years than Rajon Rondo.
We all know Rondo's flaws. He supposedly can't shoot jumpers, and his free throw shooting is atrocious. Then he goes out on Feb. 6 against the Orlando Magic and shows he's capable of doing both and you wonder exactly how a team might stop him when he's firing on all cylinders.
Rondo might never be a consistent scorer in this league, but he'll politely remind you that's not his role -- at least not on this Celtics team. No, considering he has spent much of the season sharing a starting lineup with four future Hall of Famers, he is fine with serving as a distributor, shunning points in the quest for that next assist.
The fruits of his labor: Veteran All-Stars like Ray Allen, Paul Pierce and Kevin Garnett have the potential to all shoot career highs this season.
And, let's be honest, the triple-double numbers speak for themselves with Rondo, who recorded another in Sunday's victory over the Miami Heat. He already has 11 career triple-doubles, five in the postseason (including one last year in which he pretty much ended Cleveland's season and LeBron James' tenure there in the process).
But if you don't believe me, just ask one of the guys who tried to defend him during that series, and who goes up against him pretty regularly now.
"I've seen him in practices, and I've been on the opposing end of that playing with Cleveland," said Celtics guard Delonte West, a member of the Cavaliers last season. "He's a very talented player. In my opinion, he's the best point guard in the NBA, but you leave that to the experts."
No need for experts. Two Eastern Conference titles in the past three seasons and the best record in the East this year tell the story: Rondo is the best point guard in the conference.
Chris Forsberg covers the Celtics for ESPNBoston.com.
LISTEN LIVE!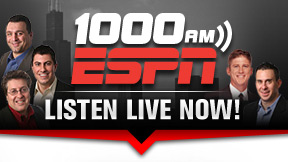 Want to sound off on today's Hot Button topic? Give us a call at 312.332.ESPN. Listen Live

NickFriedell

Nick Friedell


Collins+Paxson will have a press conference later today. Curious to see how Collins' addition changes Gar's role moving forward, if at all.
36 minutes ago

NickFriedell

Nick Friedell


Bulls announce that they have named Doug Collins a senior advisor with the club. He will report directly to Executive VP John Paxson.
44 minutes ago

NazrMohammed

Nazr Mohammed


My mood this morning... #LetsGoNaz #LetsGoChamp #ShannonBriggs #Repost @ripcityhamilton https://t.co/7UC7kPnaz2
about 2 hours ago

NU_Sports

#B1GCats


Classes start today at @NorthwesternU. Good Luck, #B1GCats! You got this!! https://t.co/amVbkoYWY1
about 2 hours ago

jadande

J.A. Adande


Cali life ain't cheap. Curry has higher salary than LeBron, but Bron takes home more thanks to paying about 1/2 cit… https://t.co/KFMxbFEaXq
about 2 hours ago

PennStateFball

Penn State Football


👀 An inside glimpse at @saquonb21's 85-yard touchdown reception from the BTN truck. Impressive from every angle, TB… https://t.co/AYtsfR0EF2
about 3 hours ago

jadande

J.A. Adande


They now serve Buffalo Joe's wings at Ryan Field, @espngreeny https://t.co/X35UYGbVaC
about 3 hours ago

Lakers

Los Angeles Lakers


Starting the week off right. https://t.co/PilmWIRSm4
about 9 hours ago

jadande

J.A. Adande


He lost 2.3 years of his life on that one hit just to move the chains. He has a right to Eli-face the rest of the n… https://t.co/3a7bGrM2xD
about 12 hours ago

JeffZillgitt

Jeff Zillgitt


If accurate, this is disgusting. Signed, person with metastatic cancer. https://t.co/VXMDLa9ezj
about 15 hours ago

JMintzHoops

Jared


This was a big show for me...@Herring_NBA came on to talk Melo, @espn #NBARank, CP3 to HOU, the #Knicks beat & more! https://t.co/rEur3gi3nh
about 15 hours ago

NickFriedell

Nick Friedell


If you're looking for the best burger in the country -- this is where you go. Pro tip: Go to Small Cheval. Burger i… https://t.co/LDD5fIs9Wk
about 16 hours ago

NickFriedell

Nick Friedell


As far as I'm concerned every day is National Cheeseburger Day.
about 17 hours ago

RichardLapchick

Richard Lapchick


Saxophonist Mike Phillips hopes his anthem performance brings attention to ending domestic violence https://t.co/TUGmJW4OZE @UCFDeVosSBM
about 17 hours ago

jadande

J.A. Adande


I got a letter from a quarterback the other day.... https://t.co/TqUqBVsGdd
about 18 hours ago

NickFriedell

Nick Friedell


Solid work by @bsiegel1 @mattmoreno @ChrisRamirezTV +crew. Bulls trying to put positive spin on new era. Question i… https://t.co/vlCGIC4X61
about 19 hours ago

NickFriedell

Nick Friedell


Congrats @sarahkustok. Awesome!
about 20 hours ago

jadande

J.A. Adande


Purple 12s 💜 https://t.co/nzis6MSYeV
about 23 hours ago

SergioADippW

Sergio Dipp


I tried to tell you all... Vance Joseph is having the time of his life!!! 😂😂😂 https://t.co/k4OB7hL2Hp
1 day ago

jadande

J.A. Adande


👍🏽👍🏽🎶🎵🏀 https://t.co/9piyWQ2Yrm
1 day ago