INTERLEAGUE PLAY IS PERFECT TIME TO SIT ADAM DUNN

By Doug Padilla
ESPNChicago.com
White Sox blog
Nobody is going to get out of a slump by sitting on the bench, but a step back for Adam Dunn seems warranted by now.
With the Chicago White Sox heading into National League ballparks for the next six games, this is the perfect time to let Dunn cool off and gather his thoughts. Clearly his issues are mental at this point. Manager Ozzie Guillen doesn't even have to call it a benching, just a situation in which Dunn doesn't fit into the mix.
There is a temptation to use Dunn this week, though, since these are the ballparks where he's had success during his time in the NL. Wrigley Field, especially, is a ballpark where Dunn has thrived. But while these parks have the potential to get him going, there is no guarantee they will have the desired effect. After Sunday, he's going to have to play the rest of the season in American League yards, and those are the places he's going to need to figure out how to play.
Talking about Wrigley Field earlier this year, Dunn's eyes lit up. He obviously wants to take his cuts there. But what happens if he flails away there too? How much more mental damage will that create?
It seems as though now is the best opportunity for some down time. Let Dunn salivate at Wrigley Field this weekend. Let him store some angst and energy and then unleash him on Kansas City and Minnesota to close out the first half. It could be the best way to leave him with a good taste in his mouth heading into the break.
You've heard our takes; now give us yours. DISCUSS
IF SOMEONE NEEDS TO SIT, TRY JUAN PIERRE, NOT ADAM DUNN
By Sahadev Sharma
ESPNChicago.com
White Sox blog
In Adam Dunn's case, the stats don't lie. His .173 average and 100 strikeouts accurately portray that he is having a terrible year. But benching Dunn for an extended period of time isn't going to help him improve on those numbers.
While Dunn may be striking out at a historic rate (his 43.3 percent K-rate puts him on pace to have the worst season in that category in more than 20 years), he's still drawing walks like he has always done. His .308 OBP, while nothing to brag about, is decent considering how poorly he's hit, and he's tied for 11th in the AL with 42 walks.
Of course, Dunn wasn't brought here to walk, he's on the White Sox to hit home runs and be a run producer. With only seven home runs, he's hardly doing what was expected of him. So, obviously, this would mean that the best thing to do would be to bench Dunn, right?
Wrong.
History says that Dunn will hit. Dunn has proven over his career that he's going to get on base -- as indicated by his .377 career OBP -- and that he'll hit home runs -- he's averaging more than 40 in the past eight seasons.
It's very rare to see a player produce at such a high and consistent level for that many years, then suddenly drop off without a significant injury. While age may be a factor -- at 31, Dunn is at a time in his career when many players' skills begin to erode -- such a steep decline would be very unusual.
Maybe a drop in the lineup is in order for Dunn, but a player like him needs to be allowed to hit his way out of this dreadful slump.
Besides, shouldn't Juan Pierre and his .311 OBP, to go along with being caught stealing nine times out of the lead-off spot, be riding the pine before Dunn?
LISTEN LIVE!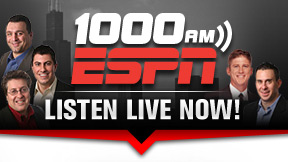 Want to sound off on today's Hot Button topic? Give us a call at 312.332.ESPN. Listen Live