KREUTZ'S ABSENCE LEAVES HUGE VOID ON THE FIELD AND OFF

By Melissa Isaacson
ESPNChicago.com
Archive
Any argument involving the relative value of Olin Kreutz to the Chicago Bears that begins with a discussion about Kreutz's age, size or declining skill level is sorely missing the point.
Yes, Kreutz is 34. He has neither grown nor shrunk from the 6-foot-2, roughly 290 pounds he has played at for much of his career. And he hasn't been one of the best centers in the NFL for at least the past three years.
So how, you ask, does the Bears' failure to sign Kreutz to a new contract significantly hurt the Bears this season?
The offensive line is unlike any other unit on the field in the way that one lineman affects the others. Coaches will tell you it's like they're all connected by a string, the best lines perfectly synchronized. But if one goes the wrong way, the string breaks and that's when an offense sputters. Or worse, when quarterbacks and running backs get hurt.
Kreutz might not have made every block he did as a youngster these past few years. But as the anchor of the line, he made sure the others didn't step on each other even more than they already did. He made adjustments that saved Jay Cutler more than anyone will ever know. And he commanded respect from teammates and officials.
As center, Kreutz didn't just have to know the offense better than anyone, he did understand it intricately because he is a smarter player than most.
But even if his expected replacement, Chris Spencer, is the smartest guy in the league, expecting him to learn a new and complex offense as well as his new teammates in time to not just survive but make the Bears better this season? Not going to happen.
As for that leadership stuff, as Brian Urlacher said Monday, "We've never had the rah-rah guys who run around yapping their mouths all the time. … What's that do?"
Kreutz kept order in his own way, quietly but effectively. You didn't mess with him. More importantly, however, was an example he set that simply made it a tougher locker room. Kreutz practiced and played with more injuries than even his teammates knew. He once played through an attack of appendicitis and returned 10 days later, right after the sutures were removed.
Try being a young lineman on the Bears with Kreutz as a teammate and sitting out with a sprained ankle. It just wasn't done.
"No one is going to be like he was," Urlacher said.
And it's hard to imagine the Bears' offense not being the poorer for Kreutz's absence.
LEADERSHIP IS NICE, BUT BEARS NEED BETTER TANGIBLES

By Jon Greenberg
ESPNChicago.com
Archive
If you take away the heart and soul of a terrible offensive line, is it progress or a setback?
That's the question we're wrestling with in the wake of Olin Kreutz's hasty departure from the Chicago Bears.
Kreutz's standing with his former teammates isn't up for debate. The veteran center's popularity inside the locker room was earned and absolute. When he wasn't getting into fistfights at gun ranges with teammates, Kreutz was a walking metaphor for a professional football player, all guts, busted bones and irascibility. When defensive players are raving about an offensive player's toughness, you know he's legit.
So the Bears will miss him, no doubt. But on the field, will they lose much without him? Could the line get worse with him gone?
That's the real issue once the season starts. And we won't know that until we see what Chris Spencer brings as Kreutz's replacement. As you know, Jay Cutler was sacked 52 times and knocked around many times more last season. The offense was hamstrung nearly every week by this issue.
So how much did Kreutz's vaunted leadership help in that game against the New York Giants, when Cutler officially took nine sacks and left with a concussion? Sometimes being a leader isn't enough, and maybe it was time for a goodbye. These are the tough decisions a front office makes every year.
I understand it's easy to pin blame on Jerry Angelo and Co. for mishandling the Kreutz negotiations with a "take it or leave it" ultimatum. They knew that would offend the principled Kreutz, even though the deal was pretty fair, money-wise. So it's pretty clear they were fine with him leaving. Maybe they looked at it dispassionately, as they should.
Spencer, coming from Seattle, is walking into a veritable minefield. But all he has to do is help Cutler stay upright and keep Matt Forte moving forward. Anything else is a bonus.
The Bears will find new leadership, but they'll miss Kreutz. Hopefully, for their sake, not too much.
You've heard our takes; now give us yours. DISCUSS
LISTEN LIVE!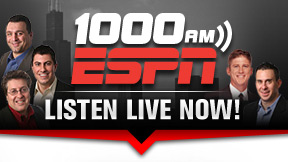 Want to sound off on today's Hot Button topic? Give us a call at 312.332.ESPN. Listen Live