PUBLIC DISPLAY MIGHT BACKFIRE ON BRIGGS

By Melissa Isaacson
ESPNChicago.com
Archive
No one can tell Lance Briggs not to feel underpaid.
Seems like he has spent much of his career in that mindset, but to his credit, he has continued to perform at a high level and, aside from relatively minor stuff, has not caused the Bears any undue embarrassment off the field.
So now he has looked around the league as players do, noticed once again that guys of lesser ability are being paid more than he is and wants to right what he sees as an injustice. Instead of allowing his agent to explore the possibility quietly, he has chosen to go public with his dissatisfaction.
Briggs can say he will continue to play as hard as he can and that his situation will not be a distraction to the team. But it already is. And he can't control how much bigger a disruption it might be. The fact his agent reportedly has asked the Bears for permission to seek a trade will only enhance the disruptive force of the situation.
I understand that players have only so big a window to make their demands, to exercise their leverage to make the maximum amount of money they can in a career that often leaves them physically debilitated. So maybe he believes his leverage is greater in a public forum.
The trouble is, that might backfire on him. The timing of this is questionable at best. It is still the preseason, but the regular season is only one week away. And the odds that Bears general manager Jerry Angelo will jump to satisfy Briggs' demands, no matter how productive a player he has been and how much money he has available, are not good.
The Bears botched a simple roster move involving Chester Taylor on Monday and do not appear very close to settling on a contract extension for the actually underpaid Matt Forte, so Briggs is probably not high atop the to-do list.
Briggs had his chance to get as much as he could in free agency in 2008 before signing a front-loaded deal worth $36 million over six years. He has received almost $13 million in guaranteed money. Of course he's worried that when his current contract expires in three years, his value will have decreased. That's the way it works, unfortunately.
Like anyone, Briggs has every right to ask for a raise whenever he wants. He obviously thinks this is a good time and wants us to know about it. Selfishly, I'm glad we're all in the know. But that doesn't mean we have to agree with it.
Melissa Isaacson is a columnist for ESPNChicago.com.
You've heard our takes; now give us yours. DISCUSS
WHO ARE WE TO STAND IN THE WAY OF A PAYDAY?

By Jon Greenberg
ESPNChicago.com
Archive
In the basketball/lycanthropy classic "Teen Wolf," Coach Finstock laid out his rules for a happy life: Don't get less than 12 hours of sleep, play cards with a guy who has the same first name as a city, get involved with a woman with a tattoo of a dagger on her body and never, ever criticize an NFL player who wants more money, as long as it's a reasonable request.
OK, I made up that last rule, but I think Coach Finstock would probably agree. He was a player's/werewolf's coach.
One of my main goals in life is to never rip an NFL player who wants to renegotiate a deal, as long as he's willing to play in the present and the demand isn't altogether ludicrous. It's the same philosophy that put me solely on the players' side during the lockout.
Like Robbie Gould said, no one goes to Bears games to root for a McCaskey.
Lance Briggs' asking for a renegotiated contract that pays him more now, entering the fourth year of a six-year deal is a little puzzling and seemingly ill-conceived, but I just can't get mad at him for making his request public on the eve of the season.
I always wonder why fans (and some reporters) question an athlete's fiscal demands. Unless they are so out of whack, why does anyone care how much money Briggs wants if the team can afford it?
If the Bears can acquiesce for Brian Urlacher and give Jay Cutler an extension before he proves anything, they could listen to Briggs' request.
The NFL is the "live for the now" league, and if I were Briggs, who turns 31 soon, I'd try to take a crack at the team's supposed $19.3 million in cap space.
Along with Urlacher, Briggs is the heart of a defense expected to be one of the best in the NFL. He's been very effective in this scheme, and Urlacher is always the first guy to pump Briggs' tires. It's not Lance's fault he'll always be in the shadow of a Bears legend.
But both Briggs and the Bears' defense have a small window in which to excel. The time is now, he probably figures, to be greedy. Nothing wrong with that. This is the NFL, after all.
Briggs reportedly wants more money this season, rather than wait for a bigger, non-guaranteed check in 2013. Going public probably won't help him because fans don't really care whether he makes $3.65 million (this year's base salary) or $6.5 million (2013 base salary). In most of our lives, those are arbitrary, obscene amounts of money, even for guys who drive Lamborghinis. But we don't know his situation.
Briggs said these demands won't affect his play, so it will be up to him, his agent, Drew Rosenhaus, and the Bears to settle this dispute in a professional manner.
Briggs has little to no leverage, but precedent is on his side. In 2008, the year Briggs signed his new deal, the Bears reworked Urlacher's deal to his favor. Briggs isn't Urlacher, you say. Does he deserve special treatment? That's the debate.
Jon Greenberg is a columnist for ESPNChicago.com.
LISTEN LIVE!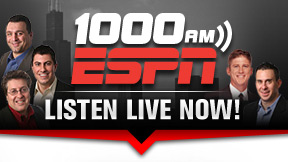 Want to sound off on today's Hot Button topic? Give us a call at 312.332.ESPN. Listen Live