AARON RODGERS REMAINS BEARS' MOST DANGEROUS FOE

By Gene Wojciechowski
ESPN.com
Archive
Don't get me wrong, if I were Jay Cutler and/or his orthoepedic physician, I'd be concerned about the Bears' offensive line. Against New Orleans last week, it was like the Bears' O-line was the Illinois tollway and the Saints' rushers and blitzers all had I-PASS transponders.
But there were reasons why the offensive line scuffled (Mike Martz apparently lost the sheet with all the Bears' running plays … Gabe Carimi got hurt … the Bears fell behind … the Saints rushed enough people to fill Bourbon Street during Mardi Gras). And there are reasons to think, with a week of prep work, the O-line can hang in there against the Packers.
But Aaron Rodgers is an entirely different problem. He's led the Packers to two wins. He already has two 300-yard games. He has five TD passes and goose egg interceptions.
And unlike the Bears, he has a buffet line worth of receiving choices: Greg Jennings (five career TD catches versus Chicago), Jermichael Finley, Donald Driver, Jordy Nelson, James Jones, rookie Randall Cobb. If Boyd Dowler could still run a deep out, he'd be able to catch a pass in this offense, too.
Did I mention that the Packers have beaten the Bears 14 of the last 19 times at Soldier Field? That even though the Bears beat Rodgers in the Sept. 27 game in Chicago last season, Rodgers completed 34 of 45 passes for 316 yards, and that Finley had nine catches for 115 yards? And that the Packers beat the Bears in the season finale and again in the NFC Championship Game?
In short, Rodgers knows where the Bears' soft spots are. You don't think he's going to test the Bears' safeties on Sunday, do you?
Rodgers has been sacked only three times (Cutler was sacked twice as often last week). He's completed nearly 71 percent of his passes. He can run.
Yes, the state of the Bears' offensive line should concern Lovie Smith and Bears' fans. But the sight of Rodgers, with time to throw, in nice weather, on a decent playing field, with those receivers and with that offense -- that should terrify Bears' followers.
Gene Wojciechowski is the senior national columnist for ESPN.com. You can contact him at gene.wojciechowski@espn.com. And don't forget to follow him on Twitter @GenoEspn.
You've heard our takes; now give us yours. DISCUSS
WORRY ABOUT YOUR OWN QB BEFORE RODGERS

By Jon Greenberg
ESPNChicago.com
Archive
The Chicago Bears can out-scheme Aaron Rodgers. They've done it before. In the NFC Championship Game, Rodgers threw two interceptions and no touchdowns. He still passed for 240 yards and ran in one touchdown, but the Bears have succeeded in making Rodgers look only pretty good, rather than great.
In three games last season, Rodgers passed for two touchdowns and threw four picks. Sure the Packers won two of them, but it wasn't just Rodgers.
The Bears' offensive line problems could damn them in this game. Offensive line coach Mike Tice said right tackle Gabe Carimi is going to be out for an "extended period of time." That means it's Frank Omiyale time. Omiyale might be the nicest guy in the locker room, but he's a false start machine with limited ability. J'Marcus Webb is the left tackle, which says a lot about general manager Jerry Angelo.
Here's a simple formula to explain what this means: Webb + Omiyale = Advil.
Tice said it's easier to plan for Green Bay's blitzes, rather than New Orleans' ever-changing packages, but that's not helping Jay Cutler sleep at night.
I'm on record placing a requisite amount of blame on Cutler for his high sack rate (11 in two games, the league high) thus far, but his blocking needs to improve, and that includes the tight ends and running backs. On one sack against New Orleans, both Kellen Davis and Kahlil Bell whiffed on pass-rushers. No excuses for that.
I'm not worried about Cutler's health as much as I am about him getting happy feet. He looked shell-shocked for much of the game as pressure mounted from the beginning. As Fox analyst Troy Aikman opined after a Cutler incompletion, "Jay Cutler has got to trust protection at some point."
It's easy for us to say. I can understand why Cutler looked so skittish, even if I naively believe a great quarterback should overcome.
Cutler didn't sound so positive Wednesday when asked if he could make it through the season at this rate.
"I don't know, you know?" he said. "I don't know."
Can't blame the guy for being honest, right?
Jon Greenberg is a columnist for ESPNChicago.com.
LISTEN LIVE!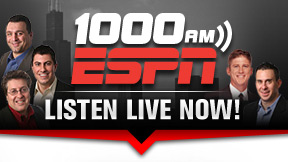 Want to sound off on today's Hot Button topic? Give us a call at 312.332.ESPN. Listen Live