NEWTON WOULD GIVE BEARS A BETTER CHANCE

By Jon Greenberg
ESPNChicago.com
Archive
Does Jay Cutler look ready to take the Chicago Bears to the Super Bowl? To win the Super Bowl?
When he goes back to pass, what are you thinking? Interception, incompletion or decapitation?
For me, the immediacy of "now" is overrated. Three weeks after picking the Bears to win 10 games, I now have an ominous feeling about this season and the Bears' future. So give me the promise of Cam Newton over the reality of Jay Cutler.
Yeah, I know what I sound like, another fair-weather cynic, but I bet if you took a secret poll of players, the choice would be the same. Everyone respects Cutler's talent, but I just can't say he'll ever fully develop into the franchise quarterback he's been billed as. No disrespect to Cutler, who has taken a beating in two-plus seasons in Chicago, but Newton stirs one's imagination.
The rookie quarterback has opened eyes in his first three games. Two 400-yard games will do that. That could change quickly as NFL tape gets around. His game has obvious holes.
I thought Newton, with only one year of starting experience in Division I, had high bust potential. So did a lot of other people. But Newton is proving people wrong so far. It's foolish to expect much out of a rookie quarterback and nothing is for certain for his future, but Newton in a Bears uniform would be a sight to see.
As Lovie Smith said, there aren't many quarterbacks who look like Julius Peppers. Newton could be a one-of-a-kind player. Cutler has rare gifts, but will he realize them in Chicago?
Jon Greenberg is a columnist for ESPNChicago.com.
You've heard our takes; now give us yours. DISCUSS
BEARS NOT CAPABLE OF PULLING OFF NEWTON SUCCESS STORY

By Melissa Isaacson
ESPNChicago.com
Archive
This is a trick question, right? Some kind of catch? Like, OK, the Bears can have Cam Newton but he has to play with ankle weights. Or you can have him, but you have to give the Panthers Brian Urlacher, Devin Hester and Peanut Tillman's Stickum.
And then you remember that once people were raving about Jay Cutler, too. Actually, there was more raving for Cutler when he was at the NFL combine, when many so-called experts acted shocked that Cutler's kind of talent could spring from Vanderbilt.
When Newton was at the combine, he made the mistake of telling reporters he wanted to become an "icon," which only intensified the criticism that this kid was a combination of Reggie Bush, Deion Sanders and Michael Vick before his rehabilitation.
Some things were indisputable, however, such as Newton's crazy skill set: strength, size, mobility, rushing and passing ability and the record to prove it. After two weeks in the NFL, he was the only quarterback in league history to begin his career with consecutive 400-plus-yard games and only the sixth to do it overall.
Then, in a torrential downpour, he directed his first NFL game-winning drive in a game in which great quarterbacks who don't care about their numbers prevail.
But Newton, oddly, is also in a better situation at Carolina than Cutler. Newton has a pair of 1,000-yard rushers, tight ends Jeremy Shockey and former Bear Greg Olsen, who caught the go-ahead touchdown pass Sunday, Steve Smith at wide receiver, a solid offensive line and Warren Moon as a mentor.
If Newton was with the Bears under Mike Martz, behind a shaky offensive line and with no elite receivers, his odds of injury and flameout automatically go up. And knowing the Bears, the character gamble would blow up as well.
At least Cutler and Martz get along well.
Melissa Isaacson is a columnist for ESPNChicago.com.
LISTEN LIVE!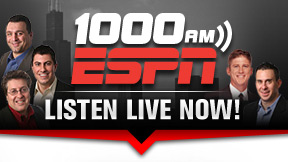 Want to sound off on today's Hot Button topic? Give us a call at 312.332.ESPN. Listen Live