OZZIE HAD TO GO

By Melissa Isaacson
ESPNChicago.com
Archive
Seldom has a man begged to be leave his job with more conviction than Ozzie Guillen.
And in the end, it is best for all concerned.
Though White Sox chairman Jerry Reinsdorf never gave any indication publicly that he wanted Guillen to go, he was left with little choice Monday.
Sadly, but as these things usually go, it really wasn't about Guillen's inability to work with Kenny Williams as much as it came down to cold hard cash.
"People can think what they want to think about me," Guillen said. "Nobody is going to put money in the bank to take care of my kids. As soon as you're out of here, they forget who you were."
Guillen has been saying that for a while, but it's really not fair to the man who gave him his first major league managing job without having ever held the position before.
"[Forget] more years, I want more money," Guillen said at one point, not exactly what any boss would want to hear, then ticked off his financial obligations -- wife, kids, parents, sister.
"There's a lot behind the scenes, a lot of things I have to pay," he said.
Very few of us in the media want to see Guillen go. But even to those addicted to the raw and honest sound bytes, it became painful to watch. Fans have just become weary, period.
In his last season in Chicago, Guillen has been criticized more than ever for his managerial decisions. But for most of his regime, anyway, his team never gave us any reason to think they had quit on him.
In the end, however, talk about his job became bigger than the job itself.
And that's when it's time to go.
Melissa Isaacson is a columnist for ESPNChicago.com.
You've heard our takes; now give us yours. DISCUSS
SHOULD HAVE BEEN KENNY

By Jon Greenberg
ESPNChicago.com
Archive
The wrong guy is leaving.
Kenny Williams and Ozzie Guillen accomplished the impossible together, building a World Series winner in Chicago. Williams deserves all the credit in the world for his role in building the 2005 champions and for some of his crafty deals in the following seasons, landing Jim Thome, John Danks, Gavin Floyd and more.
But he didn't win a thing until Guillen took the managing job. Ozzie changed the culture of the organization, and it took off.
Now Guillen is gone and Williams is looking to hire his replacement. I don't know who it is or how he'll do, but I guarantee I won't enjoy the new guy's company as much.
Williams' deal-making days were practically legend for a few years, but he clearly has lost his edge. Jake Peavy, Alex Rios, Adam Dunn, the parade of ex-Royals, Nick Swisher, Wilson Betemit. The past few years haven't been kind to Williams.
How about wasting $4 million on a month of Manny Ramirez? I'd put Ken Griffey Jr. on this list, too, but at least he contributed to the 2008 team.
Everyone knew Guillen was on thin ice, but some wondered whether Williams wouldn't step away, maybe take a year off and go work in the upper levels of Major League Baseball, let his assistant GM, Rick Hahn, take over.
Guillen was beloved by some, irritating to others, but there is no questioning his presence and few should dismiss his value.
He could control a clubhouse, handle a pitching staff and knew how to defer to his coaches. He has an ego, sure, but he never acted like he invented baseball. He made the game fun, even when it looked like torture.
I wouldn't be surprised if some of the players, especially the guys who have been here a while, had tired of his act, or at least being constantly asked about it. But Guillen cared about them. You'll never find another manager who heads straight to the players' kids after games, win or lose. After he announced he was gone, Comcast SportsNet Chicago showed him embracing Mark Buehrle's kids.
Guillen was raw, honest, hilarious and much smarter than casual observers know. His players didn't all love him, but they will all talk about him until the day they die.
And I guarantee you there are players who thought Williams should be the one saying goodbye.
Jon Greenberg is a columnist for ESPNChicago.com.
LISTEN LIVE!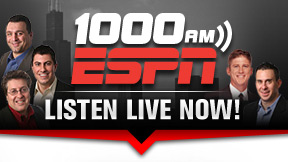 Want to sound off on today's Hot Button topic? Give us a call at 312.332.ESPN. Listen Live