HESTER DESERVES TO BE THE FIRST SPECIAL TEAMS HALL OF FAMER

By Melissa Isaacson
ESPNChicago.com
Archive
The conventional and, well, only argument against putting Devin Hester in the Hall of Fame is that as a special teamer, he is not in the same category as "full-time" players and thus does not deserve Hall of Fame status.
I get it. But we're not talking about a long snapper. Or even a gunner. Simply, no other returner has ever impacted football games more than Hester.
After Sunday's game against Carolina, Hester has scored on a NFL-record 11 punt returns in just 182 career attempts, and now has 15 career kick return touchdowns in all (it took the second-place kick return leader, Brian Mitchell, 1,070 returns for 13 touchdowns).
But that only tells half the Hester story.
He also had a 73-yard kickoff return Sunday, which set up a touchdown for Matt Forte and gave the Bears a 17-10 lead. And his 69-yard punt return for a touchdown was, incredibly, Hester's 39th career punt return of 20-plus yards. The next-closest player in that span is Roscoe Parrish with 27.
In 2006, Hester had 11 20-plus punt returns and in '07, he had 10, making him the only player to have double-digits in back-to-back years since the NFL began keep that statistic in '95-'96.
Hester's punt return average is now the third-highest of all-time (12.6 yards).
To measure Hester's impact is almost impossible to quantify completely, but here are a few more nuggets:

Entering Sunday, of his 16 career return touchdowns (including the one following the missed field goal against the Giants in '06, and the one on the opening kickoff of the Super Bowl in '07), nine were to tie or take the lead; seven came in the fourth quarter and three were eventual game-winning points.
Hester had no kickoff returns for touchdowns last season, but five of his 12 returns went for 40 yards or longer.

There are no statistics for how many teams gave the Bears superior field position by trying to avoid Hester and shanking punts. Angled punts are also easier to block. And the fake catch by Hester and punt return for an apparent touchdown by Johnny Knox against Green Bay last week that was called back because of a Bears holding penalty? It only could have worked because it was Hester doing the faking.

Few plays are more dramatic or can swing momentum more dramatically than the kick return for a touchdown. And few plays are more demoralizing for an opponent.

Special teamers don't belong in the Hall of Fame? How many players force teams to game plan for them?

In '05, before Hester was drafted by the Bears, their special teams ranked 10th in the league in field position. In '06, they were sixth. When Hester took over full-time as a returner in '07, they were first. And when he split duties with Danieal Manning in '08, they were second.

There are no special teamers in the Hall of Fame in part because of the stigma attached that they are second-rate players. But mostly because no player before Devin Hester deserved it.

Melissa Isaacson is a columnist for ESPNChicago.com.
BE CONTENT WITH BEING THE BEST PUNT RETURNER

By
John Jurkovic
ESPN 1000
Carmen, Jurko & Harry
Hall of Famers are guys who play every down and make a difference at their real position, not just as a returner.
If Devin Hester were a phenomenal receiver and you wanted to tell me he's a Hall of Fame receiver, then I'd sit down and I'd have a conversation with you. But a punter is not in the Hall of Fame for a reason. Jan Stenerud's the only kicker in the Hall of Fame. You never heard anybody argue about Eric Metcalfe being considered for the Hall of Fame and he was decent at the position he played.
It doesn't happen.
And Devin Hester having one more punt return touchdown than Metcalfe doesn't suddenly vault him into being the guy. It doesn't work that way. You have to play a normal position, and you have to be exceptional at your normal position. Not just at your return position.
You need to be exceptional at the position you play, which is wide receiver, and he's not. And so in my mind's eye he'll never be considered for the Hall, and fortunately for me they have 35 or so guys in there that are of like thinking, which is great.
It's great, it should be enough that you're the greatest punt returner in NFL history. Good for you. Congrats.
John Jurkovic is a former 10-year NFL veteran and co-host of "The Carmen, Jurko & Harry Show" on ESPN 1000.
You've heard our takes; now give us yours. DISCUSS
LISTEN LIVE!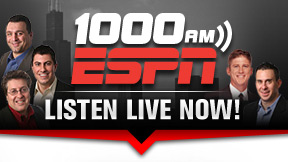 Want to sound off on today's Hot Button topic? Give us a call at 312.332.ESPN. Listen Live