CHICAGO CAN ELEVATE EPSTEIN TO LEGENDARY STATUS

By Jon Greenberg
ESPNChicago.com
Archive
On the surface, this seems like a bad idea. Theo Epstein going from the Boston Red Sox to the Chicago Cubs? It's like Bill Belichick leaving the Patriots to start a team at Chicago State.
For all the myth-making, the Red Sox don't have that much in common with the Cubs. While the Cubs have been mostly forgettable in the past century, a good team here or there, the Red Sox had always been competent enough that each playoff appearance wasn't akin to an eclipse.
So while Epstein has been lionized for his role in getting Boston fans those elusive World Series wins, the job of taking over the Cubs is a much tougher task. The foundation, both spiritual and real, isn't as solid.
But Epstein is young -- amazingly, he only turns 38 in December -- and being in charge of Boston's sporting addiction must have its frustrations. That's why he nearly left in 2005, escaping the media glare in a gorilla costume. He later rejoined the organization. Crisis of faith averted.
If he wants a new challenge, this is it. For all the reasons not to take the job, and those are too lengthy to list here, there are manifold reasons to jump at the opportunity.
For one, the Ricketts family and their business department leaders are so enamored with the idea of Epstein and copying the Red Sox Way, he would have carte blanche to do as he pleases.
Seriously, he could suggest the new market inefficiency is sketch comics and the Ricketts family would open an academy at the Second City theatre. I can see Crane Kenney and Wally Hayward nodding their heads in affirmation now.
Then there's the freedom of youth. With two World Series titles on his curriculum vitae, Epstein is playing with house money, and he's not even 40 yet. When Jim Hendry was relatively his age, he was buying Fig Newtons for Gary Hughes. Epstein is at a perfect age to take a well-compensated leap of faith.
And while the Cubs are certainly in a downward slide, they aren't in bad enough shape, fiscally or otherwise, where it's impossible for them to win in the next few years. It's highly unlikely, but not impossible.
If Epstein can use his knowledge to improve the organization, from the top down, and do the highly unlikely and take the Cubs to the World Series, he'll be a legend in baseball circles. In Chicago, he'd be a civic hero.
Jon Greenberg is a columnist for ESPNChicago.com.
You've heard our takes; now give us yours. DISCUSS
EPSTEIN HAS UNFINISHED BUSINESS IN BOSTON

By Gordon Edes
ESPNBoston.com
Archive
BOSTON -- The chance to make history in Chicago holds a powerful attraction for Theo Epstein.
The chance to make amends in Boston might prove irresistible.
If there is one compelling reason that will keep Epstein in Boston, it will be his sense of loyalty to the Red Sox and John W. Henry, and the nagging feeling that he can't in good conscience leave town without cleaning up the mess first.
This is not an easy call, and we should add the qualifier that the Red Sox might take the decision out of his hands and deny the Cubs permission to talk to him. I don't think that will happen -- one, because Henry feels some reciprocal degree of loyalty to Epstein and would not stand in his way, and two, because denying permission would risk having an unhappy Epstein going forward.
In the end, Epstein will have a decision to make, one that the late-season collapse by the Red Sox makes harder than it already was. He will be 38 in December, he has never perceived being Red Sox GM as his sole calling in life, and in many respects, on both a professional and personal level, he would not only welcome change but see it as a necessity. Change is a dynamic he has embraced as important in the running of the Sox, as witnessed by the often dramatic turnover in the roster from year to year. It's not hard to see change as a vital component in his own life as well.
And the Cubs offer what is really a breathtaking opportunity, one available only to him, to be the man responsible for ending more than a century of losing for the Cubs after snapping an 86-year drought for the Red Sox. Bring a winner to the North Side of Chicago, and Epstein does not have to pass "Go" -- he proceeds directly to Cooperstown.
Epstein has created an apparatus in Boston full of smart and capable people who will continue to produce the kinds of homegrown players who have marked his time here, and he has groomed a potential replacement as general manager in Ben Cherington. In some ways, he could convince himself that his job is done here and it is time to move on. But he also has some unfinished business, restoring the shine to a franchise whose reputation has taken some awful hits in the past weeks.
The Red Sox will make it hard for him to leave, with Henry undoubtedly willing to offer him an extension, more money and an expanded title. Those all are things he can have in Chicago, too, along with a new challenge. What will keep him here -- if he decides to stay -- is that he cannot abide this being the final act of an otherwise memorable performance. He can't drop the curtain just yet.
LISTEN LIVE!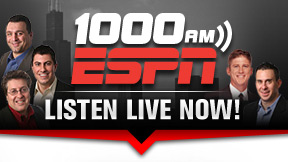 Want to sound off on today's Hot Button topic? Give us a call at 312.332.ESPN. Listen Live