BEARS WOULD BE SMART -- ALBEIT ACCIDENTALLY -- BY FRANCHISING FORTE

By Melissa Isaacson
ESPNChicago.com
Archive
Smart is such a relative term. Are we talking smart as in clever? As in, the Chicago Bears knew all along what they were doing?
Or smart like commonsense smart? As in, the Bears are using the system to their advantage, loyalty be damned?
Having dragged their feet through negotiations with Matt Forte long enough that he would not, could not and should not accept anything close to their original offer, Bears general manager Jerry Angelo and the team's financial and football brain trust now look awfully smart in treating their prized running back like the piece of merchandise most players ultimately are.
The Bears have no choice but to put the franchise tag of about $7.7 million on Forte now. Though he would have been willing to take $7.8 million back in training camp and the Bears could have locked him into at a longer-term offer, Forte has outplayed those numbers and is also now dealing from a place of feeling betrayed.
For Forte, that's really too bad. A franchise tag is a guarantee, but for just one year, which means if he is injured, his next contract could be significantly lower and there is not a thing he can do about it.
Is this smart of the Bears? Sure. They can franchise him a second year, as well, and that guarantee jumps to about $9.9 million, but that would still be a bargain if he plays well enough next season to merit another franchise tag for 2013.
At that point, Forte's agent would be trying to negotiate a new contract for a running back entering his seventh season. And no matter what kind of numbers he ends up with the next two seasons, his leverage and his risk factor again will not be not on his side.
So yep, the Bears sure are smart. They stumbled backward into cornering the heart of their offense into back-to-back deals he will surely resent because they weren't savvy enough to accurately judge his worth. And if he sustains a career-ending injury, they will be playing a part in Forte never getting the money he deserves.
Yep, they sure are smart, all right.
Melissa Isaacson is a columnist for ESPNChicago.com.
You've heard our takes; now give us yours. DISCUSS
PLAYING TAG WITH FORTE COULD COME BACK TO BITE BEARS

By Nick Friedell
ESPNChicago.com
Bulls blog
Does it make the best business sense for the Chicago Bears to just sit on their offer to Matt Forte and continue to franchise him over the next couple of seasons? Yes. The longer Forte waits on signing a new deal, the more likely it is that he will get hurt and will never sniff a big-money deal again.
The Bears will continue to franchise Forte for as long as they can and play it year by year. They'll pay the man as long as he continues to produce and don't seem to care that he's come out recently saying he doesn't feel the organization is "loyal" to him. That's big business in the NFL.
Here's the problem with that if you're the Bears: Players all over the league remember those kinds of tactics. They remember the way teams treat certain players. They will remember the way the Bears refused to pay Forte the guaranteed money that he, and the rest of the NFL, believe he has earned.
The next time the Bears go after a free agent and they're battling another team for his services, do you think that player will sign with Chicago if all things are equal and the money is remotely close? The NFL is a bottom-line business, but it's a bottom-line business based on stars.
When a team has to continue to fight off the perception that it is not treating one of its stars the way he and his teammates feel he should be treated, it becomes the type of stain that can linger over a franchise for a long time.
If the Bears refuse to pay Forte fair market value for his services they not only run the risk of alienating a locker room that has wondered aloud recently if the organization always has the players' best interests at heart, but they will be in danger of being viewed as a team that doesn't always treat its best players well.
If it's only a couple million dollars separating Forte from signing on the dotted line, the Bears would be wise to pay the man his money and move on. The peace of mind Forte will feel will be a lot easier to deal with than the headaches that come with an unhappy star running back.
More importantly, the message the Bears would send to the rest of the league in locking up Forte would be clear and unmistakable: If you perform on the field, we'll find a way to take care of you off it.
Nick Friedell covers the Bulls for ESPNChicago.com and ESPN 1000.
LISTEN LIVE!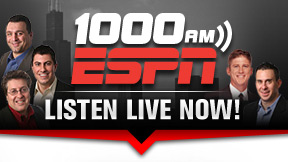 Want to sound off on today's Hot Button topic? Give us a call at 312.332.ESPN. Listen Live