IMPACT OF MANNING'S INJURY REFLECTED BY WIN TOTAL

By Gene Wojciechowski
ESPN.com
Archive
Jay Cutler's broken thumb might have broken the Bears' playoff chances. Might have.
But unlike Peyton Manning's Indianapolis Colts, the Bears still can squeeze into the postseason. They can do it by winning two of their last three games (at home against Seattle, on the road at Minny), by NOT RUNNING OUT OF BOUNDS, by getting their pass coverages right when it counts most.
In other words, the Bears still have an outside chance of slipping into a wild card spot.
Meanwhile, the Colts are taking the express train to an 0-16 season and one of the great collapses in NFL history. Cutler's injury impacted the second half of a Bears' season. Manning's neck injury impacted an entire Colts season, the entire Colts franchise and -- quite probably -- the future of another NFL franchise.
That's because Manning's injury created a football tsunami within the organization. The Colts are going to finish with the worst record in the league, which means they'll get the No. 1 pick in the NFL Draft, which means they'll choose Stanford quarterback Andrew Luck, which means they'll wave goodbye to Manning, which means another team (Miami? Denver? Seattle? Cleveland?) could get a 36-year-old first-ballot Hall of Famer.
In all likelihood, Manning has played his last game for the Colts. Given his injury, his age and the financial ramifications were the Colts to keep him, Manning is Indy history. They can't -- and won't -- take a pass on Luck, who is the college version of Manning.
Cutler's injury might -- again, that word, might -- have cost them a berth in the playoffs. There's still hope for the Bears.
The Colts? They have as much hope as their win total.
Zero.
Gene Wojciechowski is the senior national columnist for ESPN.com. You can contact him at gene.wojciechowski@espn.com. And don't forget to follow him on Twitter @GenoEspn.
You've heard our takes; now give us yours. DISCUSS
AT LEAST COLTS WILL GET LUCK; BEARS WILL GET ZIP

By Jon Greenberg
ESPNChicago.com
Archive
The running joke of the season is that Peyton Manning is the Most Valuable Player in the NFL. After all, the Colts, a perennial contender with Manning running the offense, are winless and meaningless.
But we knew months ago that Manning's status for the season was questionable, thanks to a neck injury. There were few expectations with Curtis Painter (and now Dan Orlovsky), and while no one expected a winless season, the ceiling for the Colts this season was low enough that Maurice Jones-Drew would have to crouch.
Add to the fact that Colts fans have experienced such success over Manning's career, and the fans, and team, can't be too disappointed about one terrible year.
On the other hand, Chicago was 7-3 and fans were thinking NFC championship rematch with Green Bay, when the news of Jay Cutler's thumb injury trickled out hours after the team's 23-10 win over San Diego. There was hope in Chicago, as Cutler was really starting to jell with his teammates, and now it's gone.
Many Bears fans, perhaps spurred by a fair and conscientious media, thought Caleb Hanie could steer the team to the playoffs, and then Cutler could return. After all, the team had a cakewalk of a schedule, three more AFC West teams, Seattle and Minnesota, with a definite L on the schedule in Green Bay.
But Hanie has proven incapable of directing this team, and the Bears have lost three straight to mediocre-to-worse competition. The Bears offense is even worse than the Colts, and it's killed the season.
With Cutler, the Bears would likely have nine wins right now (we'll give Oakland the win), and be poised for an interesting postseason. Without Cutler, the Bears don't have a chance.
The pain of losing Manning was felt early on, but since subsided. The Colts remind me of the 1996-97 San Antonio Spurs, who went 20-62 with David Robinson playing just six games. That allowed them to draft Tim Duncan and the rest is history. Similarly, Manning's injury could allow the Colts to draft Andrew Luck, even if it causes some friction, this freefall would be worth it.
Cutler's injury has no upside, it just stinks.
Jon Greenberg is a columnist for ESPNChicago.com.
LISTEN LIVE!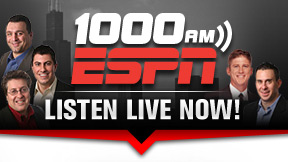 Want to sound off on today's Hot Button topic? Give us a call at 312.332.ESPN. Listen Live