ANGELO SHOULDN'T TAKE FALL FOR COLLAPSE

By Scoop Jackson
ESPNChicago.com
Archive
I'm not trying to sound like an apologist, or someone that's on the Jerry Angelo payroll or someone that he has secret tapes on that he will one day use against me if for some reason I don't unconditionally have his back.
No, I like so many others in this city feel that Angelo has -- at best -- done a half-assed job of building the Chicago Bears into a team that can contend for a Super Bowl every year.
That said, it is in all fairness (and without getting emotionally caught-up in the moment like so many others) very difficult for me to jump on any bandwagon or #OccupyAngelo movement that wants him gone from the front office of Halas Hall.
Is he a great GM of the organization? No. But how do you blame a man when a team loses 80% of its offense for the rest of the season with injuries in a two-week span?
Jay Cutler and Matt Forte go down in consecutive weeks and the GM is supposed to stop the hemorrhaging? With what, a band-aid named McNabb?
How is the Bears' recent misfortune Angelo's fault? That's like blaming Dusty Baker for not winning with the Chicago Cubs when both his No. 1 and No. 2 pitchers (Mark Prior and Kerry Wood) were never healthy during his tenure.
Oh, I'm sorry. We've been there, done that. That's just how we roll here in The Chi. We justify the misdirected reasoning for someone's demise. We find the easiest target and accuse them of being the reason our teams fail without accepting the truth inside of the reality.
The Bears -- as flawed as they are -- hit a string of bad luck that no GM could correct on the fly. That's what's real.
Fire Angelo? Please. If Jesus or Tim Tebow was GM of the Bears, they couldn't have saved this season.
Scoop Jackson is a columnist for ESPN.com and ESPNChicago.com.
You've heard our takes; now give us yours. DISCUSS
TIME IS RIGHT FOR BEARS TO TRY NEW GM

By Jon Greenberg
ESPNChicago.com
Archive
It's pretty difficult to find Jerry Angelo supporters in Chicago, kind of like finding an NFL quarterback on the Chicago Bears' active roster.
Angelo gets a lot of heat because his job of general manager is one that attracts flame-throwing opinions. The Bears may be technically owned by the McCaskey family, but in reality, they are a public trust. And no one trusts Angelo.
Some of that criticism is of the meathead variety, but a lot of it he brings on himself.
Most critiques of front-line guys like Angelo are patently unfair. Still, I think George McCaskey should prove he's not the titular chairman of the team and make a move to replace Angelo and sweep aside his new lieutenant Tim Ruskell.
I believe now is the right time to look for a new voice at the top. At his introductory Chicago Cubs press conference Theo Epstein borrowed a line from Bill Walsh and said 10 years with one organization is probably enough.
Angelo started with the Bears in 2001.
This might seem reactionary, because the Bears were riding high after 10 games and looked like they were capable of returning to the NFC championship for the second straight season. But just as Angelo should get credit for the team's start, he should also get criticized for its painful finish.
I didn't expect Angelo to snuff out Sam Hurd's illegal activities and I understand that plenty of NFL teams have lackluster backups, but there are blind spots that need to be addressed.
McCaskey and team president Ted Phillips need to make a bold move to further complement the foundation Angelo helped build, the foundation which should earn him plaudits when history takes in account his body of work. There are risks, sure, but this is a game that welcomes risk.
Jay Cutler will come back next season, and whether he's playing in Mike Martz's system or another one, I think we'll continue to see his evolution into a Pro Bowl-caliber quarterback. But Cutler needs some help, and I think the Bears should use this offseason to remake their front office staff and inject the team with a new philosophy before it's too late.
Jon Greenberg is a columnist for ESPNChicago.com.
LISTEN LIVE!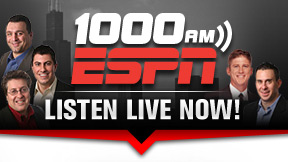 Want to sound off on today's Hot Button topic? Give us a call at 312.332.ESPN. Listen Live