RIP GIVES BULLS EDGE OVER HEAT

By Jon Greenberg
ESPNChicago.com
Archive
The Chicago Bulls ended last season on a four-game losing streak, their longest of the season. The Heat didn't dominate those games, per se, but there was a sense of superiority for the Big Three over The Big One.
But while the Heat's biggest additions were gutty rookie point guard Norris Cole and veteran stopper Shane Battier (Udonis Haslem is also healthy), the Bulls filled their only real hole from last year, a scoring shooting guard in Rip Hamilton.
In the Eastern Conference, it's all about the Bulls versus the Heat, from this Sunday's matchup through a possible Eastern Conference finals rematch.
Hamilton's addition has been much more impressive, even in limited time. Thanks to a groin injury, he's only played nine games for the Bulls, who had a league-best 16-3 record going into Wednesday's game against the Pacers.
Battier has been useless offensively for the Heat, and Miami's scoring defense (96.8) is in the bottom third of the league. Of course, it is the second-best scoring team at 104.6, even with Dwyane Wade banged up.
Hamilton is scoring 14.2 points on nearly 51 percent shooting. He's averaging 3.9 assists, but that almost undersells the positive effect he's having on the offense.
With Rose out, the Bulls went 3-0 in the games Hamilton played, and with Rose back against the Nets, Hamilton led the Bulls with 22 points and 10 assists. Chicago is 8-1 with him in the lineup.
As long as he stays healthy, Hamilton should pay big dividends in the playoffs. Hamilton's former teammate Lindsey Hunter told me no one annoys Wade like Rip.
Jon Greenberg is a columnist for ESPNChicago.com.
HEALTH GIVES HEAT ADVANTAGE ON BULLS

By Brian Windhorst
Heat Index
Archive
The Heat's personnel are almost the same since the Bulls saw them in the conference finals, with the exception that everyone's limbs are currently working. That's significant because last year the Heat felt like they were playing the Bulls basically without the full use of two of their top five players.
Mike Miller and Udonis Haslem played in that series but neither was very functional nor reliable. Miller was able to play but could barely shoot because of thumb and shoulder injuries. He's since had surgeries to repair both, plus another to fix a sports hernia, and his shooting touch has returned. Since being activated three weeks ago, he's been one of the most effective 3-point shooters in the league. Heat coach Erik Spoelstra said Haslem was playing at about 60 percent when he made a surprise return against the Bulls last May after missing six months with a foot injury. Haslem shocked everyone, including his teammates, with his play in Game 2 of that series but overall was a shell of his usual self. He's returned to mostly full strength, and while he's struggled shooting the ball, he's averaging the most rebounds in four years.
The Heat have also added Shane Battier, who has given them a savvy perimeter defender. With Battier and Miller, the Heat can deploy wing-heavy lineups that have good size and can punish teams for collapsing on LeBron James and Dwyane Wade, as the Bulls prefer to do. It is a countermeasure to the physical and interior-based defensive style the Bulls used so effectively against the Heat at times last year.
Brian Windhorst covers the Heat for ESPN.com.
You've heard our takes; now give us yours. DISCUSS
LISTEN LIVE!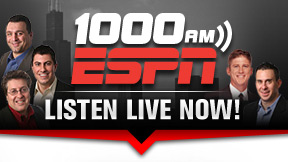 Want to sound off on today's Hot Button topic? Give us a call at 312.332.ESPN. Listen Live