TO WIN BIG, BULLS NEED HOWARD

By Gene Wojciechowski
ESPNChicago.com
Archive
It's not personal, it's business. Isn't that what Michael Corleone said?
Well, the business of the Chicago Bulls is to figure out a way to reach the NBA Finals. And nobody is coming out of the Eastern Conference without first beating the Miami Heat. It was true last season. It will be true this season. And as long as LeBron James, Dwyane Wade and Chris Bosh are wearing Heat unis, it will be true for seasons to come.
The Bulls have lost five of their past six games against the Heat. That doesn't mean you hit the ejector seat on the Bulls' roster, but it does mean you consider all options -- especially when one of those options is Dwight Howard.
Derrick Rose is a generational-caliber point guard, but it usually takes bigs to win NBA championships. It's no accident that seven of the past 13 NBA Finals MVPs were Dirk Nowitzki, Tim Duncan (three times) and Shaquille O'Neal (three times). And when Kobe Bryant won the Finals MVP in 2010 and 2009, he had Pau Gasol and Andrew Bynum. Bigs.
John Paxson, the Bulls' executive VP of basketball operations, and Gar Forman, the team's general manager, are smart, nimble-thinking front-office types. I guarantee you they have multiple trade scenarios in place for Howard.
That's because Howard gives you defense. He gives you low-post offense. He gives you Superman.
Carlos Boozer isn't Superman. He isn't even Robin.
Joakim Noah is an all-time favorite, but he's no Howard.
Omer Asik? Taj Gibson? Luol Deng? I'm comfortable waving goodbye to some type of combo platter of any of them.
Who knows if there's a deal to be made between the Bulls and Howard's Orlando Magic? After all, there are a lot of moving parts involved.
But if ever there were a guy worth taking the trade plunge on, Howard is it. The Bulls owe it to their fans -- and themselves -- to at least try.
Gene Wojciechowski is the senior national columnist for ESPN.com.
You've heard our takes; now give us yours. DISCUSS
BULLS SHOULD NOT MESS WITH WINNING CHEMISTRY

By Melissa Isaacson
ESPNChicago.com
Archive
Is there a price tag too big for the Bulls to accept a trade for Orlando's Dwight Howard?
How about this for starters: their identity as a championship contender and the chance that Howard will not re-sign with the Bulls.
It would be crazy to say outright that trading for one of the three or four best players in the league is a mistake. But it's just as crazy not to at least consider the possibility that it would actually reduce their current chances of winning the NBA title.
Yes, Derrick Rose and Howard together would make a dynamic pair. But don't assume this would be the same type of championship-caliber Bulls team minus Luol Deng, Joakim Noah, Taj Gibson, Omer Asik or at least any three of the above.
And even if Rose and Howard could learn to play to their potential together in the six weeks or so before the playoffs, that does not guarantee that the supporting cast (which is what a formerly team-first Bulls' squad would now be reduced to) would mesh as well.
And while we're talking guarantees, how do Rose and Howard necessarily guarantee an NBA title? The Miami Heat ostensibly became the front-runners to win the championship with the trio of LeBron James, Dwyane Wade and Chris Bosh. But they didn't do it in their first go-round, losing to a Dallas Mavericks club that won with great teamwork and great defense.
Also, let us consider that the very identity of the Bulls -- beyond the defensive-minded, 12-man-deep philosophy that has made them championship contenders -- would not be sustained with the addition of Howard.
As trade talks have heated up, Howard has shown discernible cracks in his character, and the Magic have displayed some of the worst basketball in the league (a tall order in itself). Hypocritically alternating the past few weeks between calling out his teammates and acting like he doesn't care, Howard has not exactly displayed the behavior of a leader or a guy who might occasionally be asked to suppress his ego under Tom Thibodeau's system.
And lastly, could the Bulls be absolutely sure that Howard would re-sign with them this summer, or would they have to rely on the word of a guy who could easily have his head turned by another suitor?
That alone, is too big a price tag for a team that, last I checked, is hardly desperate.
Melissa Isaacson is a columnist for ESPNChicago.com.
LISTEN LIVE!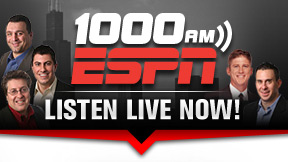 Want to sound off on today's Hot Button topic? Give us a call at 312.332.ESPN. Listen Live