THIBS MAY BE BETTER SERVED USING CAUTION

By Melissa Isaacson
ESPNChicago.com
Archive
It feels like nit-picking to second-guess virtually any decision made by Bulls coach Tom Thibodeau.
The team, after all, owns the best record in the Eastern Conference. Thibodeau was recently named coach of the month in the East for guiding his club to a 12-4 mark in January. And the Bulls have done it, alternately, without Derrick Rose, Luol Deng and Rip Hamilton, among others.
It is not yet mid-February, and Thibs is already being talked about as the leading candidate for coach of the year.
So why do I still have a problem when I see Deng playing 41 minutes against Milwaukee on Saturday night, his first game back after missing seven with a torn ligament in his wrist? And why do I always have a problem when I see Rose on the court in late stages of blowouts, a common occurrence? It didn't ease my concern watching Rose leave Monday's game with lingering back spasms.
I know what the players would say because I have asked them. And I know Thibodeau's philosophy because I have seen it and heard him talk about it.
His players say they're fine; that this is what professional athletes do; that they want to be in there. And I don't doubt it. If permitted, Rose would have limped through any of the games he missed with his bad toe or back spasms.
And those who saw Thibodeau hold out his starters last week in a losing effort against Philadelphia and then watched the renewed energy they demonstrated with their victory the next night against the Knicks at Madison Square Garden would probably argue that the coach knows what he's doing.
Of course he does. That's not the point.
I'm not talking about electing to keep Rose in with a tenuous lead against a surging team. I'm talking about the toll it takes, and arguably did take by last postseason, by consistently leaving him in for superfluous minutes. It's not as if the Bulls' bench has not proved itself worthy of holding leads and winning, even without Rose.
And playing Deng roughly three minutes longer than his season average on Saturday, despite the fact that he was playing well and his impact is always felt, makes you think Thibodeau is pushing his luck.
Players are more fatigued late in games, more vulnerable to turned ankles. And while doctors have said that Deng won't injure the wrist further with use, he won't hurt it with a little more rest either.
Some might argue the Bulls will be that much tougher for it, in better shape come playoff time. I would disagree. And I hope if the Bulls lock up a playoff spot early, Thibodeau will ease up a bit and remember Philly.
But I'm not counting on it.
Melissa Isaacson is a columnist for ESPNChicago.com.
TRUST IN THIBS, HE KNOWS WHAT HE'S DOING

By Jon Greenberg
ESPNChicago.com
Archive
The question isn't "Why did Tom Thibodeau play Luol Deng 41 minutes" on Saturday, but rather, why didn't he make him run home from Milwaukee as well?
"Luol's fine. He needs some conditioning. He agreed that he should run home. He'll be fine," is how I'd imagine Thibodeau explaining it.
So-and-so is fine. This is the NBA. This is Thibs' lingo as he tries to explain to a city of Nervous Nellies that, well, he knows what he's doing. But does he?
Yes. Now, there is more than enough reason to wonder if the NBA coach of the year erred by immediately throwing Deng back into his ironman role after missing seven games with a torn ligament in his left (non-shooting) wrist that still has uncertain consequences.
But I didn't mind it and here's why: The Bulls need to know if Deng can handle contact and normal offensive touches, and they need to know it right now. Derrick Rose is obviously the star of this team, but without Deng, the Bulls don't stand much of a shot of competing with the Miami Heat for the Eastern Conference title. So the Bulls needed to figure out if Deng can play.
Deng seemingly passed the Bulls' test by playing those minutes against Milwaukee and then practicing the next day. Deng said he doesn't want to talk about the wrist anymore, and certainly Thibodeau is sick of answering questions about it too. Deng's game was the first step of showing people -- fans, opponents, himself -- that he can play through this injury. We'll see if that holds true.
After back spasms resurfaced in the competitive swamps of New Jersey on Monday, Rose is back on our injury radar. And it's fair to wonder why Thibodeau played him at all, after noting pregame that Rose's back was balky. Rose, as usual, said he'll be fine.
The problem with this kind of debate is that the season has a purpose besides being a prologue to the playoffs. Muscle memory and repetition are two reasons Thibodeau has to keep it normal, even against garbage teams like New Jersey. If he takes his foot off the pedal, the players will notice.
But while I give Thibodeau a wide berth, it's also important to remember this is only his second year running a team. It's natural he will make mistakes, but I don't think his minute disbursement will come back to hurt this team. He knows what he's doing.
Jon Greenberg is a columnist for ESPNChicago.com.
You've heard our takes; now give us yours. DISCUSS
LISTEN LIVE!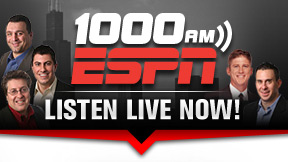 Want to sound off on today's Hot Button topic? Give us a call at 312.332.ESPN. Listen Live