QUENNEVILLE FAILING TO TURN TEAM AROUND

By Jesse Rogers
ESPNChicago.com
Hawks blog
Once we're this deep into the season anything that happens -- good or bad -- is on the coach, not the general manager. That's especially true in the Chicago Blackhawks' case, considering they ascended to the top of the standings as the calendar turned to the new year. That's not just a fast start masking personnel problems.
Now that they've fallen just as fast, the Hawks can't point to someone wearing a suit in an office. It's on the players and it's on the head coach. For whatever reason, the players aren't responding to coach Joel Quenneville the way they have in the past.
Even Quenneville is putting some of the blame on himself, recently admitting to letting "things slide" when it came to the defensive part of the Hawks' game. And he hasn't done nearly enough to fix the Hawks' woeful special teams. General manager Stan Bowman can't do that, Quenneville can. This slide is on him as much as anyone.
In the past, when the Hawks have had some dreadful games Quenneville has almost always pressed the right buttons to get a good performance and/or a win out of his team. Recently, game after game he's been unable to get either from his team. A coach who is stressing defense, yet watches his team give up three or more goals in every game, is either giving the wrong message or, worse, is being tuned out by his players.
Bowman has been on the sidelines for it all while Quenneville is right in the middle of it. It's more on the coach.
You've heard our takes; now give us yours. DISCUSS
Jesse Rogers covers the Blackhawks for ESPNChicago.com and ESPN 1000.
BOWMAN SEEMS TO BE MISSING A PIECE, SOMEWHERE

By Jon Greenberg
ESPNChicago.com
Archive
When I was walking around the celebratory ice in Philadelphia after the Chicago Blackhawks won the Stanley Cup two summers ago, I stopped to talk to team President John McDonough. Amid the revelry, he made sure to remind me that Stan Bowman was the architect of this championship.
I didn't write that, because, frankly, Bowman didn't seem to be so essential that night. I'm sure he would've agreed.
Bowman, of course, was in his first year in the big office, taking over for his former boss Dale Tallon, the hockey lifer with an eye for talent, who was fired before the season. Bowman, through his years of service moving up the ladder in the front office, deserved his share of credit, but that championship, of course, was a team effort.
Bowman did his job last year as the team had to jettison salary under the salary cap during a hangover season. And he was championed by some for his work this summer to add some toughness to complement his skilled core. But what has he really done to make the Hawks a championship contender?
He was gifted Jonathan Toews and Patrick Kane and Patrick Sharp, but has he been aggressive enough to find corollary pieces? Did he get rid of guys that were more essential to the team's success in 2010 than he thought? It's tough to criticize the moves, considering the severeness of the salary cap, but Bowman is the guy in charge, so the puck stops with him, especially since it hasn't with Corey Crawford and Ray Emery.
Give Bowman some credit. The Blackhawks were considered elite a couple weeks ago. But their road troubles and indifferent play defensively spell major troubles for everyone, Bowman included. He's still a novice at this position, surname be damned. Bowman told a Comcast Sportsnet Chicago reporter that his coach Joel Quenneville is safe and that he's not looking for a new goaltender. One of those statements better be false.
This losing streak could be a hiccup we'll be laughing about in June, or it could be the harbinger of a lost season. We'll figure out what kind of GM Bowman is then.
Jon Greenberg is a columnist for ESPNChicago.com.
LISTEN LIVE!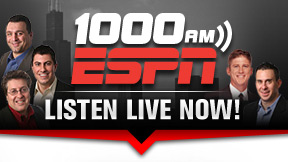 Want to sound off on today's Hot Button topic? Give us a call at 312.332.ESPN. Listen Live