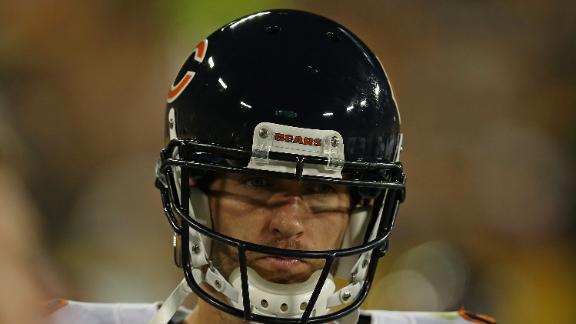 Scrutiny part of being NFL QB

By Jon Greenberg
ESPNChicago.com
Archive
Poor Jay Cutler, franchise quarterback. So misunderstood. All he wants to do is win football games for the good of the team and the city, but the big, bad media, most NFL players and ex-jocks on Twitter, and football fans keep harping on his demeanor, his sideline tiffs and everything not involved with throwing a football.
Poor Jay Cutler. I'm playing the world's tiniest violin in his honor.
I'll admit, Cutler has it bad when it comes to public opinion, and it's not always fair. It's easy to look at Cutler and immediately be critical of his appearance, because after all, he's playing a game. Except, of course, it's a game that could result in brain damage and life-shortening ailments. The criticism for missing the second half of the 2011 NFC Championship Game was silly, but it lingers.
Anyone who says Cutler didn't care in that game, or now, is just practicing lazy analysis. Those of us who watch him and cover the Bears know he is bubbling with intensity. I give him a pass on emoting. I want a guy who cares.
But I don't feel bad that Cutler has to answer questions about his persona or take questions about blowing off his offensive coordinator on national TV. It's not exactly a secret that TV cameras film the sidelines. If it weren't for the league's TV partners and the hero-making machine, quarterbacks such as Cutler wouldn't be insanely rich. TV giveth and TV taketh away for all players, but none more than the modern quarterback.
Cutler's main problem is that he has had so many opportunities to smolder. If he didn't have such a predilection for interceptions, perhaps his narrative would be that of intense gamer and throwback quarterback. But he's been so mistake-prone in his Chicago tenure, his identity is that of a frustrated, petulant athlete. It's a public identity that has been building since his Denver days.
Cutler doesn't have to be a model TV athlete to be respected. He needs to come up big when it counts this season and in the future. If he doesn't, expect the criticism of the ancillary behavior to continue. It's all part of the game. Jay Cutler is a franchise quarterback. It's a tough life, I know. Millions of dollars, radio shows and mean tweets. I feel terrible for him.
Jon Greenberg is a columnist for ESPNChicago.com.
Not every expression needs analysis

By Scoop Jackson
ESPNChicago.com
Archive
As media, we are conditioned to do exactly what we have been doing to Jay Cutler since he slid on that GSH uniform. We are conditioned to document and publicly question and throw open for discussion every move he makes. That's what we have been conditioned to do.
But that doesn't necessarily make it right, or fair. Not to Cutler or to a sports-thirsty audience.
Has Jay Cutler been an angel? No. But he also hasn't been the Kanye the media has made him out to be by scrutinizing and reading into his every facial expression and body reaction.
In sports (as it should be in every profession), whether it's Tony Romo throwing five interceptions or Jay Cutler not wanting to speak to Mike Tice on the sidelines, there should be room for error provided by the media so that they don't force readers, listeners and viewers to view everything a certain athlete does as a crime or an indictment of that athlete's character.
Half the things Jay Cutler has done that have turned into weeklong topics of discussion have had nothing to do with why the Bears won or lost a game. Instead of worrying and going all-in on him bumping J'Marcus Webb or how his pungent attitude and behavior are one day going to ruin the Bears, the media should be focusing on the improvements he needs to make on his footwork so that his QB rating will be higher and more consistent.
But nowadays it's all about likability. Almost nothing else. If we in the media like you, your behavioral (and professional) flaws will never be an issue. Unfortunately, that's the game we play.
Scoop Jackson is a columnist for ESPNChicago.com.