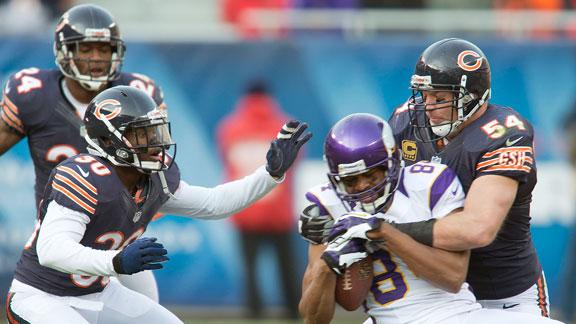 Face of the franchise can still play
By Michael Wright
ESPNChicago.com
Archive
It's a business, time to move on. He's old, not the same player.
You'll hear all that as justification for jettisoning Brian Urlacher, the quintessential Chicago Bear, once the club starts making difficult decisions with its free agents.
While there's truth to some of that, the fact is that Urlacher -- despite his age -- is still a starting-caliber NFL middle linebacker. He's still one of the better middle linebackers in the league.
Don't think so? Well, in what we can all consider a bad 2012 season for Urlacher, the supposed old guy ranked among the top 10 in the NFL (along with Bears LB Nick Roach) for lowest percentage of first downs and touchdowns (3.08 percent) allowed, according to Pro Football Focus. That's interesting considering he was never fully healthy after undergoing multiple knee procedures, and never 100 percent in football shape.
Obviously, the middle linebacker's ability to run and cover are key elements in a Tampa 2 scheme. So despite the obstacles Urlacher faced, he still managed to excel in that area.
That's not to say Urlacher didn't struggle. According to Pro Football Focus, Urlacher graded negatively against the run over the first four games and positively only once all season. Despite missing four games and playing pretty much all but his last few essentially on one good leg, Urlacher still put up respectable numbers (88 tackles, seven tackles for lost yardage, four quarterback pressures, seven pass breakups, one interception returned for a touchdown, two forced fumbles and recoveries) that were better than a good portion of his peers.
So Urlacher can still play, but the Bears won't want to pay.
Urlacher understands that. But he still deserves a salary commensurate with that of a starting middle linebacker. Without even getting into his standing as the face of the franchise or his Hall of Fame credentials, what's left in the tank for Urlacher warrants the team working to ensure a return in 2013.
Michael C. Wright covers the Bears for ESPNChicago.com.
Might be good time to say goodbye

By Jon Greenberg
ESPNChicago.com
Archive
It wasn't long ago that I believed Brian Urlacher deserved to end his Chicago Bears career on the field. I still think it would be apt and respectful.
But now that we've had some distance from the franchise-altering 2012 season, I'm left a bit disconnected from the poetry of Urlacher's career and I'm thinking about the reality that it's time to move on; much like it was time to move on from Lovie Smith, despite the Bears' winning 10 games, a contract-extension-worthy number on its face.
Everything has an end. With a new coaching staff, maybe the time is now to find a short-term replacement for Urlacher, or if the moment presents itself, a rookie to take his spot.
Why go for such an unknown? Well, how sure are you that Urlacher can play 16 games next season? He's definitely worth more than his play -- he's an institution and a likely Hall of Famer -- but he'll be 35 going into the season, and despite his protestations that he'll be healthy, how can he know that?
This past season, Urlacher's play was uneven but impressive considering he didn't have a training camp or an offseason training regimen because of a knee injury suffered at the end of the 2011 season. He told "The Waddle & Silvy Show" that it "was very frustrating for me to be out there and just not be able to do what I normally do."
Despite previously hitching his star to Smith's wagon, Urlacher knows the score. His ties to the Bears, and football, are more important than loyalty to a coach. This is always the case.
No. 54 now sounds like a man who desperately wants one last gasp at football, even admitting that "at my age, it's going to be hard to not give them a discount" financially. When an NFL player is talking less money, you know he wants to play.
Thanks for not making this easy, Brian.
I wouldn't have a problem with Urlacher's coming back, but maybe, just maybe it's the perfect time to say goodbye.
Jon Greenberg is a columnist for ESPNChicago.com.