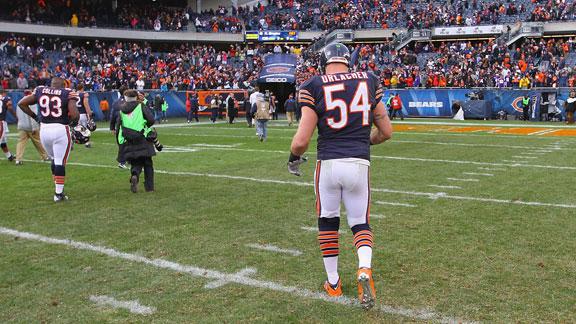 Urlacher helped re-define position
By Michael Wright
ESPNChicago.com
Archive
Respect to Mike Singletary. Respect to Dick Butkus, Bill George, George Connor, Clyde "Bulldog" Turner, Joe Fortunato, Doug Buffone, Wilber Marshall, Otis Wilson, or any of the other guys not mentioned here. But from this vantage point, Brian Urlacher -- even if he doesn't believe it himself -- is the greatest linebacker in Bears history.
"I don't feel like I'm in that fraternity," Urlacher once said. "They're in the Hall of Fame, you know? That's where I want to be when I get done, but I still don't feel I'm in that category yet. They're great players, recognized as great players by their peers, and all the smart people who vote on the Hall of Fame. I don't feel like I'm in that category yet."
But you are, Brian. Absolutely you are.
While Butkus and Singletary were more intimidating, Urlacher played a role (similar to Ray Lewis) in ushering in the modern era of middle linebacking, mainly, because of his rare athleticism. In addition to knocking opponents senseless with big hits, Urlacher could cover like a safety, making it difficult for defenses to throw over the middle; especially over the deep third of the field.
Sure, Chicago's defensive tackles kept blockers off Urlacher over the years. But make no mistake about it: Urlacher made Lovie Smith's defenses go. Since Urlacher's rookie season, the defense ranked in the top five in the NFL in points per game, third-down percentage and takeaways.
Over the past four seasons, the Bears allowed a Total QBR of 39.5 with Urlacher on the field, according to ESPN Stats & Information and a 60.1 Total QBR with the linebacker off the field.
Statistically, there's really no comparison between Urlacher and his Bears linebacker peers, three of which are in the Hall right now.
Urlacher is the best.
Michael C. Wright covers the Bears for ESPNChicago.com.
Butkus put fear into opponents

By Scoop Jackson
ESPNChicago.com
Archive
The best? Linebacker? Ever to put on a Bears uniform? Probably Dick Butkus.
Of the selections made available to choose from (Brian Urlacher, Mike Singletary, Bill George, Butkus), No. 51 stands out and distinguishes himself from the others. Not by much, but enough to make a clear and arguable choice and feel comfortable when doing it.
Of Urlacher and Singletary, there simply were so many great players around them during their tenure that it's hard to single them out as "greatest" without considering the greatness that surrounded them. Both seemed to benefit from the players on the same side of the ball with them in ways that make it difficult to pull them out of the group and acknowledge their greatness the same way it's been done with Jack Ham or Jack Lambert while being part of the Steelers' Steel Curtain.
As inaccurately subjective and unfair as that may be, Singletary did have Wilber Marshall, Otis Wilson, Steve McMichael and Dan Hampton at defensive tackle, Richard Dent at defensive end to play off of, and Urlacher is the victim of having Lance Briggs as his sidekick over most of his career.
Of George, he simply is the victim of playing in an era and during a time when the position had not yet been defined. Not to take anything away from his greatness (Hall of Famer, eight-time All-Pro selection, member of the NFL 1950s All-Decade team, etc. don't lie), but the "linebacker" in the NFL did not become respected as one of the best players on the field until Ray Nitschke came along, basically finishing what George laid the groundwork on. And the position didn't become dominant until Butkus redefined how the position was played. Bill George is a case where being "ahead of your time" is actually a bad thing.
Butkus also put fear in opponents in ways that George didn't and Brian and Mike couldn't.
Plus (and it's always good to have back) on the NFL Network's Greatest Players of All-Time list, Butkus was in the Top 10. Not that that's the Bible of football greatness, but in this case it speaks the gospel.
Scoop Jackson is a columnist for ESPN.com.