JAY CUTLER IS STILL THE BEARS' FRANCHISE QB

By Jon Greenberg
ESPNChicago.com
Archive
Caleb Hanie won't be your quarterback in 2011. Sorry, Hanieiacs.
No, Jay Cutler is your franchise quarterback, and if your franchise is the Chicago Bears, that doesn't bode well for future Super Bowl rallies.
Cutler's toughness doesn't need to be questioned. He didn't quarterback Vanderbilt for his health. He's been sacked more than 80 times in his two seasons with the Bears. Only the careless could say he's not tough.
But his preparedness and the utilization of his talents need to change for the better. Cutler was 6-for-14 for 80 yards and one interception. An NFL coach who knows Cutler well told me this week that the quarterback needed a fast start to limit future mistakes. It didn't happen.
He had a few nice plays -- stepping up in the pocket to find Matt Forte in the middle of the field was the one I can remember -- but he looked discombobulated early in the most important game of his career. He didn't get a chance to rectify his start, like the defense did. An injury to his MCL did him in.
Cutler is the best quarterback the Bears have seen in decades, but when Shane Matthews is near the top of your all-time quarterback rating leaders, well, your franchise isn't very good.
Offensive coordinator Mike Martz said he spends two sessions a week, 20 minutes a pop, with Cutler working on his footwork problems. That's during the season, not training camp. That's 40 minutes wasted. The way Martz calls plays sometimes, he could use all the extra time he can get.
Cutler is the Bears' franchise quarterback until they give up on him, which could be in two years or 10. I'll go with somewhere in between.
But if Cutler is to be the kind of franchise quarterback that gets his team to the playoffs on a near-annual basis, he needs to get better and the team needs to surround him with better linemen and one more talented wide receiver.
Cutler deserves better and the franchise deserves more from him, given the investment it has made. It's a symbiotic relationship that has resulted in one playoff appearance. If there aren't positive improvements in the future, this relationship is doomed.
JAY CUTLER IS NOT A FRANCHISE QB

By Gene Wojciechowski
ESPN.com
Archive
Forget about Chicago's most famous sprained MCL. This isn't about Jay Cutler's knee; it's about his football heart and his football mentality.
I've said it before, I'll say it again: We still don't know if Cutler is a franchise quarterback or just another quarterback of a franchise. But the fact that we're still asking the same question in 2011 that we first asked in 2006 -- Can Cutler carry a team? -- perhaps means we already have an answer. And the answer appears to be no.
Quick, name me the top five Cutler-engineered signature victories. I'll wait.
Tell me again why a Denver Broncos head coach would jettison his supposed "franchise'" QB to the Bears. Josh McDaniels might have been a disaster in Denver, but he does know something about running an offense. And he didn't want Cutler running his.
And explain why, in the biggest game of his career, Cutler completed just 6 of 14 passes for 80 yards and threw another in a long, drive-killing line of knucklehead interceptions. He did almost all of this, by the way, on two good knees.
This isn't about physical ability or toughness. Cutler has a locker full of both. But something is missing. Whatever it is -- not enough attention paid to technical details or film study, a reluctance to adapt or change his ways … whatever -- Cutler has yet to deliver on his vast potential.
There can be no more excuses. Next season will be Cutler's sixth in the league. Yes, this was his third different offensive coordinator in three years. And his offensive line was routinely overmatched. And his receiving corps was barely above average. But then again, so was Cutler for huge parts of the season.
Will Cutler change? Can he change? Because I saw the same Cutler on Sunday that I saw when he was with Denver.
And maybe TV didn't show it, or I simply missed it, but there was part of me that wanted to see Cutler on the sideline, cheering on emergency quarterback Caleb Hanie during the Bears' attempted comeback.
Bill Parcells had it right. The legendary coach said you are what your record says you are. The same goes for Cutler. And right now, it says he isn't a franchise quarterback.
You've heard our takes; now give us yours. DISCUSS
LISTEN LIVE!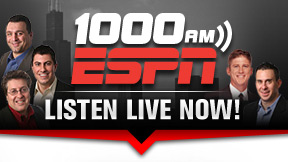 Want to sound off on today's Hot Button topic? Give us a call at 312.332.ESPN. Listen Live