THIBODEAU'S SUCCESS IS NO FLUKE

By Jon Greenberg
ESPNChicago.com
Archive
If you're wondering whether Tom Thibodeau is the coach of the year, you're probably the type who still thinks the iPhone is a fad.
In less than one season, Thibodeau has put his stamp on the Chicago Bulls organization with his intense -- but not myopic -- work habits, and has the team on the precipice of history. The Bulls certainly aren't second-round fodder, and under Thibodeau, they don't fear anyone. They're too prepared to be scared.
Thibodeau's practices are well-planned, but he retains his love of teaching. He schedules extraordinarily thorough walk-throughs on the day of games. He plays his horses heavy minutes, but he is practicing them less and less as the season drags on. He plays his bench well, and understands the value of on-court chemistry.
Thibodeau gained a small measure of name recognition when he joined the Boston Celtics and helped coach a championship team. His reputation as a defensive guru has grown in Chicago, despite a dearth of defensive "stars." Now, instead of people wondering why Thibodeau can't get a top job, the conversation has shifted to: What took so long?
The Bulls are essentially tied with the Celtics for the best record in the Eastern Conference, and not coincidentally, tied for the fewest points allowed per game, 91.3. His players have bought in, especially star Derrick Rose, a basketball monk and an unlikely kindred spirit to his coach.
When the coach benched defensively challenged Carlos Boozer for an entire fourth quarter in a loss, I wondered if Thibodeau had the propensity for holding grudges and taking his beliefs too far. But what he showed was that no one is above the team. It showed that he knows what he's doing.
Now that you've read our take, tell us what you think. Discuss

POPOVICH REINVENTS SPURS' SUCCESS
By Timothy Varner
Spurs Blog
If Quentin Tarantino took a break from filming genre-mixing violence orgies and directed a pitch-perfect romcom, that would grab our attention, right? It's quite a turn to go from "Pulp Fiction" to "Annie Hall," especially if all you've ever done is, in essence, a countdown between quirky bloodbaths.
Well, that's kind of what Gregg Popovich has done this season. The Spurs are on pace for a franchise-best finish -- which is saying something considering San Antonio is a four-time NBA champion -- because Popovich has reinvented his team's offense. In the space of one offseason, Popovich transitioned the Spurs from a post-driven, defensive-minded outfit into a guard-led, free-flowing offensive juggernaut.
It's not an easy trick.
The Spurs have the best record in the league and, top to bottom, they have less top-shelf talent than any of the league's other legitimate contenders. One could certainly argue that their core is more accomplished than the others, but make a list of those contenders and tell me, if you're trying to build a championship team right now, whose core you'd rather have going forward?
Chicago or San Antonio? San Antonio or Los Angeles? San Antonio or Miami? Simply put, Popovich is doing more with less.
And it won't do to say Popovich has had it easy because the Spurs have been healthy. In 2011, a healthy Tim Duncan is only 50 percent of the player he was two years ago.
There is another way of framing this: The Spurs are on pace to win 67 games. Is anyone else on their roster deserving of an award of any sort? In the absence of other explanations for their historic stomp, it really ought to be obvious -- score one for the coach.
LISTEN LIVE!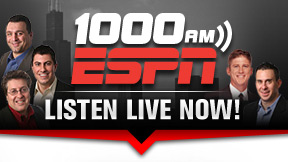 Want to sound off on today's Hot Button topic? Give us a call at 312.332.ESPN. Listen Live