THIS IS ONLY THE BEGINNING OF A BULLS RUN

By Nick Friedell
ESPNChicago.com
Bulls blog
How can something be truly disappointing if you never expected it in the first place? No one expected the Chicago Bulls to have a legitimate chance to win it all this season. Anyone who tells you differently is lying. Heck, the Bulls didn't even think they would be this good this quickly. Many within organization figured that the team's window to win a championship was just starting to open and they had to add another piece or two before they could contend for a title.
All that has changed in the past couple of months, though. The team is on fire and sits atop the Eastern Conference with the odds-on favorite to win the MVP award in Derrick Rose. The Bulls believe they have a chance to win it all this season ... but that doesn't mean people should be miserable if they don't.
The Bulls are still an extremely young team. Rose is just 22 years old and is only going to get better over time. The Bulls have a nucleus the rest of the NBA is drooling over, but it's full of players who have yet to prove as a group that they can win in the postseason.
All the pieces are in place for the Bulls to be good for a long time to come, but if for some reason they don't win a title this season, that doesn't mean the world is coming to an end. It means the Bulls are just starting on the type of journey that every young team must go through to get a championship.
A loss in a playoff series is always going to be a miserable experience, but it shouldn't cause severe disappointment. The Bulls undoubtedly have raised the bar on expectations this season with their play, but that doesn't mean fans should lose sight of where they started this season.
This is a team on the rise, and that fact should give people a lot more excitement -- not heartache -- no matter how the playoffs shake out over the next few months.
Nick Friedell covers the Bulls for ESPNChicago.com and ESPN 1000.
You've heard our takes; now give us yours. DISCUSS
IT'S OK TO BE GREEDY THIS SEASON

By Melissa Isaacson
ESPNChicago.com
Archive
Ask any Chicago Bulls player or their coach, Tom Thibodeau, whether he would be disappointed if they didn't make it to the Eastern Conference finals this season, and in their heart of hearts, of course they would say yes.
As of Thursday, if the Bulls get there, it means they would have had to beat the Orlando Magic or Atlanta Hawks, formidable but conquerable challenges. And once in the conference finals, they would meet a Boston or Miami team that surely will have a tough and drawn-out second-round series.
Particularly if the Bulls have home-court advantage, it absolutely would be a disappointment to all concerned if they didn't go on to the Finals.
Is it wrong to set the proverbial bar high? We in Chicago know all about high bars (as well as many other kinds of bars). And we know about disappointment. Outsiders might view us as pessimistic by nature. I prefer to call us realistic.
Bulls fans are not squealing teeny-boppers. They are educated basketball fans who know a good team rounding out at the right time when they see it. And this Bulls team is a confident one that, while cautious about taking it one game at a time and all that, has extremely high expectations of itself.
But more importantly, these Bulls have a strong core, bulk inside, a great defense, an excellent bench and a player who, regardless of how he might have been shooting in the first three quarters or more of a game, is capable of lifting his team past any opponent in the closing minutes. He has proved it at times in the playoffs, and he is a better player this time around.
Yes, the lack of a big-time shooting guard could hurt over the length of a long series. But every team in the conference has flaws.
And yes, when the Jordan-Pippen-led Bulls lost to the Pistons in the late '80s, it toughened them up to the point where they finally were able to break through. Some would even argue it was a necessary part of the process. But that was their process.
Look, there should be plenty more opportunities in coming years for the Bulls to put a group around Derrick Rose and Joakim Noah that is strong enough to contend. But that doesn't mean we can't be a little greedy.
Will the Bulls be a failure if they can't make it to the NBA Finals this year? Of course not. But will it be a disappointment? How can it not be as you watch the Bulls right now?
Melissa Isaacson is a columnist for ESPNChicago.com.
LISTEN LIVE!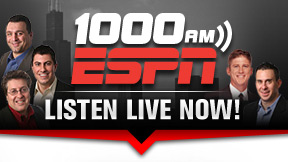 Want to sound off on today's Hot Button topic? Give us a call at 312.332.ESPN. Listen Live

ESPN CHICAGO CHATS
Michael Wilbon

Nick Friedell