DON'T EXPECT BULLS TO WIN GAME 6

By Melissa Isaacson
ESPNChicago.com
Archive
Maybe it's because the Bulls, like the Bears and now White Sox, have gone against most instincts, expectations and predictions that I am anticipating a Game 7 back in the United Center on Sunday.
Or maybe it's because the Atlanta Hawks have done the same, refusing to fold as history seemed to suggest they would.
Either way, I'm not sure how anyone -- Bulls fan or otherwise -- can approach Game 6 in Atlanta on Thursday night with full confidence that Derrick Rose and the gang will wrap things up.
The Bulls have truly dominated from start to finish in only one game in the series. And the Hawks are clearly not intimidated.
"The series is not over," Hawks forward Josh Smith said. "We have to go in and play with a ton of energy on Thursday. We have to do a better job of keeping Derrick Rose out of our paint. If we do that, we should be coming back [to Chicago] for a Game 7."
Going into Game 5, Steve Aschburner of NBA.com made the point that the team that has controlled the first quarter has won each game this series. Even in a closely played Game 4 first quarter, the Hawks sent a strong message that they were not going anywhere after the Bulls' Game 3 blowout.
The trend held true in Game 5, although the Bulls' 15-point first-quarter lead was carved down to four by the Hawks toward the end of the first half and disappeared by the end of the third.
The Hawks are not a panicked group. They already have won at the United Center, so they know a Game 7 victory isn't impossible if they can just get there. And if they need further bolstering, eight teams since 2000 have won a Game 7 on the road.
"We know we've given ourselves an opportunity," Smith said, already looking toward Sunday. "Deep down in our heart, we believe we can go up there and win Game 7."
Melissa Isaacson is a columnist for ESPNChicago.com.
GAME 7 WON'T HAPPEN

By Scoop Jackson
ESPNChicago.com
Archive
It was the game in which they did something they were not supposed to do: win.
Too young. Too inexperienced. The Bulls, even at home, were supposed to fold in Game 5 of their second-round series against the Hawks. Supposed to be exposed for what many thought they were: a team that might have overachieved during the regular season and has shown it has not yet learned how to play big in the NBA playoffs.
Well, some weird stuff happened on the way to the United Center on Tuesday night.
Tom Thibodeau's squad beat the Hawks. Shocking the world, shocking themselves. The Bulls found out what it takes to win and how to win. And that is going to carry over into Game 6; it's basically how things will play out the rest of these playoffs.
Winning Tuesday's game -- by locking down and making a total commitment on defense, by not panicking offensively and hoping Derrick Rose would save the day, by owning the game's fourth quarter -- solidified a confidence the Bulls hadn't found as a unit. Everything we saw in Game 5 should be what we see and should expect from the Bulls the rest of the way. Strong bench contributions, better shot selection and shot decisions from Rose, offensive support from power forward Carlos Boozer, playing more intense basketball than the Hawks -- all those factors should rear their beautiful heads in Game 6.
We are simply witnessing the genesis of a team (finally) hitting its playoff stride. It's time to enjoy the ride.
Now, don't get me wrong, I'm not saying the Bulls can't be beat. I'm just saying there won't be a Game 7 in this series with the Hawks.
Scoop Jackson is a columnist for ESPN.com and ESPNChicago.com.
You've heard our takes; now give us yours. DISCUSS
LISTEN LIVE!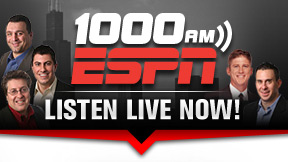 Want to sound off on today's Hot Button topic? Give us a call at 312.332.ESPN. Listen Live