BULLS LOOK PRIMED TO RETURN TO FINALS

By Melissa Isaacson
ESPNChicago.com
Archive
Until the Chicago Bulls' 93-73 win over the Atlanta Hawks on Thursday night, I was thinking the Heat would win the Eastern Conference finals in six -- if the Bulls could hang that long.
After Thursday night, I am putting my sterling prognostication record on the line and giving the Bulls the edge in seven, which no doubt will spur wild celebrations in South Beach.
The Bulls had to have you a bit concerned before their clinching victory over the Hawks in Atlanta. To that point, if they were to defeat Miami to advance to the NBA Finals, they were going to have to do it with Carlos Boozer at roughly half-efficiency, an uneven offense, an overworked Derrick Rose, an unreliable bench and a defense I had actually worried about throughout the playoffs.
Does one game completely change all of that?
Well, yes, because the Bulls so thoroughly returned to form and on the road, in a pressure game. It also reminded us of the 62-win team we came to know this season.
Can they necessarily count on this against the Heat?
Well, no. But they did defeat Miami in all three meetings this season (albeit once without LeBron James), may be actually hitting their stride, apparently have a healthy Boozer and Rose, as well as a team that has nine better players than the Heat.
The Bulls' superior depth could be a major factor both offensively and defensively, when help on Dwyane Wade and James will be critical. Rose, meanwhile, will pose matchup problems for the Heat.
But Miami is also peaking and has yet to allow a team to reach 100 points in the playoffs.
While the Bulls have home-court advantage, that can slip away quickly, and the odds are against them actually making it to the Finals. But a Game 7 at the United Center would be in the Bulls' favor. It would also be some kind of fun. That part is predictable.
Melissa Isaacson is a columnist for ESPNChicago.com.
BULLS SHOULD HAVE NO FEAR

By Nick Friedell
ESPNChicago.com
Bulls blog
Can the Bulls beat the Heat in a seven-game series? Yes.
Do I think it's going to happen? No.
The playoffs have always been about superstars and their ability to take over games when their team needs them the most. The Heat have two such stars in LeBron James and Dwyane Wade. The Bulls have just one in Derrick Rose.
Yes, the Bulls have a deeper team, but that depth doesn't usually mean as much in the latter rounds of the playoffs. What matters is that your best players dominate games and take over when needed. I don't think anyone will stop Rose, but what happens if Miami slows him down? Then where do the Bulls turn? The Heat have Wade if James goes cold -- or vice versa. They also have Chris Bosh, a player who is capable of big nights of his own.
The Bulls have Carlos Boozer, who still is plagued by a turf toe injury, and who has had just one good game in the past several weeks. Luol Deng most likely is going to be worn out after running around covering James and Wade.
The Heat also have the luxury of having players who have been through this process before. They have proved that they can lead a team, almost single-handedly, through the Eastern Conference finals. Not to say Rose can't, but he will have to learn on the fly. This is uncharted territory for Rose and almost all of his teammates.
In the end, I think it's that experience, and the supreme talent of James and Wade, that will carry the Heat over the Bulls in this series.
Nick Friedell covers the Bulls for ESPNChicago.com and ESPN 1000.
You've heard our takes; now give us yours. DISCUSS
LISTEN LIVE!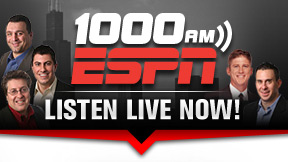 Want to sound off on today's Hot Button topic? Give us a call at 312.332.ESPN. Listen Live