BULLS WILL BE RIGHT BACK IN LEBRON'S GRILL

By Jon Greenberg
ESPNChicago.com
Archive
There is one play from the Bulls' dominant victory in Game 1 that remains burned in my memory, and it's not a Taj Gibson dunk.
With 8:34 left in the game and the Bulls ahead 80-66, LeBron James was isolated at the 3-point line against Omer Asik. James dribbled in place for a few seconds, and instead of trying to blow by Asik to score or draw the foul, he shot an errant fadeaway jumper. Ronnie Brewer got the rebound and it turned into a C.J. Watson 3 on the other end.
If James keeps making those kinds of decisions, the Bulls will be in good shape in Game 2.
Theoretically, James will not have two lackluster games in a row. This is the prevailing notion, backed up not by statistics or by sifting through historical data, but rather common sense.
While Derrick Rose was the runaway Most Valuable Player for this season, James is the blueprint for some kind of futuristic race. Will he score more than 15 points and shoot better than 5-for-15? Yeah, I'd surmise that's a strong possibility.
But I'm not so sure he's ready to conquer the Chicago Bulls just yet.
But as Chris Bosh's 30-point night proved inconsequential in the Bulls' 103-82 win Sunday, if James has a big scoring night Wednesday, it will likely mean he's taking a lot of shots, and the way the Bulls are defending and rebounding, I think turning James into a high-volume shooter would work in the home team's favor.
Are the Bulls in James' head? Probably not. He's never lacked for confidence. But the Bulls are in his grill, with Luol Deng, Taj Gibson and Joakim Noah all ready to swarm, not to mention Asik.
The Bulls' rebounding edge in Game 1 was no accident, and it's the surest thing to repeat in Game 2. This game will not be a blowout, so it's going to come down to limiting James' scoring when it really matters, in big runs and late in the game.
The Bulls' defense all but shut down straight-line penetration for James and Dwyane Wade, as the plan seems well-tailored to push James to the boundaries, where he can shoot those long, fading twos and standing 3s.
Late in the game, that could be a good thing. While his clutch scoring as been somewhat unfairly maligned -- he was fourth in the NBA in "clutch scoring per 48 minutes" according to 82games.com -- the one thing he doesn't do very well in those close, late game situations is shoot from long-distance. He's a 23.8 percent 3-point shooter when the game is within five points with five minutes or less to go. His shooting percentage overall in that situation is 43.6 percent.
Jon Greenberg is a columnist for ESPNChicago.com.
HISTORY SUGGESTS LEBRON'S STRUGGLES SHOULD END

By Melissa Isaacson
ESPNChicago.com
Archive
Not for a minute should we believe Chicago Bulls forward Luol Deng when he said he did nothing special on the Miami Heat's LeBron James in Game 1 of the Eastern Conference finals, when James went 5-of-15 for 15 points in a 103-82 Bulls win.
"His shot was just off," Deng said.
That much was apparent, as was Deng's relentless pressure. But even assuming Deng's "nothing- special" defense continues to be special, James is not likely to be neutralized again in Game 2.
For starters, he is not likely to play so passively again. James settled almost exclusively for outside jumpers in Game 1 and only went to the free throw line four times, sinking all four free throws. Expect him to go hard to the hoop more frequently in Game 2.
There is also a simple matter of odds.
Since 2008, James is basically good for one poor shooting game per series. In the final game against the Sixers in this year's first round, he was 5-for-13 for 16 points. And in a Game 3 Miami loss to Boston, he was 6-for-16 for 16 points. In the other eight games, he averaged 28.7 points. For his career, James is also averaging 28.7 points on 46 percent shooting in 82 playoff games.
Only once this season have both James and Dwyane Wade failed to score 20 points in the same game. Together, they went 12-for-32 for 33 with eight turnovers in Game 1.
"This is only one game, it's just one game," said James, who you can bet was plotting his revenge before the buzzer sounded on Monday and is more than capable of exacting it.
One mistake the duo could make is to rely too much on isolation plays, as they did Monday night. Either way, you have to expect at least one -- if not both -- to wake up in Game 2.
Melissa Isaacson is a columnist for ESPNChicago.com.
You've heard our takes; now give us yours. DISCUSS
LISTEN LIVE!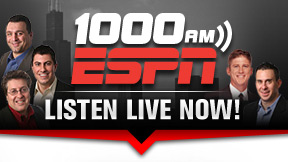 Want to sound off on today's Hot Button topic? Give us a call at 312.332.ESPN. Listen Live