WHAT TO DO WITH BIG Z? LET HIM PITCH

By Jon Greenberg
ESPNChicago.com
Archive
Carlos Zambrano shouldn't be canonized for criticizing his team and blaming his fellow Carlos, but he shouldn't be shipped out of town either.
He shouldn't be suspended or traded (good luck with that, by the way, he makes $18 million next year) or slapped on the wrist with a ruler from tongue-clucking writers.
Despite the well-documented foibles that he will never live down, Zambrano was at least correct to call the Cubs a "Triple-A team" and point out how Carlos Marmol lost focus at a most inopportune time.
As Sunday's starter, he was obligated to speak to reporters, and instead of hiding behind clichés, he spoke the truth. It wasn't eloquent; it was raw and honest. Remember, this is sports, not statesmanship.
Zambrano spoke like a frustrated fan, which is to say, he spoke like a Cubs fan. He made himself a lot of friends in that regard.
If you called out owner Tom Ricketts for dodging the press last week and criticized Zambrano for telling the truth, maybe you need a demotion to the bullpen.
I know, I know. Zambrano is a walking contradiction. He's been a cavalier-to-bad teammate for years, and for a long time, he got away with it.
But give him credit; ever since the Cubs scapegoated him last year, he's lived up to his contract and his status as the longest-tenured Cub (not counting Kerry Wood, who got a few years respite from the madness) by performing on the field.
In this case, Zambrano was frustrated. This is the second straight start that he pitched well enough for the Cubs to win, only to watch the usually reliable Marmol blow it. Zambrano stuck up for Marmol when he gave up six runs in the ninth, so I don't think his criticism over Marmol giving up the game-tying hit to Ryan Theriot was personal. It was merely business.
Zambrano isn't known as being the captain of the clubhouse, but I'm sure he'll make right with Marmol, if he hasn't already. To me, that's immaterial to the main problem for the Cubs, and it's the one Zambrano spoke about. They've lost six in a row, and injuries aside, they're playing dumb baseball seemingly every night.
The Cubs are 23-34 and 11 games back of St. Louis. Carlos Zambrano has thrown a team-high 83 2/3 innings and has a solid 3.98 ERA. And he's to blame?
At least last year, when the Cubs banished him to the bullpen and then suspended him for a dugout tirade, you could say he wasn't pitching well.
What should the Cubs do with Zambrano? As Keyshawn Johnson once opined, how about give him the damn ball.
CARLOS ZAMBRANO IS A HYPOCRITE, GET RID OF HIM

By Gene Wojciechowski
ESPNChicago.com
Archive
What a hypocrite. Carlos Zambrano leads the Cubs, and maybe the majors, in tantrums, dugout confrontations, clubhouse fistfights, Gatorade cooler smashings, bat breakings, anger management therapy and calling out teammates in public. During his career, he has been placed on the major league suspended list three times and the restricted list once. He has won a grand total of 25 games in the past two-plus seasons.
Would Zambrano have gone off had this happened to Doug Davis or Randy Wells? Doubtful. And someone needs to remind Zambrano that Marmol is the guy who saved seven of Z's 11 wins last season -- the same season that Zambrano was an emotional train wreck. Again.
If it were any other veteran Cub throwing his teammates under a fleet of buses -- say, Ryan Dempster, Kerry Wood, Aramis Ramirez, Marlon Byrd, even Alfonso Soriano -- it might have meant something. But it came from Zambrano, so it doesn't.
If this had been Zambrano's first meltdown, not his -- sorry, I've lost count -- it might have meant something. Or had the criticism been useful, rather than another accusatory rant, it might have meant something.
But it wasn't. Instead, it was Zambrano proving once again that he is a crummy teammate and can't be trusted.
Yes, the Cubs stink. They have lost six in a row and are already 11 games behind the National League Central-leading Cardinals. Only the Minnesota Twins have won fewer games than the Cubs this season.
But I don't recall any of Zambrano's teammates calling him Triple-A material when he began the 2010 season with a 1-2 record and 7.45 ERA. I do remember them welcoming him back when he returned from his team-imposed suspension late last July.
The Cubs weren't Triple-A quality in Sunday's 3-2 loss. Their closer got beat on his best pitch. And the next Cubs reliever got beat by the best player in the game. There's no shame in that.
Zambrano didn't care. Marmol had cost him two consecutive wins, so he popped off. When it comes to the blame game, Zambrano has filthy stuff.
One of three things will happen next: Zambrano will recite his boilerplate "I'm sorry" speech (he's had lots of practice); Cubs management will suspend him; Cubs management will tell him to knock it off.
I vote for a fourth option: Try to get rid of him.
This is an excerpt of Gene Wojciechowski's column. To read the entire article, click here.
You've heard our takes; now give us yours. DISCUSS
LISTEN LIVE!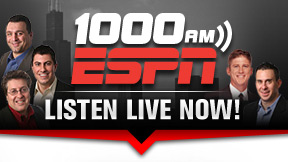 Want to sound off on today's Hot Button topic? Give us a call at 312.332.ESPN. Listen Live