Is time up for the Chicago Bulls and Oklahoma City Thunder this season? Our panel plays a little knockout heading into Wednesday night's elimination Game 5s.
1. Fact or Fiction: OKC should've traded Serge Ibaka, not James Harden.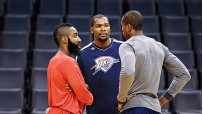 Tom Haberstroh, ESPN.com: Fiction. This is a matter of depth. The Thunder had two elite young ball handlers (maybe three, counting Kevin Durant) and one young elite big man. You take the risk that the previously invincible Russell Westbrook stays healthy and bank on Ibaka's continued development. Harden was also asking for $25 million more than Ibaka did. On a cash-strapped budget, that matters.
Aaron McGuire, Gothic Ginobili: Fiction. Let's not let results override process on this one. If Westbrook was healthy, the Thunder would still be heavy favorites to win the West. Ibaka's offense looks a lot better when Westbrook and Ibaka are working their two-man game, and he's quite the defender. And he still has room to grow. The big bugaboo is what they traded for, not who they traded.
Dave McMenamin, ESPN LA: Fact. If OKC still had Harden, but no Ibaka, the Thunder still could have found its way back to the NBA Finals. That's not the case, clearly, the other way around. That said, Oklahoma City actually had a better winning percentage in 2012-13 (.732) than it did last season with Harden (.712), so I don't think this would seem so egregious if Westbrook was wreaking havoc in the playoffs the way he did in the regular season.
Marc Stein, ESPN.com: Fiction. Because this isn't the issue we should be debating. We should be asking whether OKC should have dealt Harden or Westbrook. Ibaka is struggling in these playoffs in part because he's being asked to do things now that he's not really capable of. He can't be the second-best player on a team that really goes somewhere.
Royce Young, Daily Thunder: Fiction. What continues to be overlooked as they currently struggle is how dominant and good this Thunder team was during the regular season. At this present moment, having Harden would certainly be better than Ibaka, but with a completely healthy roster, Ibaka makes far more sense next to Durant and Westbrook.
---
2. Fact or Fiction: If fully healthy, the Bulls would force a seventh game.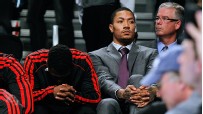 Haberstroh: Fact. Especially if we're not giving Dwyane Wade full health here. Luol Deng and Derrick Rose at 100 percent could've pushed this to six games easily, but Joakim Noah's also battling with plantar fasciitis these days, which sounds brutal. This was a five-game series two years ago, but it was close enough that it could've easily been seven games with a little late-game luck for Chicago.
McGuire: Fact. As of now, the schemes Chicago's offense relies on are too simple and predictable to hold up over a long series against an elite defense, but Rose makes it all work. They would've dispatched the Nets with relative ease, and pushing the Heat to seven seems likely.
McMenamin: Fiction. Let's not forget what a little motivation does for Miami, as the Heat have won by 37, 10 and 23 points in the last three games, respectively, after getting shocked by the Deplete-a-Bulls in the series opener. Yes, Chicago is missing a lot in Rose, Deng and Kirk Hinrich, but if the Bulls were at full strength I'd imagine the Heat would play even stronger.
Stein: Fiction. I suppose, with D-Rose, you could make that case, but it's been so long since we've seen him that I find it hard to even imagine what this series would have looked like with him on the floor. The Heat have reached the point with me that I can't picture anyone in the East taking them to a Game 7 ... unless D-Wade's health continues to deteriorate.
Young: Fact. Assuming Rose returned to his MVP-like level, sure. This Bulls team is built to defend the Heat and present them problems in a number of different areas. Their biggest problem is finding consistent ways to score, and that's something a healthy and willing Rose would provide.
---
3. Fact or Fiction: Mike Conley is now a top-10 point guard in the NBA.
Haberstroh: Fact. The question, for me, is whether he's vaulted into the top five at his position. At the risk of sounding like a knee-jerk analyst, I'm leaning towards "yes" for his work on the defensive end. My list: Chris Paul, Russell Westbrook, Tony Parker, Stephen Curry and then Mike Conley. I need to see more from Deron Williams, John Wall and Kyrie Irving, and Conley has given me two-way value that you rarely find at that position.
McGuire: Fact. The question isn't whether Conley is a top-10 point guard, at least to me -- it's whether he's top-five. He's a too-often-overlooked elite player. Conley flourishes without a signature move, banking on an elegant command of all areas on the floor. He's one of the best point guard defenders in the league and a vocal team leader.
McMenamin: Fact. But the truly special distinction is top six. Paul, Westbrook, Rose, Parker, Rajon Rondo and \Williams are the undisputed top six right now. Conley falls into the fight for 7-10 with Curry and Irving as pretty much locks, and guys like Ty Lawson, Jrue Holiday, Kyle Lowry, Ricky Rubio, Damian Lillard and Wall trying to round out the group.
Stein: Faction. It's close. He's in that 8-to-13 range, depending on the day, but he's generally right in that No. 10 ballpark playing both ends of the floor as competently as we've seen lately.
Young: Fact. Total, complete, emphatic fact. Though really, top 10 isn't correct. Conley is actually more in the conversation of top five. By removing Rudy Gay, Conley has been free to blossom and has emerged as one of the best two-way point guards in the league.
---
4. Fact or Fiction: The Heat will close out the Bulls Wednesday.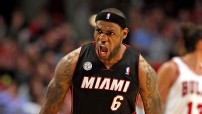 Haberstroh: Fact. Home didn't seem so sweet in Game 1, but I don't think the Heat get caught off guard this time around by the Tom Thibodeau's defensive schemes. The Bulls suffered their worst loss in playoff history in Game 2 and their lowest point total in playoff history in Game 4. I don't know how much lower it can get for the Bulls but we may find out in Game 5.
McGuire: Fact. I don't like shutting the door on a team, especially one as tough-nosed and resilient as the Bulls. But I have a lot of trouble seeing how they put together the wherewithal to win a second game in Miami. Even with Wade's balky knee, I expect a Game 5 performance similar to Miami's laugher in Game 5 of last year's Finals.
McMenamin: Fact. Miami is about to pick up the eighth win out of the 16 it needs for the repeat title in just nine games played.
Stein: Fact. Because it's over. The Rose-less Bulls were this season's ultimate gamers. But they've used up everything they had.
Young: Fact. The Bulls look exhausted, both mentally and physically. It almost seems like they're ready to get this thing over with. They showed some hope with the upset in Game 1, but after it became obvious they were unlikely to get Deng, Hinrich or Rose back, that balloon got popped.
---
5. Fact or Fiction: The Grizzlies will close out the Thunder Wednesday.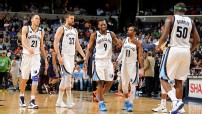 Haberstroh: Fiction. So we are all assuming that Durant forgot how to shoot in crunch time? I'm not buying it. Memphis is one of the toughest places to play and each game this series has gone down to the wire. The Thunder have been terrible down the stretch lately, but once the series goes back to their friendly confines in Oklahoma City, I'm giving Durant and the Thunder the benefit of the doubt.
McGuire: Fiction. Every game of this series has been exceedingly close, despite Westbrook's absence. The Grizzlies may be favored Wednesday, but I'm not convinced the series ends here. I think Durant has a few more classics left in the tank before the Thunder bow out. And I think he'll uncork that.
McMenamin: Fiction. Even taking into account there being so much pressure on Durant's shoulders right now, those were atypical performances by Durant to close out Games 3 and 4. He'll bounce back and the Thunder at home is a different story.
Stein: Fiction. I didn't just pick Memphis in six for the fun of it! And now for the not-so-flip justification: OKC isn't exactly getting blown out in these games and should find a way to scrape one more win at home that makes the Griz close this out at home.
Young: Fiction. This series has been amazingly close thus far and really could just as easily be 3-1 Thunder as it is 3-1 Grizzlies. The Thunder just haven't finished games while the Grizzlies have. Plus, I picked Memphis to win in six, so a Thunder win in Game 5 provides the opportunity for me to look smart.


ESPN.com and the TrueHoop Network
Marc Stein covers the NBA for ESPN.com. Tom Haberstroh writes for ESPN Insider. Dave McMenamin covers the Lakers for ESPN Los Angeles. Aaron McGuire and Royce Young contribute to the TrueHoop Network.
• Follow the NBA on ESPN on Twitter | On Facebook | On Google+