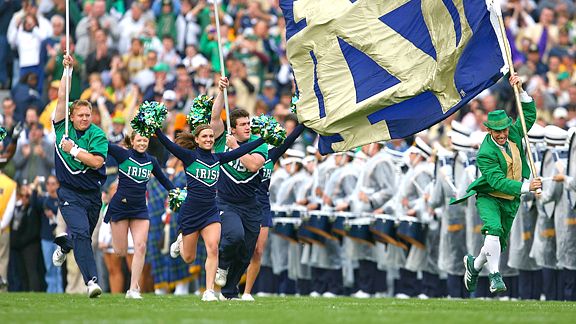 Jonathan Daniel/Getty ImagesNotre Dame is running from the Big East to the ACC in sports other than football. Is it a good move?
With Scott Van Pelt and Ryen Russillo
Irish to ACC - Scott Van Pelt and Ryen Russillo talk about Notre Dame's partial move to the ACC and the ripple effect it will have on college athletics. Listen

ESPN college football writer Brett McMurphy talks about why the ACC was willing to take Notre Dame without a football commitment, what this means for the ACC, if other conferences were going after Notre Dame and more.Listen

Louisiana-Monroe coach Todd Berry discusses his team's enormous win over Arkansas last weekend and what it means for the program now and in the future.Listen

ESPN NFL analyst Herm Edwards talks about his impressions after the first week of the NFL season. Edwards is most impressed with San Francisco's ability to run the ball as effectively as they did. Listen

Orioles outfielder Adam Jones discusses the Orioles' run at the postseason, how they've been able to win so many close games this season and more. Listen

ESPN MLB Insider Buster Olney talks about the Orioles continuing to surge, if the Phillies can compete for the NL Wild Card, the disappointing teams in LA and more. Listen

New York Rangers goalie Henrik Lundqvist discusses the labor battle taking place in the NHL, when he thinks the players will be able to get back on the ice, his upcoming "SportsCenter" commercial and more. Listen

PODCASTS
Ryen Russillo brings his own flavor to the game, mixing some pop culture with the latest happenings.