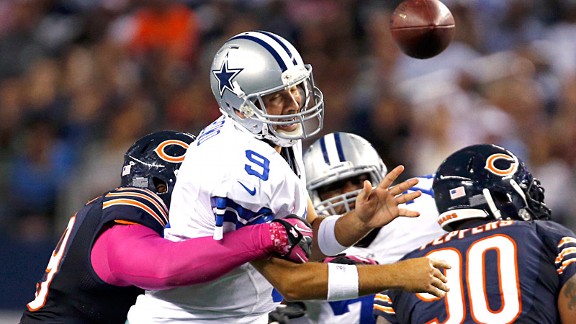 Brian Cassella/Chicago Tribune/Getty ImagesThe Bears defense got to Tony Romo all game as Chicago rolled over Dallas on Monday night.
The stars came out on Tuesday's "Scott Van Pelt Show" as champions from several sports joined Scott and Ryen to talk about Chicago's big win on Monday night, the exciting pennant races in baseball and much more. Check out the best highlights from the show below!
Dallas disaster - Scott Van Pelt and Ryen Russillo look back at a sloppy performance by the Cowboys on Monday night and assess who deserves the most blame for the Cowboys' loss. Listen

ESPN NFL analyst Trent Dilfer weighs in on the Bears' dominant win over the Cowboys, the level of concern he has for Tony Romo and the improvement he's seen from Matt Ryan this season. Listen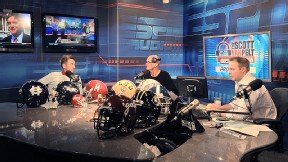 Courtesy ESPN Radio/Ray NecciIan Poulter joins Scott and Ryen in studio.
LSU coach Les Miles calls in to discuss his team's recent slide in the polls, Tyrann Mathieu's future with the program, the Tigers' upcoming game at Florida and more. Listen

Ryder Cup champion Ian Poulter talks about Europe's incredible comeback on Sunday, the emotion of the win, his historical success at the Ryder Cup and much more. Listen

Hall of Famer Cal Ripken, Jr. talks about the incredible ride the Orioles have been on this year, who he would vote for in the AL MVP race and what it will be like to call a playoff game the Orioles will participate in. Listen

ESPN MLB Insider Tim Kurkjian discusses the possible playoff tiebreaker scenarios, Miguel Cabrera's hunt for the triple crown, the A's incredible run and more. Listen

Broncos linebacker Von Miller talks about his team's 2-2 start, what it's like to have Peyton Manning on his team, Denver's defensive approach and more. Listen

Scott Van Pelt and Ryen Russillo rank the best and worst of the NFL after Week 4 as they unveil their weekly Top 5/Bottom 3. Listen

Scott Van Pelt and Ryen Russillo ask each other rapid fire questions pertaining to sports and life in another edition of 7 seconds. Listen

PODCASTS
Ryen Russillo brings his own flavor to the game, mixing some pop culture with the latest happenings.