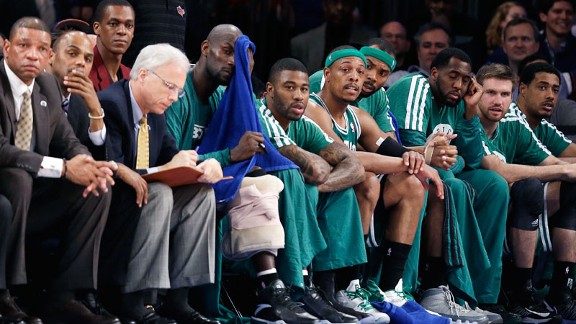 AP Photo/Kathy WillensSVP & Russillo talk about why the Knicks are making the Celtics look like a shell of themselves.
Wednesday, Scott Van Pelt and Ryen Russillo discuss big wins for the Knicks and Warriors, revisit the 2012 draft and more. Listen to the best highlights of the show below!
Scott Van Pelt and Ryen Russillo discuss Tuesday night's playoff action and say the Celtics have become a shell of what they used to be. They also say the Warriors showed what they are capable of on Tuesday and note that when they play their best they are almost impossible to defend. Listen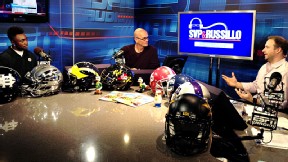 Ray Necci/ESPN RadioNFL prospect Kenjon Barner with SVP & Russillo.
ESPN NBA analyst Antonio Davis recalls watching Stephen Curry as a young player and seeing how smooth his shot was back then. Davis also breaks down Golden State's powerful offense. Davis also says there's a lack of intensity with the Celtics right now which is compounded by Kenyon Martin bringing an extra level of toughness to the Knicks' roster. Listen

Former Oregon RB and NFL prospect Kenjon Barner talks about his career at Oregon, what it's like to play for Chip Kelly, how he anticipates Kelly's system will translate to the NFL and his preparations for the NFL draft. Listen

ESPN NFL Insider Chris Mortensen discusses the rumors and information he's hearing as the draft approaches. Mortensen says Matt Barkley appears to be destined for the second round, while Geno Smith has the most potential to slide. He adds that the criticism of this year's first round talent at all positions is warranted. Listen

ESPN MLB Insider Buster Olney explains why Stephen Strasburg has struggled out of the gate this season. Olney also talks about the Justin Upton's fantastic start in Atlanta, the potential of Matt Harvey and more. Listen

In light of a woman sitting too close to a microphone during Tuesday night's Heat-Bucks game Kenneth Garay interrupts some of sports' most famous calls as if he was sitting next to an auxilliary mic. Listen

PODCASTS
Ryen Russillo brings his own flavor to the game, mixing some pop culture with the latest happenings.