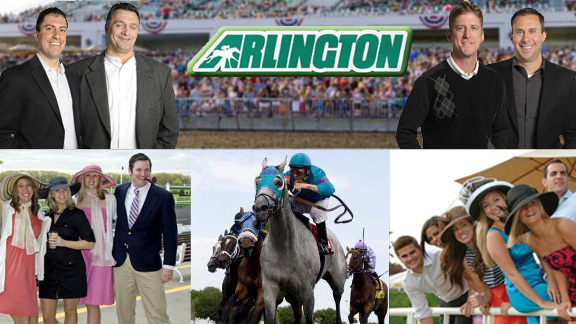 Carmen & Jurko and Waddle & Silvy are ready for Opening Day at Arlington Park!
Annnnnd...they're off -- to Arlington Park for the opening of the 2013 season! Join the ESPN Chicago thoroughbreds, aka Carmen, Jurko, Waddle & Silvy, as they get ready for a new season of horse racing at Arlington Park and the 139th Running of the Kentucky Derby!
ESPN Chicago will broadcast both shows LIVE from Arlington Park on Friday, May 3. Carmen & Jurko will take the stage and perform their show live from 10a-2p. Waddle & Silvy will join them live around 1:45pm and continue the fun and excitement all day until 6pm.
Both shows will be will be Trackside and broadcasting live and talking Bulls, Hawks, Cubs, Sox and of course, horses! Hang with them as they enjoy the heart-pounding thrills of thoroughbred racing and entertainment you won't want to miss!
To show appreciation to all their fans, Arlington Park general admission is FREE on Friday, May 3, and you can get one hot dog and your choice of a beer or soda for 50 cents! (Limit one per customer. Coupon will be given at the gates upon entry.)
So invite all your friends to come out and play with ESPN Chicago, Carmen & Jurko, Waddle & Silvy and the ponies!
For directions, visit www.arlingtonpark.com/visit/maps-directions.
Friday, May 3
10 a.m. - 6 p.m.
Arlington Park
2200 Euclid Rd.
Arlington Heights, IL
847-385-7500