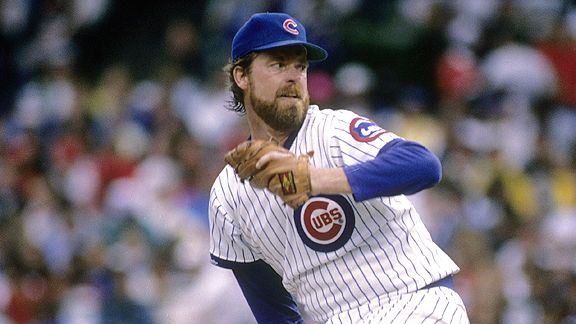 PLAYERS OF THE GAME
F. Thomas
B. Williams
Sutcliffe sparks Cubs to 3-1 series lead
Editor's note: Earlier this summer ESPNChicago.com asked users to select the All-Time Cubs team and the All-Time White Sox team. We are now simulating a series between the two teams, playing a game each weekday until a winner is decided.
Game 4 - Wrigley Field, Chicago, Illinois
CHICAGO -- In 1984, Rick Sutcliffe joined the Cubs mid-season, went 16-1, won the NL Cy Young and sparked the Cubs run to their first playoff appearance since the 1945 World Series.
In Game 4 of ESPN Chicago's simulated series between the All-Time Cubs and All-Time White Sox, Sutcliffe sparked the Cubs again.
With his bat.
Down by a run in the sixth, Sutcliffe led off the inning with a single that led to a three-run rally in the Cubs' 4-2 win, giving them a 3-1 series lead.
Facing Sox starter Ed Cicotte, Billy Williams drove in Sutcliffe and Ryne Sandberg and scored on an Ernie Banks' groundout in the decisive sixth inning.
Sutcliffe was in '84 form on the mound, too, allowing two runs in eight innings before giving way to Lee Smith, who recorded the save. The Cubs' Ron Santo homered to give the Cubs an early lead, while Frank Thomas and Carlton Fisk homered for the Sox.
Both starting shortstops -- the Cubs' Banks and Sox's Luke Appling -- are hitless in the series.
-- Alex Ruppenthal
E-Dawson. 2B-BiWilliams. HR-FThomas(1), Fisk(1), Santo(1). SB-Sosa(1). CS-Sandberg, BiWilliams. K-Minoso, JJackson, FThomas 2, Baines, Appling 2, Cicotte, Sandberg, BiWilliams, Santo, Banks, Sosa, Dawson, Hartnett, Sutcliffe 2. BB-FThomas, Fisk, Fox. GWRBI: BiWilliams

Temperature: 76, Sky: clear, Wind: in from center at 12 MPH.