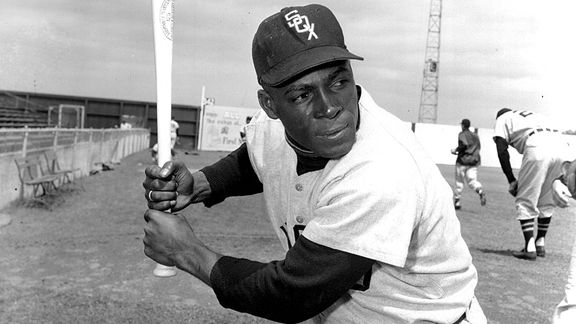 PLAYERS OF THE GAME
M. Minoso
A. Dawson
Minoso's 3 homers keep Sox alive
Editor's note: Earlier this summer ESPNChicago.com asked users to select the All-Time Cubs team and the All-Time White Sox team. We are now simulating a series between the two teams, playing a game each weekday until a winner is decided.
Game 5 - Wrigley Field, Chicago, Illinois
CHICAGO -- Minnie Minoso was known for making improbable comebacks during his playing days.
After leaving the White Sox and Major League Baseball in 1964 to play for several years in Mexico, he returned to play for the Sox in 1976 and 1980, at age 57, becoming the oldest player to bat in a major league game.
With his All-Time White Sox team trailing the All-Time Cubs 3-1, Minoso did his part to start another improbable comeback with an equally improbable performance, hitting three home runs and driving in seven runs in the Sox's 8-4 series-extending win.
Minoso, who never finished higher than 10th in the American League in home runs, took advantage of an 11-mph wind blowing from right field to left. All three of his home runs went to left field.
Sox starter Mark Buehrle avenged his Game 1 loss to Greg Maddux, going seven innings and allowing four runs on 11 hits. Maddux pitched eight frames but surrendered six runs on eight hits, including two of Minoso's home runs.
Cubs shortstop Ernie Banks, an 11-time All-Star and Hall of Famer, remains hitless in the series.
-- Alex Ruppenthal
E-Appling. 2B-Fox, BiWilliams, Anson. 3B-Sosa. HR-Minoso 3(3). SB-Dawson(1), Maddux(1). K-JJackson, Fisk, Baines, Ventura 2, Santo 2, Banks, Dawson, Hartnett, Maddux. BB-Thomas, BiWilliams, Banks. SH-Buehrle 2. SF-Minoso, Baines, Banks. GWRBI: Minoso

Temperature: 72, Sky: partly cloudy, Wind: right to left at 11 MPH.