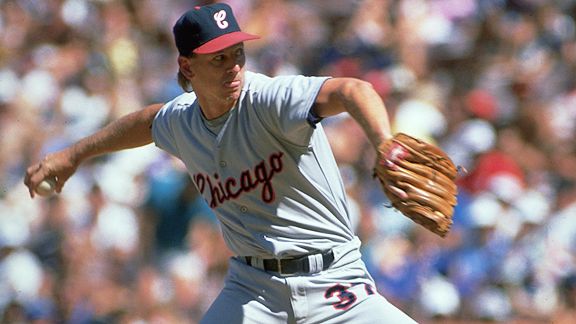 PLAYERS OF THE GAME
F. Jenkins
J. McDowell
McDowell, Sox tie series vs. Cubs
Editor's note: Earlier this summer ESPNChicago.com asked users to select the All-Time White Sox team and the All-Time Cubs team. We are now simulating a series between the the two teams, playing a game each weekday until a winner is decided.
Game 6 - U.S. Cellular Field, Chicago, Illinois
CHICAGO -- Of anyone who has played for the Cubs in their 134-year history, nobody was more qualified to be at the plate with Game 6 on the line than Ernie Banks, "Mr. Cub" himself.
But the way the series had been going for Banks -- 19 at-bats, 19 outs -- the Cubs might have had a better chance with Neifi Perez batting.
In the top of the ninth, with two outs, the bases loaded and the Cubs trailing by two, Banks strolled to the plate against White Sox closer Bobby Thigpen. And, for the 20th time in the series, he returned to the dugout in disappointment.
Banks grounded out to third to kill the Cubs' rally and give the White Sox a 3-1 series-tying win, forcing Game 7.
Jack McDowell again beat Fergie Jenkins on the mound. Both pitchers went eight innings. Jenkins allowed a two-run homer to Robin Ventura in the fifth that turned into the game-winner.
While the Sox do not have any starters hitting over .300 in the series, the Cubs have four: Hack Wilson, Billy Williams, Mark Grace and Ryne Sandberg. Banks, obviously, won't get on that list.
-- Alex Ruppenthal
E-JJackson, 2B-Sandberg, Grace, Baines, Appling. HR-Ventura(1). SB-FThomas(1). CS-Sandberg, Santo. K-Santo 3, HWilson, Banks, Sosa 2, Hartnett, JJackson, FThomas, Konerko 3. BB-Sandberg, HWilson 2, Baines. HBP-FThomas. HB-Jenkins. BALK-Jenkins. GWRBI: Ventura Temperature: 76, Sky: clear, Wind: left to right at 14 MPH.