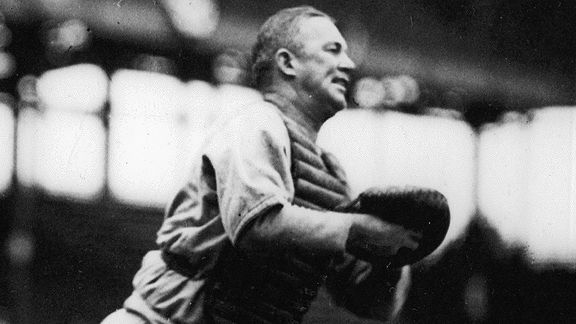 PLAYERS OF THE GAME
G. Hartnett
F. Thomas
Hartnett's homer in 10th beats Sox
Editor's note: Earlier this summer ESPNChicago.com asked users to select the All-Time White Sox team and the All-Time Cubs team. We are now simulating a series between the the two teams, playing a game each weekday until a winner is decided.
Game 7 - U.S. Cellular Field, Chicago, Illinois
CHICAGO -- He already is the owner of what is considered the most famous home run in Cubs history -- the "Homer in the Gloamin'," the shot he launched into Wrigley Field's left-field bleachers in the twilight to vault the Cubs into first place at the end of the 1938 season.
Now Gabby Hartnett owns the biggest virtual home run in Cubs history, too. The greatest catcher in team history hit a solo homer in the top of the 10th inning off White Sox knuckleballer Hoyt Wilhelm to give the Cubs a 4-3 win in Game 7 of ESPN's simulated series.
Hartnett hit just .130 in the series but drove in three of the Cubs' four runs in the finale. His two-run homer in the sixth started the Cubs comeback from an early 3-0 deficit.
The Cubs tied the game in the seventh when Cubs closer Lee Smith pitched a perfect 10th for the save, getting Carlton Fisk to fly out to center to end the series. Madness ensued in Wrigleyville as the Cubs celebrated on the South Side.
-- Alex Ruppenthal
E-Appling. 2B-Santo, Konerko. HR-Hartnett 2(2), FThomas(2), Konerko(1). SB-Aparicio(1). CS-HWilson. K-Sandberg, Santo, Banks, Sosa, Hartnett, Minoso, JJackson, FThomas, Ventura 2. BB-HWilson, JJackson, Fox. GWRBI: Hartnett
Temperature: 69, Sky: clear, Wind: left to right at 3 MPH.