1984 Chicago Cubs — Where Are They Now?
By Nick Friedell
ESPNChicago.com
Blog
John Jacob and Dan Diversey had the type of job that many kids in Chicago dreamed about in 1984 -- they were the bat boys for the Cubs. To this day, 25 years later, it's still one of the coolest jobs either has ever had.
"That was a magical year," Diversey, now a 40-year-old sales executive, says now. "To be part of the whole experience was great."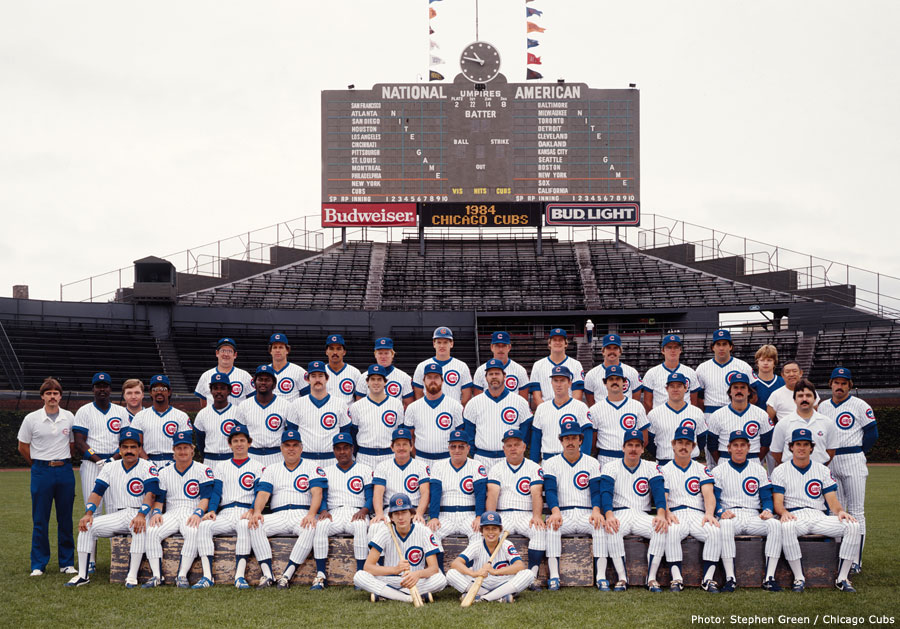 TOP: Searles, Jay Johnstone, Henry Cotto, Keith Moreland, Jody Davis, Gary Woods, Steve Trout, Steve Lake, Tom Veryzer, Ron Hassey, Zarris
MIDDLE: Palmer, Gary Matthews, Nimitz, Thad Bosley, Lee Smith, Rich Bordi, Scott Sanderson, Rick Sutcliffe, Tim Stoddard, Rick Reuschel, George Fraizer, Dick Ruthven, Dennis Eckersley, Yosh Kawano, Tony Gorofalo (trainer), Warren Brusstar
FRONT: Davey Lopes, Dan Rohn, Larry Bowa, Billy Connors, Ruben Amaro, Johnny Oates, Jim Frey, Don Zimmer, John Vukovich, Richie Hebner, Ron Cey, Bob Dernier, Ryne Sandberg
GROUND: John Jacob, Dan Diversey (bat boys)
Back in the day, the Cubs would pick two kids every couple of years from St. Benedict's High School for the coveted positions. Jacob and Diversey were close neighborhood friends growing up, so when Jacob, who was 15 years old at the time, was selected, he decided to recommend his 14-year-old buddy Diversey. The lifelong Cubs fans ended up spending the next two seasons working for their beloved team and still can't believe their good fortune.
"We're a lucky pair of guys," Jacob, a 41-year-old two-time Persian Gulf veteran, says now.
When you speak to each man, as I did recently during separate phone conversations, it's clear that the memories from that time in their lives are brighter than ever. Diversey remembers that while both boys did a lot of work, the players were very nice and treated the pair like "little brothers." When asked if he recalled a specific memory from the 1984 campaign, Jacob, who now owns a small contracting company, did not hesitate.
"The Sandberg game," he said. "The energy coming from that game was unbelievable."
Even after all this time, and all the heartbreak the Cubs have provided over the years, both men remember their time in the Wrigley Field clubhouse fondly. Both men still cheer for the Cubs, although Diversey admits that his heart is still broken from the '84 NLCS loss to the Padres. Jacob, who says he still wears a Cubs hat to work most days, says that he and his wife were sitting just a few rows away from Steve Bartman during the infamous Game 6 of the 2003 NLCS.
Despite all that, each man still has faith that the team will one day win that elusive World Series title -- so much so that both guys have passed down their love of the Cubs to their young sons.
Jacob notes that for every Sox game his ex-wife takes his 11-year-old son Jordan to, he'll make up for it by taking him to two games on the North Side. Diversey says his 6-month-old Roman "has no choice" when it comes to being a Cubs fan.
Like so many other fans, it's hard for them to believe it's actually been a quarter century since the Cubs clinched that NL East crown. Let's take a look back now and see where some of the other players and coaches from that magical team have ended up over the years ...