The pressure on Derrick Rose to return to the Chicago Bulls' lineup seems to grow with every playoff game. Has D-Rose handled the situation the right way? What about the Bulls? We weigh in ahead of a big Game 3 in Chicago.
1. What's your take on how D-Rose has handled this situation?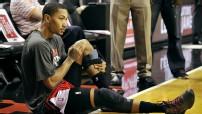 Nick Friedell, ESPN Chicago: I think Derrick has handled the situation pretty well. He continues to work hard in practice and draw praise from teammates. The key for him is that he genuinely seems to be blocking out the criticism he has received.
Israel Gutierrez, ESPN.com: Unless his months of practice time have him conditioned to play as many as 30 minutes and play well, what would be the point of his returning now, other than some emotional boost? His teammates are supportive of him, which has allowed him to keep the door ajar. But at this point, he and his team are better off if he shuts it down permanently until next season.
Matt McHale, By The Horns: Rose is fully within his rights as an athlete and a human being to decide whether he's ready to play. In my opinion, his only failure has been a lack of clear and consistent communication about his status. The sporadic updates are vague and confusing at best. That has only fueled the rampant speculation and questioning.
Danny Nowell, Portland Roundball Soc.: I don't blame him for much. It's difficult to say how responsible he is for his brother's comments, and I certainly am not of the opinion that Rose owes anybody a return to the court. This isn't a comfortable situation, but I don't fault Rose.
Michael Wallace, ESPN.com: I give Rose the benefit of the doubt. If he doesn't believe he's ready to get back on the court, then he's not ready. Let's not pretend Rose should be held to the same standard as every other player on the roster. He's the face of the franchise for likely the next 10 years. What matters more is what he's communicating to his teammates.
---
2. What's your take on how the Bulls have handled this situation?
Friedell: The Bulls and Rose's inner circle deserve blame. The organization has stood behind him, but I'm convinced if he had been pushed to give more frequent updates to fans instead of waiting four-and-a-half months between speaking to the media, the backlash wouldn't have been as severe. It also would have helped if he had been more open about the possibility of sitting out until next season.
Gutierrez: They're essentially allowing Rose to make all the decisions, which is one way to make sure he doesn't turn on the organization. As his brother loudly pointed out, the Bulls gutted the bench instead of trying to bring in more higher-priced talent to surround Rose. This could be the team's way of saying, "Sorry 'bout that."
McHale: As an organization, the Bulls have handled things about as well as they can. Top to bottom, everyone has repeatedly voiced support for Derrick while enduring the endless variety of "when will he be back?" questions. Ostensibly, there has been little or no pressure put on Rose to return any earlier than he wants to. Maybe the Bulls could have communicated about his status a little more clearly … but that may be out of their hands.
Nowell: Poorly. When the Bulls announced that Rose was cleared to play, it was a calculated move to put pressure on their franchise player to hurry back. If I were a player, that would strike me as a huge breach of trust, and it fits a pattern of behavior with the Bulls' front office.
Wallace: I think the Bulls have created the atmosphere in which Rose is being second-guessed publicly. That couldn't have been their truest intention when the report leaked that Rose was medically cleared to test the knee. In hindsight, it would have been better for the Bulls to declare Rose is out indefinitely -- and stick to that prognosis. Ditto for Derrick.
---
3. Are fans right to be frustrated with Rose?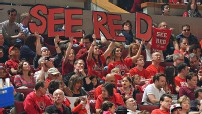 Friedell: I don't think so, though I understand it. But I don't understand all the people who are attacking him. It's his body, his decision, nobody else's.
Gutierrez: Fans have the right to be frustrated, yes. But to turn on him, which some in Chicago indicate has happened, is unfair. And frankly, the second he throws on a uniform again and is darting through defenders with ease, their opinions will change.
McHale: Only because he hasn't been more forthcoming about his reasons for not playing. This assumes that he didn't already decide weeks or months ago that he isn't going to play until next season without actually informing the team, as some people suspect.
Nowell: Halfway. It's understandable to be frustrated when your team is missing its best player in a contested postseason. But fans are not right to let that frustration turn into blame and character speculation. Rose has lost confidence in his body, and he's the cornerstone of the team. Fans would be wise to support him.
Wallace: It's a matter of which source of information the fans choose to believe. There have been dozens of mixed messages floating out there all season. There's the Bulls' take. There's Reggie Rose, the brother and manager. Then, there's D-Rose. The fans see Rose practicing and looking well enough to play. So they should expect to see him play.
---
4. How would Rose playing affect the series outlook?
Friedell: It wouldn't make much of a difference. The Heat would still win because they have more healthy talent … and LeBron James.
Gutierrez: Not much at all. In fact, in Game 1, Nate Robinson did his best impression of Rose, and the result was a Bulls win. Rose wouldn't have changed the outcome of Game 2. And as the series goes forward, small doses of Rose wouldn't be much better than an explosive Robinson.
McHale: Derrick hasn't played in an actual NBA game in over a year. And prior to his knee injury, he had missed 27 games because of a variety of other injuries. Given that -- not to mention the fact that he's coming off a major injury -- it seems highly unlikely that Rose could return right now and get up to speed quickly enough to have a major impact on a series versus the defending champs.
Nowell: Very little. Rose is the Bulls' best and most talented player, but this current team has jelled as a competitive unit without him. I could be wrong, because Rose has been scrimmaging, but I believe that playing cohesively with Rose would take the Bulls a few games.
Wallace: The Bulls wouldn't be favored to win this series if Rose were completely healthy, let alone coming back from a year off after ACL surgery. But his return would provide a huge emotional boost that could help the Bulls stave off elimination for at least an additional game. Even a diminished Rose adds quality depth to a drastically depleted team.
---
5. How would Rose playing affect the Bulls on the court?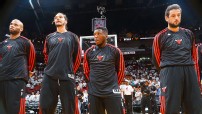 Friedell: They would get a huge emotional lift. They would love having him back -- it's just very hard to expect any player who hasn't been on the floor for a year to make much of a difference -- no matter who they are.
Gutierrez: Not sure, only because we don't know how he has been used in practices, and whether his teammates are accustomed to playing with him as a result. If they're not, then it would only confuse the offense, and it probably wouldn't improve the defense much. If they have gotten used to playing with him in those practices, then he could come in and run the offense well, giving it that added dynamic of an explosive scorer.
McHale: Bulls coach Tom Thibodeau has done a masterful job of managing his various revolving parts all season. I think he could figure out a way to integrate Rose. But Derrick would have to accept a reduced role. If he came back and tried to take 20 shots per game, it would likely disrupt the chemistry this team has going.
Nowell: As I said above, I think that Rose would confuse things for the Bulls in the short term. Long term, of course, he's the key to taking this team to another level. But if Rose got back on the court tomorrow, I'm skeptical the Bulls could make it work in what little time they have.
Wallace: It would mean less of the erratic Nate Robinson and also no more of Daequan Cook and Marquis Teague in the rotation. If Rose's return could also be blended with Kirk Hinrich coming back from that bruised calf along with Luol Deng's making it back from spinal tap complications, then you're turning a corner. But those are some big "ifs."


ESPN.com and the TrueHoop Network
Israel Gutierrez and Michael Wallace cover the NBA for ESPN.com. Nick Friedell writes for ESPN Chicago. Matt McHale and Danny Nowell are part of the TrueHoop Network.
• Follow the NBA on ESPN on Twitter | On Facebook | On Google+