ESPN'S TAKE
Rutgers and Arizona State combined for 85 points because neither team could pressure the other team's quarterback. That was the key to the game. Rutgers QB Ryan Hart and ASU QB Rudy Carpenter both had all day to throw. Both defenses were afraid to blitz because of bad matchups in the secondary. For example, Rutgers had no answer for ASU WR Derek Hagan who was able to outmuscle Rutgers' smaller defense backs for big catches. Another key was that Rutgers made two key penalties inside the 20 (one in the 3rd quarter and one in the 4th quarter). The first one kept alive an ASU scoring drive and the second one forced Rutgers to settle for a field goal instead of a possible TD. -- Rod Gilmore


Fantasy
Here's your chance to be the expert and pick the Bowl winners. Create your FREE entry and compete for a chance to win a home theater system.
College Bowl Mania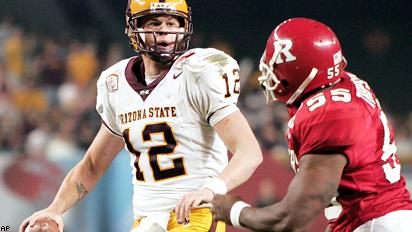 Duel in the Desert
For a team that hadn't seen a bowl game since 1978, Rutgers looked like it belonged in the postseason -- at least on offense. And although Arizona State proved to be too much for the Scarlet Knights in a 45-40 Insight Bowl shootout, the two did combine for a record 1,210 total yards.
Story
|
Highlights

INSIGHT BOWL OVERVIEW
It was over when…
---
Rutgers failed to recover its onside kick with 2:00 left. With no timeouts remaining, the Scarlet Knights never got the ball back.

Gameball goes to…

---
Rudy Carpenter. The Arizona State redshirt freshman QB was 23-of-35 for 467 yards and 4 TDs.

Stat of the game…

---
1,210. That's the combined total yards for Arizona State and Rutgers -- the most-ever in any bowl game.