TEXAS vs. IOWA
ESPN'S TAKE
First off, I thought this would be a blowout win for Texas considering how Iowa had played down the stretch with no momentum. Yet, the Hawkeyes played Texas tough. They jumped on Texas early to get up 14-0 before Texas could even blink. Texas has historically been a slow-starting team, having a slow first quarter or first half. The key play was when Drew Tate threw an interception in the end zone, so instead of being up at least 17-3, Iowa turns the ball over and Texas goes down and scores right before the half. That was the turning point of the game. Both teams had trouble running the ball. Colt McCoy, for coming off the injury list, had a solid game throwing, running when he had to. Andy Brodell was the star for Iowa, making a great move on Aaron Ross for a long score. The good thing for the Texas defense was that it limited the production of TE Scott Chandler. At 6-6, Iowa probably didn't deserve to be in a bowl game, but give coach Kirk Ferentz credit for getting his team ready to play.
-- Mel Kiper


BOWL TRAVEL GUIDE
Plan a trip to your favorite team's big game with ESPN SportsTravel's Bowl Travel Guide.

Fantasy
Here's your chance to be the expert and pick the Bowl winners. Create your FREE entry and compete for a chance to win a home theater system.
College Bowl Mania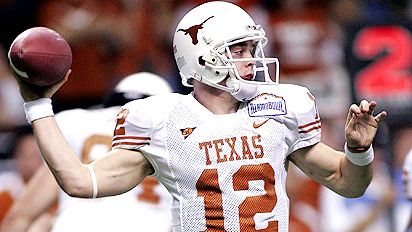 (Ronald Martinez/Getty Images)
Colt Firearm
After a sluggish start that saw Iowa jump out to a 14-0 lead, Texas got in gear behind Colt McCoy. The Longhorns quarterback was 26-for-40 for 308 yards and two touchdowns as Texas rallied to beat the Hawkeyes 26-24.
Recap
|
Watch

ALAMO BOWL OVERVIEW
It was over when ...
---
Iowa receiver Dominique Douglas was tackled for an 11-yard loss on an attempted pass. That play led the Hawkeyes to a three-and-out and Iowa didn't get the ball back until there was two seconds left in the game.

Game ball goes to ...

---
Colt McCoy. The Longhorns quarterback passed for 308 yards and two touchdowns, setting the freshman record for passing touchdowns in a season in the process.

Stat of the game ...

---
Texas won at least 10 games for the sixth straight season and avoided its first three-game losing streak since 1999.


SIMULATIONS FROM ACCUSCORE
Click here for individual projected statistics.