TULSA vs. UTAH
ESPN'S TAKE
The first half was a situation of both teams feeling each other out and it was a well-played game from the standpoint of not many mistakes or turnovers. Utah took over the game in the second half by getting the ball to running back Brent Casteel in the third quarter and quarterback Brett Ratliff had a big half throwing the ball. Eric Weddle was outstanding throughout the game on both sides of the ball. And defensively Utah did a good job of containing Tulsa for the most part except for two drives. The Utes' kicker, Louie Sakoda, continues to be one of the best in the country and that made a lot of difference with his four field goals and his good punting.
-- Jim Donnan


BOWL TRAVEL GUIDE
Plan a trip to your favorite team's big game with ESPN SportsTravel's Bowl Travel Guide.

Fantasy
Here's your chance to be the expert and pick the Bowl winners. Create your FREE entry and compete for a chance to win a home theater system.
College Bowl Mania

Official Web site

For more information on the Bell Helicopter Armed Forces Bowl please visit the official bowl Web site.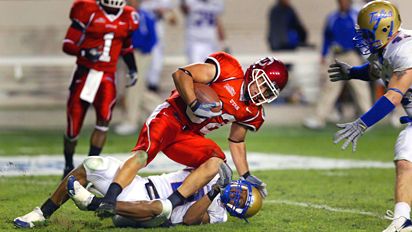 (Caleb Simpson- US PRESSWIRE)
Mr. Everything
Eric Weddle had the offense and defense covered and Louie Sakoda took care of special teams with four field goals as Utah won its sixth straight bowl game Saturday with a 25-13 win over Tulsa. Weddle ran for 56 yards and a TD and picked off a pass.
Recap
...

ARMED FORCES BOWL OVERVIEW
It was over when ...
---
Utah quarterback Brett Ratliff hit Brian Hernandez on a wide receiver screen, only to have Hernandez lateral to Brent Casteel for a 14-yard touchdown, putting the Utes up 16-7.

Game ball goes to ...

---
Eric Weddle. Utah's do-everything senior ran for 56 yards, including a four-yard touchdown to ice it. Weddle also notched an interception on the game's final play.

Stat of the game ...

---
Utah matched the longest active bowl streak with its sixth straight postseason victory. Boston College is the other.


SIMULATIONS FROM ACCUSCORE
Click here for individual projected statistics.