ARKANSAS vs. WISCONSIN
ESPN'S TAKE
Congrats to Bret Bielema and Wisconsin for a quality win against Arkansas. Bielema's 12-1 finish in his first year as a head coach is a remarkable feat. Arkansas had a good year; it's always tough when you lost your last three games, but LSU, Florida and Wisconsin will all finish in the top five or six in the final poll.

Quarterback John Stocco had a good passing game in the first half, especially with the pressure the Hogs were putting on him. The Razorbacks lost a little steam early in the game when McFadden was tackled on a long run and they missed a field-goal opportunity that would have given them the lead. Both teams did a good job tackling and containing the run game. Arkansas had too many penalties, and both teams had a number of turnovers. Wisconsin did a good job of getting a head start on Arkansas and played smart football.-- Jim Donnan


BOWL TRAVEL GUIDE
Plan a trip to your favorite team's big game with ESPN SportsTravel's Bowl Travel Guide.

Fantasy
Here's your chance to be the expert and pick the Bowl winners. Create your FREE entry and compete for a chance to win a home theater system.
College Bowl Mania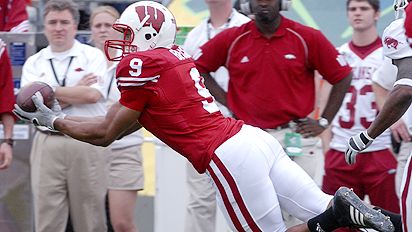 (AP Photo/Phelan Ebenhack)
The Badger Dozen
The Capital One Bowl was supposed to feature two premier running backs -- Wisconsin's P.J. Hill and Arkansas' Darren McFadden. Instead, the Badgers relied on the passing game and a great defensive effort to finish with their first 12-win season.
Story
CAPITAL ONE BOWL OVERVIEW
It was over when ...
---
Wisconsin's defense forced Arkansas to punt with less than 4 minutes left in regulation. The Badgers used running back P.J. Hill to eat up the clock and preserve the lead.

Game ball goes to ...

---
Badgers QB John Stocco. Wisconsin's offense is usually powered by Hill, but when Wisconsin couldn't get a ground game going, Stocco stepped up, tossing two TD passes in the first half.

Stat of the game ...

---
-4. Coming into the game, Wisconsin was ranked in the top 25 in rushing offense. Arkansas' run defense held the Badgers to -4 yards on the ground and contained Hill to just 36 yards.


SIMULATIONS FROM ACCUSCORE
Click here for individual projected statistics.