GEORGIA VS. VIRGINIA TECH
ESPN'S TAKE
Although 55 points were scored in this game, the offensive play was less than stellar. In fact, Va. Tech really had no offense except for the play of Eddie Royal (big punt return and TD pass off of a reverse) and Georgia didn't convert a 3rd down until the third quarter.

The key adjustment occurred in the second half when Georgia coach Mark Richt gambled. Down 21-6, Richt had his team try an onside kick following a field goal and that changed momentum. Georgia went on to control the game, including 28 unanswered points -- largely due to Va. Tech's four turnovers. Va. Tech QB Sean Glennon had a tough night (four turnovers -- 3 picks and a fumble) that gave Georgia a short field. Georgia QB Matthew Stafford took advantage of the short field to lead Georgia's comeback, including a key TD pass to TE Martrez Milner.

Give credit to Richt for this win. Not many coaches would have gambled with an onside kick in the 3rd quarter with a quarterback who had been struggling the entire game.
-- Rod Gilmore


BOWL TRAVEL GUIDE
Plan a trip to your favorite team's big game with ESPN SportsTravel's Bowl Travel Guide.

Fantasy
Here's your chance to be the expert and pick the Bowl winners. Create your FREE entry and compete for a chance to win a home theater system.
College Bowl Mania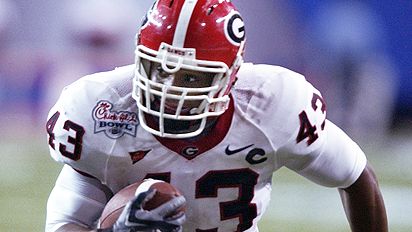 (AP Photo/Stephen Morton)
The Dawg's House
Things looked bleak for Georgia on Saturday as the Bulldogs fell behind 21-3 at the half against the nation's No. 1 defense in Virginia Tech. But Georgia's Tony Taylor intercepted a pair of passes to set up 4th quarter scores in the Dawgs 31-24 win.
Recap
|
Watch

CHICK-FIL-A BOWL OVERVIEW
It was over when ...
---
Virginia Tech quaterback Sean Glennon and the Hokies offense was unable to move the ball from their own 20 as time ran out in the game.

Game ball goes to ...

---
Tony Taylor. The Georgia linebacker intercepted two passes in the fourth quarter, both setting up Bulldog touchdowns.

Stat of the game ...

---
Georgia finished its season with three straight victories over ranked teams, a first for the program.


SIMULATIONS FROM ACCUSCORE
Click here for individual projected statistics.