AUBURN vs. NEBRASKA
ESPN'S TAKE
Nebraska jumped out of the gates early and took it to Auburn, but a few costly turnovers kept the Tigers in the game. The Huskers' fake punt backfired, and although they had chances to tie the score or take the lead, they weren't able to convert them into points. In the second half, Nebraska's offense couldn't get it going. Brandon Jackson not being healthy was definitely a factor in the loss. Marlon Lucky stepped up, but wasn't enough to edge out Auburn. -- Mel Kiper


BOWL TRAVEL GUIDE
Plan a trip to your favorite team's big game with ESPN SportsTravel's Bowl Travel Guide.

Fantasy
Here's your chance to be the expert and pick the Bowl winners. Create your FREE entry and compete for a chance to win a home theater system.
College Bowl Mania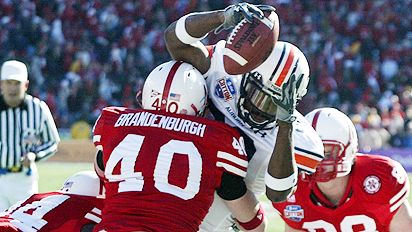 (John Reed/US Presswire)
Close Encounter
Nebraska won this contest everywhere but where it matters most -- on the scoreboard. A third-quarter field goal broke open an even game, and the Tigers were able to hang on for the win. Auburn is the first SEC team to win the Cotton Bowl in four years.
Story
COTTON BOWL OVERVIEW
It was over when ...
---
The clock ran out. Although Auburn took the lead in the third quarter, Nebraska threatened to take the lead in the fourth quarter.

Game ball goes to ...

---
Brandon Cox. The junior quarterback didn't put up outstanding numbers -- he finished with 10-of-21 passing and one touchdown. But he managed the game effectively, didn't toss the ball away and didn't give Nebraska any extra opportunities to put points on the board.

Stat of the game ...

---
23. Neither team got much going through the air, as the quarterbacks combined to complete just 23 combined passes.


SIMULATIONS FROM ACCUSCORE
Click here for individual projected statistics.